Saptarshi Ghosh
Reena Saini Kallat and Jitish Kallat
Reena Saini Kallat is a renowned artist whose practice spans drawing, photography, sculpture and installation. Born in 1973, Reena investigates history, collective memory, identity and nationhood through her art. She often works with materials like official records, state constitutions, maps and archaeological surveys. Reena is married to the acclaimed Indian artist, Jitish Kallat, whose works include paintings, photography, collage, sculpture and installations. Lying at the interstices of history, mathematics, science, philosophy and geometry, Kallat's works over the last two decades have engaged with questions about time, birth, death, mortality, transience, evolution and entropy. Born in 1974, Kallat received a BFA in painting from Sir J. J. School of Art, Mumbai in 1996. His debut solo, titled PTO, was held at Chemould Prescott Road in 1997. 
Let's take a brief walkthrough of their individual art careers!
Reena Saini Kallat 
Reena completed her graduation from Sir J. J. School of Art, Mumbai in 1996. Fluidity and futility of borders is a theme that runs through many of her works. Belonging to a family originally hailing from Lahore, she grew up hearing first-hand accounts of the horrors of partition from her relatives. This in turn resulted in her preoccupation with political borders and divisive forms of nationhood. 
In Leaking Lines (2019), Reena inscribes the borderlines marked by the Partition – Radcliffe Line, Curzon Line and McMahon Line – and juxtaposes them with images of the landscapes which they divide. The lines tear apart a web of interconnections, represented by wires, which existed and thrived previously. In Anatomy of Distance (2014), electric cables resembling barbed wires are laid across conjoined circular metal frames to resemble the Line of Control or LoC – the contested de facto border between India and Pakistan.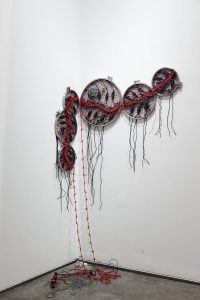 Reena is also concerned with maps and the logic of map-making. In Woven Chronicle (2018), she questions the very way we perceive the map of the world. The north-upwards, south-downwards way of looking at the world map is a result of the dominance of European cartographic practices, which treated the North Star as their fixed reference point for navigation. Reena's map, made from electric cables resembling barbed wires, is placed south-upwards. Revealing her inspiration behind the use of wires, she says, "I was thinking about the fiber-optic cables that traverse the ocean floors, connecting us, and the way technology is trying to unify and flatten the world with access to information. Wires essentially transmit energy and information from one place to another. Technology and commerce are blurring geographic boundaries."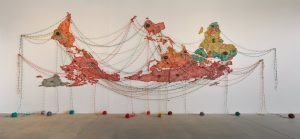 Reena's works are on display at Firstsite, United Kingdom as part of the exhibition Leaking Lines till 16 April, 2023.
Jitish Kallat
In his early years, Kallat's paintings featured his distinctive visual style inspired by the streets of Mumbai, graffiti, billboards and political posters. Many of his early works also include self-portraiture, albeit in a humorous way. One such work is Modus Vivendi (1000 People – 1000 Homes) (2000), which explored the notion of selfhood in a populous city. Peter Nagy, the co-director of Nature Morte, observes, "Other indigenous painters before him had flirted with international styles such as Pop (most notably Jyothi Bhatt and Bhupen Khakhar ) and the mix and match of Postmodernism (namely Gulammohammed Sheikh and Atul Dodiya), but no one had turned the textures and surfaces of urban India into the fracture of painting quite so successfully."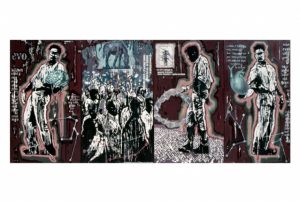 In other works, Kallat studies universalised states of sustenance and the rhythms and cycles in the natural world. For example, the meditative Wind Study (Chloroglobin) (2018) evokes the complex forces of nature, including flora, fauna, vital fluids and chlorophyll. Kallat's series of photo-collages Chlorophyll Park (Mutatis Mutandis) present an idyllic urban landscape with verdant fields replete with lush, green grass replacing roads. In another photo work titled Conditions Apply 2 (2007), images of rotis replace the moon in its changing phases during the lunar cycle. 
Kallat's interventions in the realm of sculpture and installation have been significant. Public Notice I (2003) can be described as a deliberate distortion of Nehru's famous speech delivered on the eve of Indian Independence. Kallat manually inscribed the entire speech on acrylic panels with rubber glue, before setting fire to them. The incinerated remains represent the failure of Nehru's dream. Epilogue (2011), which is an adaptation of the earlier work Conditions Apply 2, is an assemblage of 22,500 rotis labelled through months and years, tracing out the 753 lunar cycles that quantify his father's lifetime. Kallat's works are marked by shifting scales – while some deal with the sweat and grime of existence in the metropolis, others concern themselves with intergalactic vistas.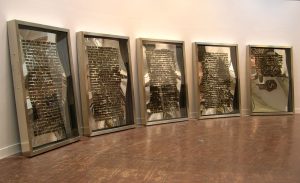 Kallat's latest exhibition titled Otherwhile was on display at Gallery Chemould, Mumbai between 4 December 2022 and 4 January 2023, marking 25 years of his first exhibition at the same venue.
Their story …
Jitish and Reena's love story hardly began under ideal circumstances. They fought during a classroom assignment at the J. J. School of Art in 1993. As part of his performance piece, Jitish kept repeating a specific phrase whenever his classmates or teachers would pose any query to him. This was perceived as misconduct and led to their first disagreement. "It was love at first fight," he quips. They both believe that art is what cements their relationship. "We were actually quite happy to be able to do what we loved, it seemed like luxury enough and it continues to be the same," says Jitish.