Prachi Sahasrabudhe
Part 5 – "In an attempt to capture gender-based stereotypes through the lens:  comprehensive overview and analysis."
Awareness about gender equality is critical in India in order to combat prejudice and violence, promote economic growth, defend human rights, and achieve long-term development. According to research,  boosting gender equality can result in enhanced productivity, more creativity, and higher GDP. Gender equality is also necessary for fulfilling the United Nations' Sustainable Development Goals.
In this scenario, intense photography projects by many talented Indian photographers have contributed to raising awareness of gender equality by visually documenting and highlighting social inequalities and injustices faced by women and transgenders, such as gender-based violence, lack of access to education and healthcare, gender stereotypes, and discrimination. Such photographic documentation has provided a lens to showcase and celebrate the achievements and contributions of women and transgenders in various fields and industries and has successfully documented and preserved the stories and experiences of marginalised communities. Thus, Photography has proven to be a powerful tool for sensitising the common man towards gender equality. Many contemporary Indian photographers and their work emphasise the complexities and diversity of gender roles and identities in India, as well as the significance of defying preconceptions and advocating equality. Their photos question established gender conventions and emphasise the need for a more inclusive and welcoming society. They hope to raise awareness and foster a more progressive attitude towards gender discrimination in India via their lens.
The works of Anita Khemka, Dayanita Singh, and Tejal Shah stand out as they represent the many perceives behind their investigation of transgender existence and identity, through unique photographic images. Khemka has been documenting the hijra community in India for two and a half decades,  documenting their friendships, hardships, and sources of income. "Myself Mona Ahmed" by Dayanita  Singh is a photo novel containing images and writing of Mona Ahmed, a transgender woman who resided in Delhi. The novel addresses the stigma and persecution that transgender individuals endure in  India, as well as Mona's resilience and strength. Tejal Shah's 'Hijra Fantasy' series is a collection of performative pictures of hijras, transgender men who can be transvestites, transsexuals, intersex people,  or castrated men. Through surrealistic pictures, Shah dramatises the imaginations of three hijra subject performers and invokes "the pliability of gender" to challenge hegemonic spaces and foreground queer desires.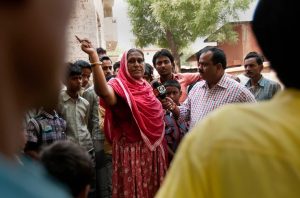 Promita Chatterjee's photographic series 'Fight for gender identity' features Kamala Kinnar from  Varanasi, the first trans-woman to run in Indian elections in 2014 after the Supreme Court accepted the  transgender population as the 'third gender.'
When discussing gender equality, it is critical to break down the dichotomy between the masculine and the feminine. Indian contemporary photographers, Karen Dias, Prarthana Singh, and Uzma Mohsin,  record female athletes' challenges and accomplishments in male-dominated sports such as boxing,  wrestling, football, and rifle shooting, among others, from the perspectives of body, gender, and women in sports. Karen Dias's 'Play Like a girl' series highlights the experiences of Haryana-based female athletes who are overcoming stereotypes and earning medals in sports against patriarchal expectations.  Prarthana Singh's 2015 series work 'Champion' investigates female identity in modern India through the prism of gender and nation. Her images depict how sports can play a vital role in empowering young women and attaining much-needed gender equality in sports. Uzma Mohsin's photograph series,  'Champion,' is about unique women in unique sports. Mohsin's images showcase inspirational young female boxers from India who are driven to achieve their aspirations of becoming national champions despite obstacles such as a lack of space and facilities in the boxing club, societal stigma, and a lack of family as well as financial support.
Anushree Fadnavis, Nishat Fatima, and Bharat Chaudhary's photographs explore the complex relationship between gender, space, and identity. Anushree Fadnavis in her five-year-long series on women travelling in the ladies' compartment on Mumbai's famous local trains, frames the photos with simple, no-frills shots taken in natural light with her phone, and her extensive captions communicate her emotions as well as the experiences of her subjects. She photographs various people, including young girls and transsexual women, whose appearances and mannerisms spark Fadnavis's interest in documenting them. Nishat Fatima photographs the Zenana during Hyderabadi Muslim marriages,  which are women-only gatherings that are seen and photographed by other women, who are lugging equipment and wearing burqas. 'The Silence of others,' by Bharat Choudhary, is an in-depth analysis of the continued islamophobia generated by military conflicts and culminating in the debasement of  Muslim communities in the region. His photographs of Muslim women engaged in private activities such as prayers and conversations with other females are distinctive, as it captures the activities,  sentiments, household settings, and social interactions of Muslim women in the United States and  Europe.
Cheena Kapoor and P. Sainath's photography shows the role of women in challenging tasks that are typically considered as obligatory for women but are not regarded as significant, thereby representing gendered labour and underestimated woman labour in India. Cheena Kapoor's photography project documented the plight of labour in the Dooars region, while also discussing the gender-based work distribution at tea gardens, with women picking leaves and men working in factories, as well as women workers being strangled in the situations of migration, trafficking, and unemployment after the closure of tea gardens. P Sainath's 'Visible Work, Invisible Women' is a photo documentary project on the discrimination and invisibility faced by rural, working women in India. It depicts their hardships for attaining day-to-day chores and highlights the ignorance of patriarchal society towards their efforts.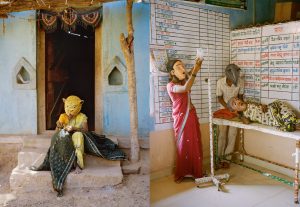 Besides the above-discussed photographers, there are many others who are contributing to the effort of awareness for gender equality through their lens. Gauri Gill's series "Acts of Appearance" challenge stereotypes and celebrate women's agency and creativity. Prerna Nainwal's series 'blurred lines' aims to defend the male-female balance while also highlighting harmful social conventions about wages,  opportunity, and gender roles.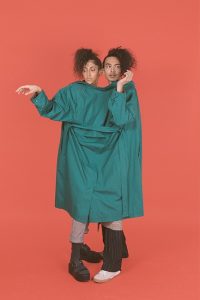 Richa Bhavanam is a talented photographer who has captured the essence of Mahila Yakshagana, a  traditional folk-art form in Karnataka, India, where women portray male characters and perform heroic stories from Hindu mythology. Her photographs showcase the strength and spirit of these women as they transform into heroes on stage, and her work celebrates the power of women and their ability to break down barriers and challenge societal norms. These images challenge the idea that women are passive objects of desire and instead depict them as active participants in their own religious and cultural traditions.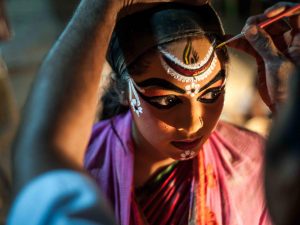 Saumya Khandelwal is a photographer who explores the lives of people and cultures through her lens in her series 'Out of the Shadows', sharing stories of girls without a sense of escape or alternative. Her hope is that her work will inspire others to support child welfare.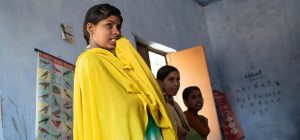 Interrogations over gender equality and identity are crucial in India because the country has significant challenges in attaining gender equality and protecting the rights of all citizens, regardless of gender identification. Gender inequality is a chronic problem, despite recent developments, with high rates of gender-based violence, restricted access to education and economic opportunities, and strongly embedded gender stereotypes. Affirmative action measures and the outlawing of some types of violence against women have been implemented to address these challenges. However, there is still a long way to go in India to achieve genuine gender inclusion and equality.
References:
• Barny Rodgers,7th March 2019, "These 8 women photographers spotlight equality in India", Grazia, https://www.grazia.co.in/people/this-international-womens-day-we-train-our-focus on-fem
• Gauri Gill, "Acts of Appearances," http://2018b.fotobookfestival.org/
• Richa Bhavanam, "Mahila Yakshagana- Where women become heroes",
https://richabhavanam.myportfolio.com/documentary-1
• Promita Chatterjee, "Fight for gender identity", https://www.paromitachatterjee.com/a-fight for-gender-identity-lgbtqa
• Sooni Taraporevala, "Parsis", https://www.soonitaraporevala.com/photo-exhibitions/parsis