Prachi Sahasrabudhe
Part -1 A gender not acknowledged: The Hijras and their struggle for representation
The major works by Indian photographers Anita Khemka, Dayanita Singh, and Tejal Shah are discussed in this section while addressing transgender identity in order to comprehend the various perspectives behind their research on transgender lives. Though the subject matter seemed to be similar, the three photographers' approaches to documenting the lives of the Indian transgender community were vastly different.
Anita Khemka – Between the Lines -India's Third Gender: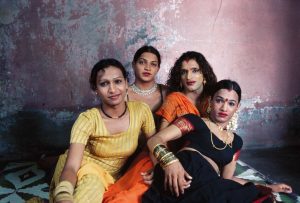 Anita Khemka is a contemporary heroine, who has spent the last two and a half decades photographing members of the hijra community, including Laxmi, with whom she has formed a strong bond. She mentions her friend Laxmi and the artistic process of documenting Laxmi's life while discussing her work on the hijra community in India. 'Between the Lines: India's Third Gender' is a 2005 documentary directed by Thomas Watermann that takes an in-depth look at the Mumbai hijra community, exploring their friendships, hardships, and sources of income. Anita eventually made an appearance in the film after joining the project to assist Watermann in understanding the community. Anita and transgender/hijra rights activist Laxmi Narayan Tripathi, whom she continues to photograph, developed a personal and professional relationship as a result of the film. Anita's documentation of Laxmi's life is the result of personal concerns and a response to reality. She believes that in order to create a meaningful image, she must live through the experiences of her subject.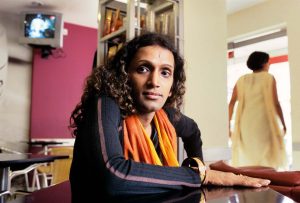 Anita Khemka's childhood was marked by her fear of hijras, a group of big, sari-clad women with facial hair and deep voices. Years later, she went to live with them on her own accord and began photographing them. She recalls one of her first encounters with Munna Guru, who lived a few houses down from her grandmother's house and was the first person she photographed. She was terrified of Munna's loud voice, aggressive body language, and facial hair as a child. Anita's fears were replaced by curiosity when she became intrigued by the ambiguity of Munna's gender, and she anxiously explored this cord through her documentation. Munna Guru was photographed by Anita until her death in 2003. She met Laxmi at that time. Laxmi Narayan Tripathi, the first son of a Hindu Brahmin family, did not identify as male or female. She joined a hijra community, becoming a member of South Asia's 'third sex,' which includes eunuchs, intersex, and transgender people. Hijras have lived on the outskirts of society for centuries, in closed communities led by powerful leaders known as gurus. Hijras are officially recognised as a third gender in India and participate in the ritualistic castration ceremony known as nirvana. Their presence and role in society are documented in religious and mythological texts, and myths suggest that both their blessings and curses can come true.
Laxmi had a natural talent for dance and turned to it as a means of coping with trauma. Hijras traditionally dance and bestow blessings in the homes of newly born children, and Laxmi fits the bill perfectly. She had no desire to participate in the other trades of begging and sex work and was charming and articulate. Anita witnessed Laxmi's public profile rise, and she was invited to HIV conferences and transgender film festivals. She became a symbol for hijras and sex workers, including at the United Nations.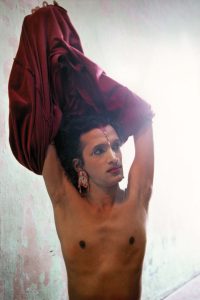 "Anita's documentation of Laxmi developed into what has become a lifelong friendship bound by photography." (Dasgupta,2020) Anita and Laxmi developed a lifelong friendship through photography.
Anita discovered Laxmi's childhood abuse while working on a documentary, which had a significant impact on her sexuality. This episode led to bonding and an equal stake in the documentation process between the two. Laxmi encourages Anita to take pictures by posing around, which she believes can be an incredible shot. "We both know I'll keep taking pictures of her until one of us dies," Anita says.
Laxmi's agonizing battles with herself, her community, and society are remembered by Anita, and how Laxmi refused to be castrated as part of her initiation, leading to her being called a 'behrupiya' or an 'impostor'. Laxmi rose to the position of spiritual leader and gained a following due to her empathy and intuitive abilities. In her political career, she courted the ruling Bhartiya Janata Party, which has long been hostile to India's Muslims. Her association with the right winged ruling party caused her followers to doubt her dedication to the hijra cause, and she eventually decided to seek nirvana as a gesture of assurance towards her hijra community. Gender affirmation rituals are influenced by marriage and childbirth rituals. After lower surgery, the individual is scrubbed with yellow turmeric, bathed, and dressed in green clothes. The old clothes are to be thrown in the river, leading to an evening of dancing and celebration. After nirvana, Laxmi's soul became one with her physical body, and her relationship with the camera took on new life.
"I start to feel like one of them and they can see that this change is not a flattery or fakery, but a genuine celebration and embracing of the hijra culture and the community," mentions Anita when asked about her experience while documenting. Anita claims that her empirical understanding of hijra identity stems from living in a male embodiment for certain parts of their lives and that hijras have an underlying understanding of male expectations, overtures, and aggressiveness. Despite the Transgender Persons (Protection of Rights Act 2019), many hijras live on the outskirts of society, relying on begging or sex work for a living. Laxmi Narayan Tripathi embraced her hijra identity and became an activist advocating for transgender equality and welfare.
Dayanita Singh – Documentation of Mona Singh:
Dayanita Singh is a contemporary photographer and bookmaker. Singh's book, on which she worked for a decade and which was published in 2001, chronicles the life of her friend Mona Ahmed through letters and photographs. Mona Ahmed, a third gender living on the outskirts of society in India, died at the age of 81, leaving behind a rich legacy documented by her official photographer, Dayanita Singh. Mona was a complex, one-of-a-kind individual who became Singh's closest friend, leading to spiritual companionship and a friendship that transcended class and generation. Mona was born in pre-independence India and was abandoned by her family due to her gender and the hijra community due to her unconventional choices. She lived in an Old Delhi cemetery until her death in 2018. Singh met Mona while filming the hijra community. Their friendship was unusual, which Singh documented in photographs, some of which she included in the book.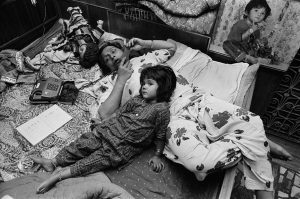 Sexual identity is a terribly visual grammar, from the doctor who assigns a baby's gender to the law that aims to legislate who is and is not trans, as in India's 2019 Transgender Persons (Protection of Rights) Act. Everyone is dependent on sight. To interpret a photograph solely based on its immediate visual information is to demand the same visibility that kills trans people. "Myself Mona Ahmed" comes at a time when trans and hijra lives were less common in Delhi's queer politics. Singh's book focuses on the gender gap between Mona (her hijra name) and Ahmed (her given name). Mona had carried and resisted the name Ahmed, which had been given to her by her mother and with which she had grown up. By adopting the name 'Mona Ahmed', she refused to abandon her past in order to live in the present. It was more than a gender divide; it was a schism between two worlds – of being hijra and with family, of blessings and respect, of leaving and being asked to stay. Mona Ahmed also rejected the neatness of the media's 'before-and-after' trans stories, refusing to be completely occupied by one gender.
But, before all of this, Mona is a self, her own self, Singh's 'Myself'. Mona's 'Myself' is an emphasis on her presence, an insistence, a refusal to accept the insignificance assigned to people of her kind. The name after that is only catching up with her. This self is the one who refuses to be indexed in the photograph. It is a refusal to be photographed or otherwise captured. Singh's book offers opacity with care, presenting humbling images of Mona away from iconicity.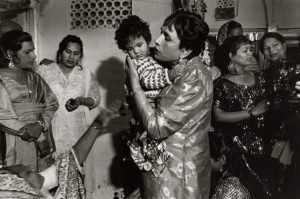 In photographs of her daughter's birthday, Mona gently pushes her daughter's cheek for a kiss, speaks with her community, and blesses those who join her in dance. However, as the pages turn, her lips draw closer together until they resign to silence. The book generates sonic frequencies of Mona's journey, from the audacity of her song to the silence of her prayer. In one of the final images, Mona sits with her daughter and her guru, contemplating her own desertion as she comes to terms with her daughter's growing distance from her. Her plight is illustrated in the scene, where she appears to be choking her words before they reach her mouth. These quiet images can form lumps in the viewer's throats.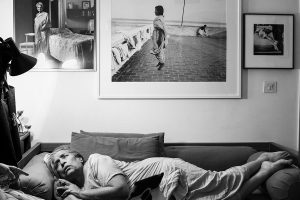 Mona's sense of loss and desire for legacy was fuelled by her entitlement, and her destitution was demonstrated by her association with the 'hapless'. She turned abandonment into a shelter after seeing a common cause with the 'hapless' – from mentally ill women to dogs and monkeys regarded as haram (sacrilegious). Mona refused to accept the loneliness that the world had assigned her, leading to her decision to build a home, a wedding hall, or a school in a cemetery which she often discussed through the letters. She believed in the present as if it were the desired future, and acted from the heart so that defeat did not crush her spirit. This strange intersection of caste and abandonment animated her dreams, symbolizing the practice of freedom. Trans people have marked their place at the table since Mona's death; it is a fugitive act, as their needs are still considered illegitimate by the mainstream LGB movement. Returning to Mona is the conduct of commemoration. Mona is a force whose dreams continue to animate the present.
Tejal Shah – Hijra Fantasy:
Tejal Shah is a video, performance, and photography artist based in Mumbai. Her Hijra Fantasy Series is a collection of performative photographs featuring hijras that were featured in the multimedia exhibition What Are You? (2006). Shah's theoretically informed work has addressed gender, sexuality, the body, and the interstitial spaces that exist within these categories but are suppressed by binaries such as male/female, straight/queer, and normal/abnormal. Her interest as an artist is in these spaces, which she explores in her work.
A hijra is a transgender man who may be a transvestite, a transsexual, an intersex person, or a castrated man. They are regarded with curiosity and fear in Indian society and typically live in marginalized communities with other hijras. The hijra communities are distinguished by multi-tiered hierarchies, with the naik at the apex and gurus and chelas below. Hijras have traditionally offered badhai or blessings and danced at weddings, childbirth ceremonies, and the inauguration of new businesses, but in recent years, fewer people have invited them to bless weddings or childbirths, leading the less fortunate among them to resort to Basti (begging) and pun (sex work). According to Laxmi Narayan Tripathi, a well-known hijra rights activist, the term "hijrotic" refers to something that is fundamentally hijra. The word appears to have a descriptive function, but when probed further, it reveals an intrinsically transgressive nature. It combines words that, in the popular imagination, are at opposite ends of the desired spectrum. By combining the words hijra and erotic, hijrotic merges hijra subjectivity, which is rarely thought to desirable or desiring, with eroticism. It is, therefore, more than an adjective: it is a self-affirming utterance.
The Hijra Fantasy Series dramatizes the fantasies of three hijra subject performers – Laxmi, Malini, and Maheshwari – in interviews with the artist. Shah advocates queer radical politics and attempts to unite her subjects under the banner of queerness. Initially, Shah assumed that her subjects' deepest desires would be to become doctors, lawyers, or politicians, but instead, they articulated hyper-feminine fantasies of being Cleopatra, a mother, and a South Indian film star. While photographing Shah has combined both her subject's wishes and her own creative process to some extent. Shah's 'What AreYou?' explores the contractedness of gender in language and discourse, appealing to queer subjects seeking to challenge heterosexist and oppressive gender laws while also lending credibility to non-conformist gender performances.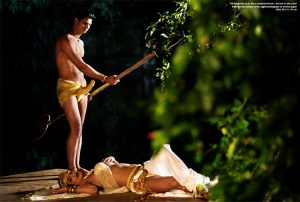 Laxmi Narayan Tripathi's performance of Cleopatra is a heteronormative construct that challenges conventional beliefs about how gender, beauty, and desirability relate. In her photograph 'The Barge she sat in like a burnished throne/burnt on the water,' the full moon illuminates a reclining Cleopatra and her companion Cupid. Cleopatra directs the audience's attention to her eyes, Cupid's penis, and his face, with the horizontal axis running along her body and the vertical axis meeting at an angle of 90 degrees. Shah's depiction of this apex of the English literary canon, which for Indians also represents a colonial inheritance, upends conventional views of the playwright-poet from the 16th century. This has important ramifications for how we evaluate feminine beauty as a society.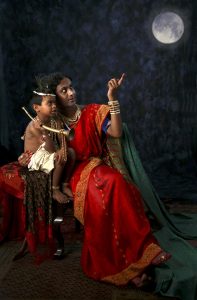 'You Too Can Touch the Moon – Yashoda with Krishna' is a portrait of a mother and child in a photographic studio. The setting is baroque and opulent, and the mother's demeanour is tender. The artist's desire to expand motherhood, make it relational, and disassociate it from biological reproduction is indicated in the caption. In the second half of the caption, Shah refers to a painting by the famous Indian painter Raja Ravi Varma, also titled Yashoda and Krishna. Shah's image of Malini as Yashoda, the shepherdess who adopted the mischievous child God Krishna, reminds the viewer of traditions about hijras, cross-dressing, and sex transformation in the Vedas, Puranas, Mahabharata, and Ramayana. This image undermines Varma's nationalist-utopian vision of Hinduism, its deities, and the Hindu woman, and highlights hijra motherhood, a phenomenon that is still not widely acknowledged.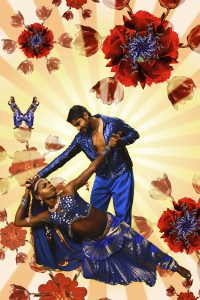 Ultimately, viewers see Maheshwari and her partner in 'Southern Siren – Maheshwari' become enthralled by one another's stare. They are stuck in a South Indian movie still while participating in a song and dance performance. They exchange passionate, adoring looks. Even though he is mesmerized by her presence, she appears to be aware that we are looking at the scene from outside the frame. Southern Siren, a photograph by Maheshwari, is a celebration of love and self-affirmation. Behind the 'hero,' a light source radiates out and envelops both lovers in its brilliance. The caption highlights Maheshwari as the object of desire. The rose is a popular symbol of the queer movement in India and is used as a metaphor for same-sex/queer love, reminiscent of the kiss in older Hindi films.
Both Maheshwari and Laxmi's want desirability but express it in different emotional tones – the former as assertive yearning, the latter as aggressive desire. Maheshwari's performance, like Laxmi's, is hijrotic, and it successfully queers the popular South Indian film song. Intertextual encounters between Shakespeare, Raja Ravi Varma, and popular South Indian cinema meet hijrotic expressions in these photographs, helping to queer dominant sites and foreground desires very seldom seen in mainstream Indian media. Shah provokes "the pliability of gender" as the progressive theoretical nail on which her work and the identities of her subject rests, but one must speculate if this Initially reluctant idea holds more weight for the artist than for her subjects. Looking at the images, it appears that the subject's performances and fantasies are motivated by a deep desire for the mimesis of femininity, even if their actions may contribute to the denaturalisation of gender.
Tejal Shah's Hijra Fantasy Series delves into the lives of hijras prior to their erasure from history. The photographs call into question our understanding of the hijras, as well as the cruel lie we have been telling ourselves. We can no longer pretend that they are unknown men dressed as women and must face the brutal reality that so many transgender people have been abused and murdered in India.
References:
Rana Dasgupta, 30th April 2020, "Laxmi", Art & Photography, Granta 151,

https://granta.com/laxmi/

Shyama Laxman, "An inexplicable cord", Hundred Heroines,

https://hundredheroines.org/featured/an-inexplicable-cord-interview-anita-khemka-laxmi-

hijra/

Vikramaditya Sahai, 23rd October 2020, "Myself Mona Ahmed': Revisiting Dayanita Singh's Landmark Photobook", Books-Opinions, Frieze,

https://www.frieze.com/article/myself-

mona-ahmed-revisiting-dayanita-singhs-landmark-photobook

Shahnaaz Signaporia, 8th August 2018, "When a friendship cuts across class and generation", Vogue Newsletter,

https://www.vogue.in/magazine-story/when-a-friendship-cuts-across-

class-and-generation/

Andrea Farnandez, "Hijra Fantasy", Embody: Gender, Pix,
Subuhi Jiwani, Tejal Shah ,10th January 2010, "HIJROTIC: Towards a New Expression of Desire a critical introduction to Tejal Shah's Hijra Fantasy Series by Subuhi Jiwani",