Tsuktiben Jamir

The Indira Gandhi National Centre for the Arts (IGNCA) has organised a painting exhibition titled "Rock Art of Chandauli" and will be on display from April 3 to April 6 at the IGNCA's Darshnam Art Gallery. The exhibition features the Chandauli region Rock Art paintings that date back between 5,000 and 10,000 years. These 'Rock Art Shelters' are found on the route that once connected old Bodhgaya and Sarnath. The IGNCA intended for this Adi Drishya show to provide viewers some kind of first-hand exposure to ancient art.
The 7th Dr. Vishnu Memorial Lecture was also held on this occasion, where Prof. Vidula Jayaswal, Fellow, and Prof. R.C. Sharma Jnana- Pravaha, Centre for Cultural Studies, delivered the lecture on the topic "Artisans at Quarry and Workshop: Early Stone Carving Art of Middle Ganga Plain." Dr. Dilip Kumar Sant moderated the lecture, which was presided over by Prof. Kishor Kumar Basa, Chairperson of the National Monuments Authority.
As part of the occasion, a number of books were also launched, like the "Rock Art of Central India with Special Reference to Madhya Pradesh", "Affinities and Expansion of Prehistoric and Archaeological Cultures in Northeast India", "Chandauli Janpad ki ShaiIkala : Ek Parichay", "Pragatikhasik Paschimi Himalaya- Paar ki Uttkirnitt Tatha Chitrit Shilayen."
Prof. Vidula Jayaswal paid respect to Late Padmshree Dr. Vishnu Shridhar Wakankar during her lecture. She also told the audience that in 1990, ancient quarries in the Chunar Hills were where Chunar's archaeological discoveries were made. She discussed Mauryan sculpture in the course of her lecture; this was a homage to Ashoka, the great Mauryan ruler, is credited with being the first to use stone as the material for the construction of monuments and structures on the Indian subcontinent.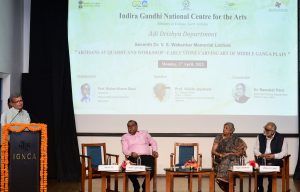 Rock Art, according to Dr. Sachchidanand Joshi, is a field-oriented research that demonstrates the continuity of civilisation. Also, he stated that the study will assist new researchers and students, and he further urged researchers to enter the sector and contribute to the body of information already in existence. After the occasion, Zakir Khan of the IGNCA's Adi Drishya division offered a formal vote of gratitude. The significance of prehistoric rock art forms, shapes, colours, and concepts serves to further underline and support the relevance of the conventional approach. These characteristics, which are most likely fundamental to all forms of art, enable artists to visualise their ideas and traditions.
The IGNCA writes about the initiative of their Adi Drishya division, "The prehistoric rock art has been interpreted with different theoretical orientations – generally based on vague and misguided notions of "primitive mentality". Primitive man is denied of having "deeper aesthetic feelings" and "highest moral and intellectual speculations". Following the evolutionary approach – addressing the propositions about human cognitive development and the process of evolutionising emergence of language – "scientific" claims are made for the "origin of art". But we should not ignore the fact that in the old world the cosmocentric view dominated the lifestyle. Even the authors of rock art and sages of the Upanisadic philosophy reveal the same experience of the cosmos and man's place in it."
Exhibition dates:
April 3 2023- April 6 2023
Exhibition Venue:
Darshnam Art Gallery