Manjeera G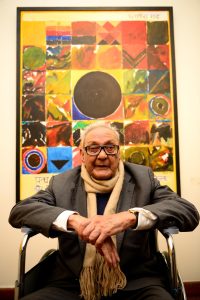 Indian painter S.H. Raza's largest-ever exhibition is set to begin from 15th Februrary 2023 at Pompidou Centre, Paris to commemorate the late artist's 100th birthday. With over a hundred pieces of art displayed, this retrospective will be the first monographic presentation of Raza's work. The Pompidou Center, located in the heart of Paris, hosts a vast collection of modern and contemporary art in Europe and is collaborating with The Raza Foundation and the The Embassy of France to host this massive exhibition.
An entire week will be dedicated to Raza in Pompidou Centre, with various events, exhibition openings and series dedicated to the artist to be hosted between the dates 13th to 17th February. The Raza Week in Paris hosts numerous events, including lectures from Padma Bhushan awardee and critical theorist Professor Homi K Bhaba, film screenings, guided tours, catalogue launches, among others. This is a jam-packed week for those who want to appreciate the work of a seasoned master who transformed the face of Indian Modernist art.
Sayed Haider Raza (1992-2016) has close ties to France as he has spent most of his active career there, from the years 1950 to 2011. His paintings are characterized by abstract expressionism and later geometric expressionism, combining Western avant-garde artistic technique with his own conceptions of spirituality. Raza's works have sold for millions of dollars at Christie's and he was awarded Padma Vibhushan and Commandeur de la Legion d'honneur, the second highest civilian award in India and highest French order of merit respectively for his contributions in art.
The main retrospective will be hosted for three month from 15th February to 15th May in Pompidou's first level, Gallery 4, right next to the Central Cafe starting at 11 am and ending at 9 pm. This will remain open to public on all days of the week except Tuesday.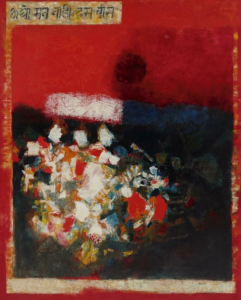 Highlights of Raza week include the opening of the S.H. Raza exhibition on 14th Febraury, entry given only to the Center's special invitees and a free-to-enter public display of the 'Mensuel' series dedicated to the exhibition on 15th evening which include conversations from Prof. Homi K Bhaba, Atul Dodiya, Catherine David and Diane Toubert. On 16th, two volumes of Raza's Catalogue Raisonne will be launched at Musee Guiment with special guests from India. Another focal point of the Raza week is the symposium titled 'S.H. Raza and His Time', organized by art historian Catherine David and archivist Diane Toubert. This symposium will feature various figures, ranging from art historians, critics, curators, publishers and museum directors.
It is certain that the prelude to S.H. Raza's centenary exhibition sets the stage for the main event, honouring one of the most significant expressionist artists of the 20th century. Since the Pompidou Centre is set to be closed for a long renovation starting from the second half of 2023 till 2027, this exhibition will be one of the sought after events to look out for this year.