A SUMMARY OF THE MOST EXCITING ART NEWS FROM AROUND THE GLOBE
While we focus on Indian art, we can't obviously function in a vacuum. It's a small world and everything is connected, especially on the web. So, let's train our spotlight across the world map to see what's going on — from art trends to socio-political issues to everything that affects the great aesthetic global consciousness. Or, let's just travel the world and have some fun!
Gagosian now represents artist Derrick Adams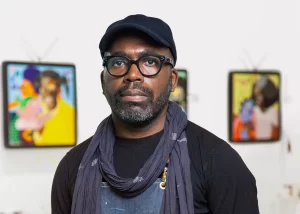 Gagosian has taken on the global representation of Derrick Adams, one of today's most beloved artists. Adams will have his first show with Gagosian at the gallery's location in Beverly Hills, California, in September. Adams, who works in mediums such as painting, sculpture, collage, performance, video, and public art, is best known for his canvases depicting scenes of Black joy, leisure, and beauty, all done in a distinctive style in which his subjects' faces are formed via angular and geometric shapes. His series include "Floaters" (featuring people having fun in a pool), "Style Variations" (depicting Black mannequin busts that are given distinctive hairstyles), and his most recent body of work, "Motion Picture Paintings" (densely populated scenes that collapse multiple shots from movies made in the artist's imagination). Read more on Art News.
Scottish Environmental Activists Smash Glass Case of Sword in Protest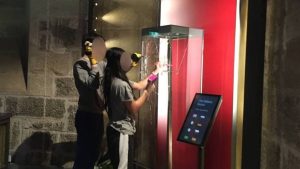 The campaigners, from the environmental group This is Rigged, used two rocks to bash in the enclosure before spray painting it at around 11.30am on Thursday. Activists said they were demanding the Scottish Government opposes all new fossil fuel projects in the North Sea and creates a transition plan for oil workers. One smashed the glass with a rock with writing on it that read: "Whits fur ye, will no go by ye." The other's stone read: "Your liberties were won by the sword, your rights were won by the suffragettes, we must once again fight for what is right, no new fossil fuels and a fair transition now." In a statement released by the group, one member said: "111 years ago the suffragettes stood in this very spot to stand up for their rights and freedom, 600 years before that William Wallace defended our freedom with this very sword. Now it is time for us to stand up for our rights too." ​​​​​​Details on STV News.
Orlando Museum's chief curator departs amid Basquiat investigation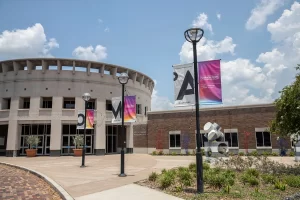 The longtime chief curator of the Orlando Museum of Art, Hansen Mulford, has quietly retired after 42 years without fanfare or even advanced notice to staff, according to local press. Mulford's retirement was first reported by the Orlando Sentinel, which noted that with it, the OMA's top leaders during last year's Basquiat scandal have all left the institution. The former museum director, Aaron De Groft, was fired in June 2022 by the OMA board of trustees only days after the FBI seized a suite of paintings on display that were attributed to Basquiat. A FBI affidavit revealed that the works had been at the center of a nine-year-long investigation into their authenticity, and that the museum had been served a subpoena prior to the opening of the exhibition "Heroes & Monsters" in February 2022. Several former trustees have claimed that De Groft and the former board chair, Cynthia Brumback, withheld knowledge of the subpoena. Details on Art News.