A SUMMARY OF THE MOST EXCITING ART NEWS FROM AROUND THE GLOBE
While we focus on Indian art, we can't obviously function in a vacuum. It's a small world and everything is connected, especially on the web. So, let's train our spotlight across the world map to see what's going on — from art trends to socio-political issues to everything that affects the great aesthetic global consciousness. Or, let's just travel the world and have some fun!
Seattle Artist Given 18 Months of Probation for Making a False Claim to Native American Ancestry
Jerry Chris Van Dyke, a carver from Seattle, was sentenced to 18 months of federal probation for misrepresenting the origin of his sculptures.  The Indian Arts and Crafts Act is a federal truth-in-marketing statute that is enforced by the Indian Arts and Crafts Board (IACB) to stop the spread of fake Native American artworks. Van Dyke, who has neither tribal membership nor lineage, pled guilty to breaching the law in March. A tip on Van Dyke's claim to belong to the federally recognised Nez Perce Tribe, whose ancestral territories are in present-day Idaho, reached the Indian Arts and Crafts Board in February. The US Fish and Wildlife Service's undercover agents then went to a gallery in Seattle's Pike Place Market and bought carved pendants that were actually manufactured by Van Dyke but were sold under the name of a Native American artist named Jerry Witten. Read more on ARTnews.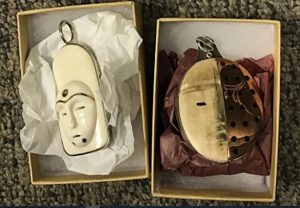 Second Act of Art Vandalism This Month: Florida Man Crashes into 13-Foot Hunt Slonem Sculpture
Police said earlier this week that 49-year-old Florida resident Derek Alan Modrok had admitted to slamming his automobile into a tall, blue sculpture of a rabbit by American artist Hunt Slonem called Thunderbunny. The sculpture, which is thought to be worth $300,000, was located at Wilton Manors' Justin Flippen Park, which is located just north of Fort Lauderdale. Additionally, Modrok acknowledged damaging a Craig Berube-Gray popsicle monument in the nearby Rachel Richardson Park earlier this month. Modrok was detained by police after being caught on camera performing the deed. Modrok has a criminal history; he was sentenced to three years in prison in Broward County for selling cocaine. In connection with his current wave of damage, Modrok was accused of three counts of criminal mischief. Read more on ARTnews.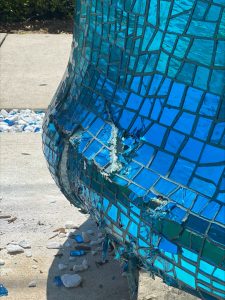 In Armenia, archaeologists discovered a 3,000-year-old bakery thinking that a layer of ash was actually wheat flour.
A group of Polish and Armenian archaeologists has been working at Metsamor, a vast ancient metropolis built around 20 miles south of the capital of Armenia, for the past ten years. They discovered a "Golden Tomb" this spring that was packed with exquisite objects and diamonds. Researchers have now discovered something even more unexpected: a building they assume to be a long-gone bakery, based on flour traces discovered at the location that was once destroyed in a fire. The dig was started by archaeologists to find out more about the history of the massive, walled city during the Urartu Kingdom of the Iron Age. According to a press release from Poland's Science for Society, scientists concentrated on the architectural remnants of a destroyed structure that was in use in the Lower City between 1200-1000 B.C.E. scientists discovered "two rows of a total of 18 wooden columns supporting a reed roof with wooden beams." Read more on Artnet news.