Ved Prakash Bhardwaj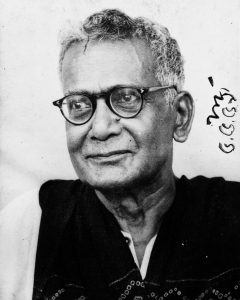 Nandlal Bose's name is prominent among the artists who contributed the most to shaping modern Indian art. At a time when western art had a strong influence on modern art in Bengal, Nandlal Bose differed from the rest and brought an Indian touch to local art. In the beginning, Nandlal only made works influenced by Western art because of his mentor Abanindranath Tagore, who was firmly rooted in Western traditions. Yet, Nandlal Bose kept the subject of those paintings Indian. Therefore, it would not be wrong to claim that he was the first true Indian modern artist.
At Nandlal's solo exhibition at Akar Prakar Gallery, Kolkata, curated by Debdutt Gupta, one can see his work. The paintings and drawings made on postcards are displayed in this exhibition. Apart from several drawings and prints, a few watercolors are also on display in the exhibition. It was a good tradition among the teachers of Santiniketan to write postcards to their artist friends, relatives, and students, on which they often drew. This tradition was started in a way by Nandlal Bose. Nandlal Bose not only himself used to do art on postcards but also used to inspire his fellow artists, teachers, and students to do the same. He created around 7000 paintings and drawings in his life.
Nandlal Bose was one of those painters who fought against all odds in order to pursue his passion. Unlike many other Indian painters, Bose did not have the support of his family. The trust he had in his own passion and ability ultimately turned him into one of the most celebrated Indian painters of the 20th Century. During the course of his wonderful career, Bose also earned the trust and respect of the independent Indian Government. He was assigned some of the most prestigious projects by the Government. When it comes to his paintings, Nandlal Bose mostly depicted Indian subjects but was not hesitant to use some foreign techniques, especially European techniques. As he was one of the favorite students of the famous painter Abanindranath Tagore, the usage of several different techniques became Bose's bread and butter during the course of his tutelage under his master. Nandlal's contribution to Indian art is immense, for which he was honored with Padma Vibhushan by the Government of India.
Early life
Nandlal Bose was born on 3 December 1882 in a middle-class Bengali family at Haveli Kharagpur, in the Munger district of Bihar. The family originally hailed from Jejur, Hooghly District of West Bengal. His father, Purna Chandra Bose, was working at that time in the Darbhanga Estate. Nandlal learn his first art lesson from his mother Khetramoni Devi who was a housewife. His mother had a skill for improvising toys and dolls for young Nandlal. From his early days, Nandlal began taking an interest in modeling images and later, decorating Puja pandals.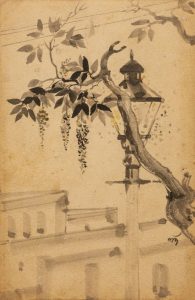 In 1898, when he was at the age of fifteen, for higher study, he moved to Calcutta. He wanted to study art, but his family denied it. Unable to qualify for promotion in his classes, Nandlal moved to other colleges, joining the Presidency College in 1905 to study commerce. After repeated failures, he convinced his family to let him study art at Calcutta's School of Art.
Abanindranath Tagore's Influence
Nandlal Bose was deeply influenced by the paintings of Abanindranath Tagore and wanted to learn the nuances of painting from him. But he was also scared to approach the eminent painter. So, he took his friend Satyen along in order to speak on his behalf. He had also taken some of the paintings that he had created till then. Abanindranath, who was accompanied by E.B. Havell, was surprised to see such wonderful paintings by an amateur painter. In fact, Nandlal's capability to emulate some of the European paintings came across as a great surprise to both Abanindranath and Havell. Abanindranath then gladly accepted Nandlal as his student. Nandlal Bose was initially guided by Harinarayan Basu and Iswari Prasad and later on by Abanindranath Tagore himself. As per the biography and life history of Nandlal Bose, he remained under the tutelage of Abanindranath for the next five years. Eventually, Nandlal went on to become one of Abanindranath's favorite students.
Nandlal bose and Kala Bhavan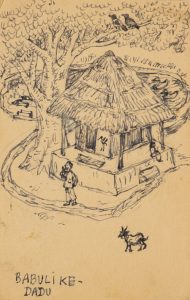 When Rabindranath Tagore founded the Kala Bhavan in Santiniketan, he invited Nandlal to join in. Nandlal Bose served as the principal at Kala Bhavan, Santiniketan between 1922 and 1951. He also received an offer from the Government Art School to join in as one of the staff members. However, he declined the same and instead, started helping Abanindranath in preparing a catalog of his artworks in his home. While working as the principal of Kala Bhavan, he gave a new direction to his students. He encouraged his students to develop their own styles. Along with painting, he was also inspired to learn murals and other forms of art.
Illustrations of common life
Paintings are an expression of ideas that look at reality in a different way. An artist chooses from his daily experiences to act as a guide to understanding the times and society. He creates those experiences in his own style. Nandlal Bose was an artist like that. Bose was not making art for any kind of change, he was just interpreting it in his own way. That is why in his paintings and drawings we find images that symbolically represent the lives and conditions of ordinary people. Among his collection, we can find that there are paintings of Sati Pratha in his art alongside depictions of tribal life. His paintings have people going to work, farmers, woodcutters, and many more that give meaning to his art. His absolute work is contrasted more with women, rural India, and, mythologies.
Haripura panel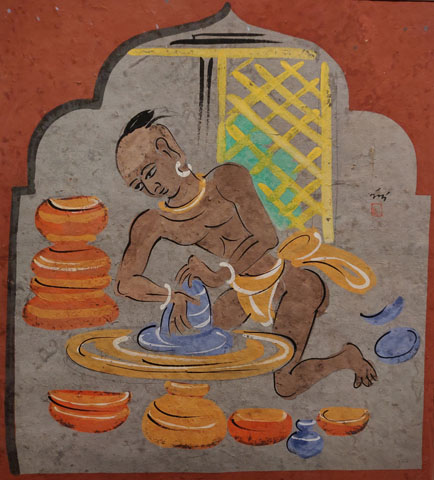 Mahatma Gandhi commissioned Nandlal Bose to create paintings portraying several aspects of Indian life that visitors can interact with at the Indian National Congress session in Haripura in Gujarat in 1938. Nandlal Bose showcased 77 paintings to decorate the pandal for the Congress session. These represented common people like the tailor, the drummer, and the gardener, among others. This collection is considered to be one of the crucial works of Modern Indian Art. After Haripura, Nandlal Bose decorated many pandals for Congress sessions. He invited many artists and his students to work on the pandals.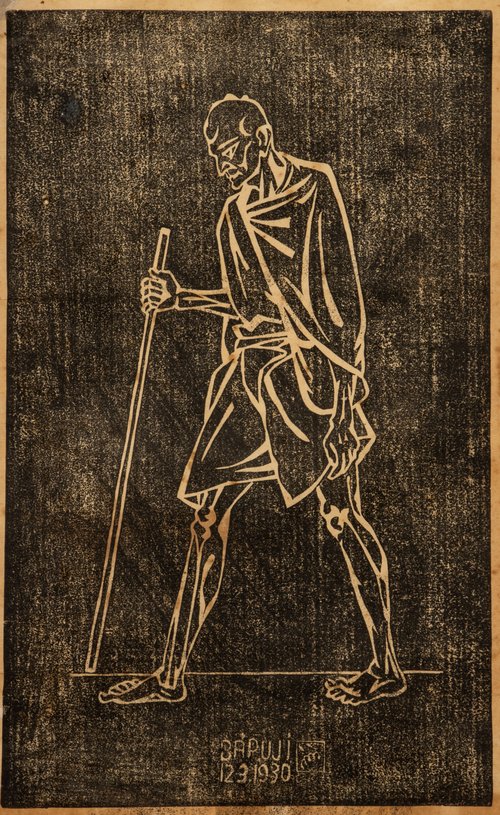 Nandlal Bose made a linocut print of Mahatma Gandhi when he was arrested during the Salt March. In this, he has shown Gandhiji walking holding a stick. This linocut print is very famous. After independence, the work of decorating the Indian Constitution with paintings was also done by Nandlal Bose along with other artists.
Postcard and his passion to draw
Today's everything is commercial, so it is difficult to imagine that once upon a time artists used to send drawings to their friends. Most of the postcard paintings and drawings of Nandlal Bose are monochromatic, free from the constraints of color. This approach alienated him from his mentor, Abanindranath Tagore. According to Abanindranath Tagore, lines are the vessels in which colors are kept. He was of the view that life can be brought to a painting only through color. On the other hand, Nandlal was intensely curious about the multiple possibilities of lines. Japanese painting, especially calligraphy, attracted him to monochromatic images.
From color to monochrome 
During his travels to East Asia, he was introduced to the traditional art of the region. The art of China and Japan introduced him to the possibility of using one color only. In Indian art, miniature painting is known for its multicolored images. Colors were also the basis of the art that Nandlal Bose learned from Abanindranath. But in his travels to China and Japan, he discovered the magic of brush and ink. The belief became stronger in him that the power of all colors is contained in black and white.  His travels brought with him an understanding of graphics and wood blocks. With print art, his faith in monochromatic art became stronger.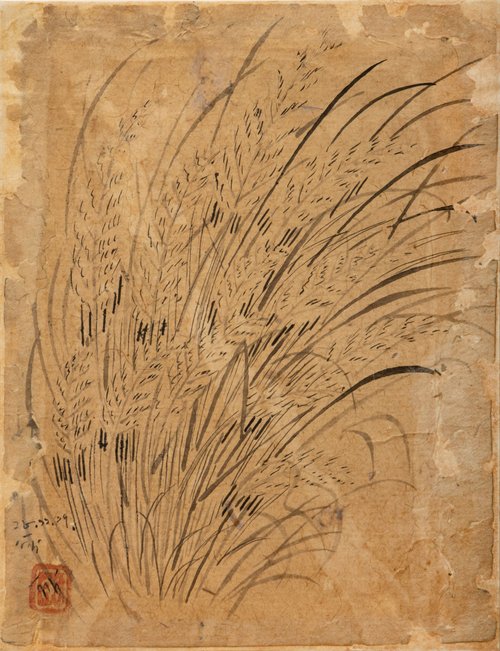 While studying the art of China and Japan during his travels, Nandlal Bose started composing local landscapes and solely adopted common life as a subject of his art. That's why in his later works, there are fewer pictures related to myths and mythological stories.
For the first time, setting aside the multicolored scheme in art in the Indian tradition, he introduced Indian art seekers and students to the power of monochrome. Nandlal Bose, an admirer of Constable and Turner's landscapes, also modeled a color palette in some of his paintings. He started composing Indian landscapes in one color. With his inspiration, other artists of Bengal also started doing the same.
There is no uniformity of subject matter in the postcard drawings included in this exhibition. The quality of instant creation is prominent in postcard drawings created on different occasions. Apart from landscapes, there are also pictures of farmers, laborers, and merchants in these drawings. The exhibition also includes many other graphics and drawings on paper.