Saptarshi Ghosh
Anju Dodiya and Atul Dodiya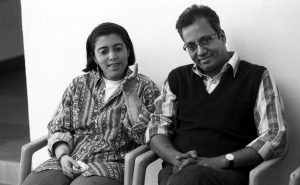 Anju Dodiya is a renowned contemporary artist known for her expressive watercolour paintings layered with symbolism. The self is a recurring theme in Anju's works. Her practice is informed by a wide range of influences – from Indian and Persian miniature paintings, 17th and 18th century Japanese Ukiyo-e prints, Renaissance painters like Giotto, Bellini to Greek mythology, images from old newspapers, advertisements and contemporary cinema. Anju is married to one of the foremost Indian artists currently working today, Atul Dodiya. Atul's oeuvre comprises paintings, installations and assemblages, which respond to urgent socio-political issues of our times. Like his wife, his artistic idiom too is shaped by an eclectic mix of influences – from Western and Indian masters, like Picasso, Albrecht Dürer, Bhupen Khakhar, S. H. Raza, to world cinema, literature, contemporary religious and political iconography and popular visual culture, like Bollywood films and advertising billboards. Both Atul and Anju are alumni of Sir J. J. School of Art, Mumbai, from where they graduated in 1982 and 1986, respectively. 
Let's take a look at their individual artistic journeys!
Anju Dodiya
Anju Dodiya is known for her works in watercolour, which feature a harmonious juxtaposition of watercolour smudges and hard-lined charcoal etchings. Her first exhibition, a fictional autobiography (1991), displayed her small-sized, yet expressive 'self-portraits' in watercolour, which articulate the creative anxieties of the protagonist/artist persona. The central figure in most of Anju's works is a woman. Through the female figure, she harks back to history, texts and iconic images from the past.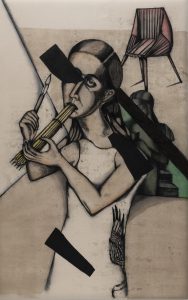 In her experimentations with the materiality of her practice, Anju often paints on the surface of a mattress. This began when, in the early 2000s, she was commissioned to create a painting for the Hotel Grand Hyatt on Shiva and Parvati. Since she wanted to depict Shiva and Parvati's marriage, Anju decided to paint directly on a mattress, owing to its relation with nuptials. The mattress in Anju's works becomes a metaphor for domesticity and privacy.
Her important exhibition The Throne of Frost (2007), which was set up in the regal Durbar Hall of the Lakshmi Vilas Palace, Vadodara, was a visual spectacle: as part of the display, 28 double-panelled paintings were installed facing each other, thus creating a reflective chamber. The paintings could either be viewed from a distance or as reflections in the shards of mirror installed on the floor.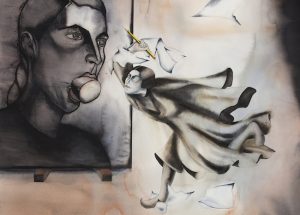 In some of her works, Anju uses artistic paraphernalia to reflect on the process of creating art. In the watercolour Paper Storm (2010), a woman tries to stab a painting with a pencil; both the figures in the painting represent the same person – the artist herself. "It's the do or die – the challenge of a blank page," explains Anju. She introduces herself in many of her own works, thereby creating a fictional selfhood. In Pink Scream (2012), the artist is shown to be conversing with a large bust of herself, but with Medusa-like snaky black hair. However, it would be erroneous to consider such works as purely autobiographical. As Ridhi Khanna aptly notes, "Dodiya's work when seen from a narrow perspective appears to represent self-portraits but over the years her work has evolved into allegorical mind maps, forming a personal mythology of sorts, where the protagonist is faced with multiple dilemmas."
Anju's works were on display as part of the exhibition The Chaos Trilogy Part 1: Disorder Under Heaven at the Guild Art Gallery, Mumbai till 5 January 2023.
Atul Dodiya
A year-long period of study at the École des Beaux-Arts (1991-92) in Paris made Atul Dodiya reassess his artistic voice and language. During this time, not only did he encounter the canonical works of the Western art tradition in-person but also soaked in influences of the contemporary Western art scene. Bombay Buccaneer (1994) marked a drastic turn from his usual photorealistic approach. A satirical take on a poster of the popular Bollywood film Baazigar (1993), Atul replaced the hero, Shah Rukh Khan's face with his own; wearing sunglasses and brandishing a gun, he pitched himself as a gangster hero. The sunglasses reflect images of Atul's two important influences – English painter, David Hockney and the late Baroda group artist, Bhupen Khakhar. Atul also playfully alluded to works of these artists in the pictorial space surrounding the main figure.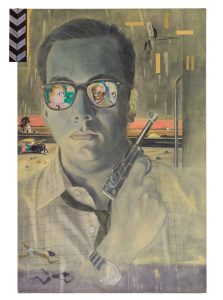 In 1999, Atul received acclaim for his series on Mahatma Gandhi. He thought it pertinent to underline the relevance of Gandhi's ideology in times of rising communal discord following the Bombay riots (1992-93). Lamentation (1997), Bapu (1998), Bapu at Rene Block Gallery, New York-1974 (1998) and An Artist of Non-Violence (1999) are some paintings from this series. Atul's engagement with Gandhi is recurrent and can also be seen in recent works like Bako Exists (2011).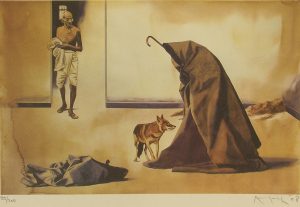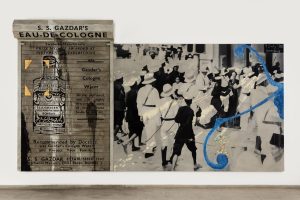 In 2001, he created the first of his iconic paintings on roller shutters as part of the exhibition Century City, curated by Geeta Kapur and Ashish Rajadhyaksha at the Tate Modern. The roller shutters feature in projects such as the Missing series (late 1990s), Dead Ancestors (2012), Police Crackdown, Bombay, July, 1930 (2015) and Stammer in Shade (2020); these works contain a potpourri of visual references – from paintings by Picasso, Van Gogh, Marcel Duchamp and Edward Hopper to oleographs by Raja Ravi Varma. 
From 2003, Atul has produced several cabinet-based installations, invoking the colonial-era cabinets of curiosities, like Broken Branches (2003), Meditation (with open eyes) (2011), Fragrance of a Paper Rose (2018). Demonstrating his multidisciplinary approach, these projects contain references to past artworks, texts and other archival materials. 
Atul's latest exhibition Dr. Banerjee at Dr. Kulkarni's Nursing Home and Other Paintings 2020-2022 is currently on display at Chemould Prescott Road, Mumbai, till 25 February 2023. 
Their story …
Atul met Anju at the Sir J. J. School of Art where both of them studied. Speaking of their first meeting, Atul said, "She was the most beautiful girl I'd seen, and above all, she was as passionate as I was about movies and art." Anju was an admirer of Atul's work and they would visit galleries together. Unlike Atul, Anju is an introvert who, according to her husband, doesn't crave success or fame. Atul has contributed significantly to Anju's flourishing as an artist. Both are passionate about cinema and literature. Though they may not always agree over ideologies and approach to art, they are each other's best critics. We wish both of them a happy Valentine's Day!