Rajesh Kumar
Seher Shah from Karachi, Pakistan is dedicated to drawing, printmaking and sculpture. She has worked with drawing and printmaking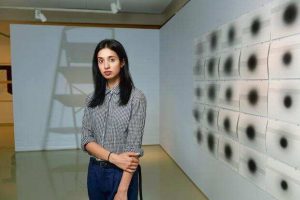 exploring ideas in architecture and perspective drawing traditions, contested relationship between history, objects and time; and the relationship between poetry and abstraction. Through works on paper using drawings, etchings, photo gravures and woodcuts and sculptural studies in cast iron, her work speaks to the poetics and fractures of how we view the landscape, through the historical and intimate.
With thirty-two screen prints on paper, titled 'Notes from a City Unknown', Seher Shah explores the concept of a city 'through sites of fissure, complexity and contradiction' at the fifth edition of Kochi-Muziris Biennale. The 32 cards are pairing screen-prints of monochromatic geometric compositions resembling architectural forms with an excerpt of poetry, creating bonds between language and form. Through poetic notations composed alongside architectural forms, it takes us through Shah's meandering thoughts as a series of events unfold in the city, from the riots that shook Delhi in February 2020 to the protests at Shaheen Bagh between 2019 and 2020. The short poems are basically based against a backdrop of brutal nationalism and pervasive surveillance in Delhi.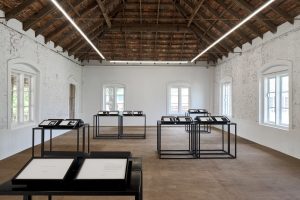 "Over the course of several years, I have written small notes on a city. Unfinished stories through moments of connection and distance. Writing these notes has felt like concealment in the open light; a sharing of private thoughts. Within this landscape, forms and structures become markers of time and memory. Notes from a City Unknown are compositions on paper of these collected moments through relationships between form and language. Set against a backdrop of a brutal nationalism and pervasive surveillance, these notes are a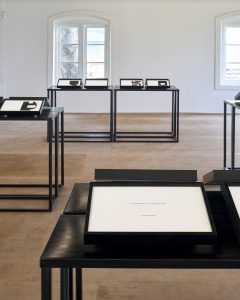 record of my time in a city that is distant and familiar. There are cities within a city. And an unknowable measure of distance between things", says Seher Shah.
Artnet News describes her work as ode to Delhi, that feels like a very different comment on estrangement and the unseen. In 'City of Forgotten Languages' she writes about a solitary bird forgetting its own song, and needing 'a memory to remember how to sing'
Seher Shah received her Bachelor of Fine Arts and Bachelor of Architecture from the Rhode Island School of Design in 1998. Her works can be found in collections ranging from The Metropolitan Museum of Art, New York; The Museum of Modern Art, New York; Queens Museum, New York; Brooklyn Museum, New York; Centre Pompidou, Paris; Tate Modern, London; Art Jameel Collection, Dubai; Hallen für Neue Kunst, Schauffhausen; Kiran Nader Museum of Art, New Delhi; and the Thyssen-Bornemisza Art Contemporary Foundation, Vienna amongst others.
The fifth edition of Kochi-Muziris Biennale opened on 12th December, 2022 and will be on view till 10th April, 2023.