Ved Prakash Bhardwaj
Andy Warhol took a stab at Pop Art, in the form of a portrait of Marilyn Monroe. No one has been able to draw a bigger line than that till today. A key element of the Pop Art concept today is the use of images of popular film stars. Andy Warhol later included politicians in person images, and also himself. Warhol has been a standard reference for most pop artists. Andy Warhol was working on keeping Western society at the centre but if we look at South Asian countries including India, their cultural and social situations are different. It is not surprising, therefore, that many artists in South Asian countries used images of folk life in pop art, including masks, folk dances, fairs, local games, etc. The ongoing exhibition of artists from South Asian countries at the Kiran Nadar Museum in Delhi brings to the fore that pop art for these artists is not just about glamour, but also a medium of deep social discussion. The artworks included in the exhibition range from film stars to political slogans, advertisements, and photographs of public life.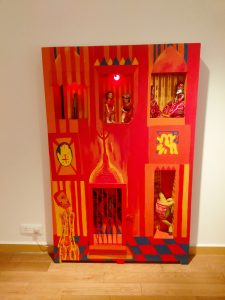 The Pop South Asia exhibition brings to the fore a number of multivariate themes, their interrelationships, and reciprocity. Pop art in a way brings folk culture front us in new forms. Many contradictions are also visible in these new forms which are the real face of our times. Sculptures by G. Ravinder Reddy and paintings by Atul Dodiya reflect the face of the current period, while works by artists from Sri Lanka, Bangladesh, and Pakistan echo the social and political upheavals in the exhibition. This exhibition proves that pop culture has become market-driven that does not see social anomalies; it serves everything in golden packs. That's why the same golden glow is seen in pop art. It is a different matter that many artists bring out that side of this pop culture that is hidden.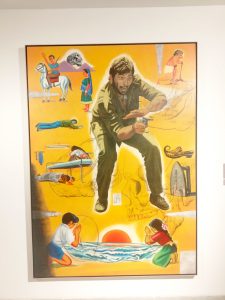 This exhibition brings to the fore, many changes taking place in contemporary art. In these changes, on one hand, there are new experiments, there is increasing brightness, grand display, and experiments in art, and on the other hand, there are changing social concerns of the artists. The work of many of the artists included in this exhibition not only presents popular culture as an artwork but also exposes social, political, and cultural deviation through it. The exhibition includes over 100 works by artists from India, Afghanistan, Bangladesh, Nepal, Pakistan, and Sri Lanka as well as other artists from the region who have settled abroad. It is the first major exhibition of artistic exploration of popular culture in India. Through paintings, sculptures, installations, posters, photographs, video art, etc., the artists in the exhibition have dramatized the ironic situations in South Asian societies. Artists have also put forward many complex issues of society through comics and cartoons. It includes artworks by Abdul Halik Azeez, Ahmed Ali Manganhar, Anant Joshi, Anwar Saeed, Atul Dodiya, Ayesha Jatoi, Baseera Khan, Bharti Kher, Bhupen Khakhar, C. K. Rajan, Chandraguptha Thenuwara, Chila Kumari Burman, Chitra Ganesh, Dhali Al Mamoon, G. Ravinder Reddy, Hangama Amiri, Jeanno Gaussi, K. M. Madhusudhanan, K. G. Subramanyan, Lala Rukh, L. N. Tallur, Lubna Chowdhary, Maligawage Sarlis, Mehreen Murtaza, M. F. Husain, Mian Ijaz ul Hassan, Muvindu Binoy, Naiza Khan, Pushpamala N, Raja Ravi Varma, Ram Rahman, Ramesh Mario Nithiyendran, Saba Khan, Samsul Alam Helal, Seema Nusrat, Seher Naveed, Seher Shah, Shishir Bhattacharjee, Sunil Gupta, Tejal Shah, Thukral & Tagra, Tsherin Sherpa and Vivan Sundaram.
Pop artists in South Asia intervene with aesthetics such as raising serious topics of their societies through print, advertising, cinema, and digital media. The artist brings to the fore religious and traditional practices, their political entanglements, and the lives of ordinary citizens caught in the middle. Not only this, but many artists also create resistance in their own way. A classical music singer singing alone in a room in a video is an example of how market-driven pop culture marginalizes real culture.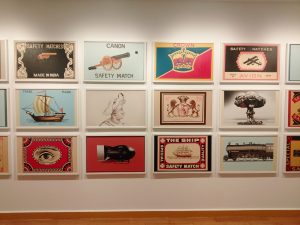 Pop Art originated in England in the 1950s and became popular in America in the 1960s. But, the seed of Pop Art was planted in 1917 by Marcel Duchamp when he said that any object can be art. He said this while presenting the bar urinal as his artwork. Picasso made a sculpture of a bull with the seat and handle of a bicycle. All these can be called the early signs of pop art. But the term pop art came into use in the 1950s. In Britain, some artists started art with photographs of popular people, advertisements and slogans, cartoons, etc. The purity and uniqueness of art were challenged. Art started being made like a mass product. Pop Art gained a new identity in the 1960s when American artists began to popularize it, especially Andy Warhol. Impressionism and graphic art became Andy Warhol's main tools. Any found, pre-made object began to become part of the artwork, even being declared art in its original form. Andy Warhol mass-produced graphics in addition to his paintings. He also used advertisements apart from popular film stars. Many of his prints number in the thousands, whereas graphic artists usually make only 10-20 prints.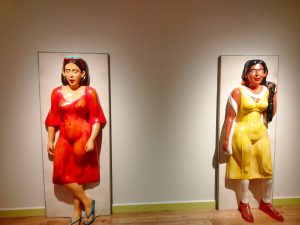 Although a form of Pop Art predated sculpture and painting, the only difference was in its texture. There was a practice of pre-making crafts and paintings of popular personalities in the society. These also included depictions of religious narratives. Apart from this, there was also a practice of making pictures and crafts of the rulers and their family members and installing them in public places. In India, there was a practice of wall murals on religious and historical narratives in temples and other places. But till that time it was not called Pop Art because one, they were not being made on a large scale, and secondly, they did not have the glare. Furthermore, they were not used to express the contradictions of the contemporary social, cultural, and political situation. There was not much sparkle in them. However, in the temples of South India, especially in the local small temples, bright colours were used. But all these were used in public life. In them, from the material to the shape and the plot, it was already decided. There was no freedom for the artist in it, whereas the foundation of Pop Art was that everything is art and the artist is free to create anything, breaking old rules and ideals. Apart from this, Pop Art was used to protest against the then social, cultural, and political systems. There was a kind of satire in it that was forbidden in normal art. That is why we see the use of comics in pop art.