Rajesh Kumar
In an urge to strengthen the relation between art and its popularity within the millennial world, Pop Art came into existence. Themes and techniques drawn from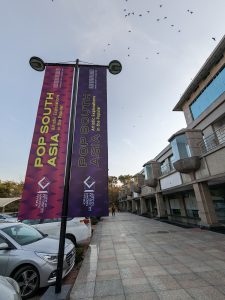 popular culture and mass media, such as advertising, comic books and mundane cultural objects summarize the pop art culture. The South Asian countries also have an impact in the world of Pop art. Be it Amar Chitra Katha, 70s and 80s movies and its posters from South Asian countries is something that we still ponder upon. All these pop art by artists who intervene in the aesthetics of print and advertising, cinematic and digital media, comic books come together at a single focal point at Kiran Nadar Museum of Art (KNMA) with an exhibition titled ' Pop South Asia: Artistic Explorations in the Popular'. The exhibition also spotlights the artists addressing modes of local capitalism from large-scale industries to vernacular bazaars co-opting objects or castaways of mass production in conjunction with those commenting on identity, politics and borders.
The exhibition is presented by Kiran Nadar Museum of Art and Sharjah Art Foundation, and curated by Iftikhar Dadi. It includes artworks by Abdul Halik Azeez, Ahmed Ali Manganhar, Anant Joshi, Anwar Saeed, Atul Dodiya, Ayesha Jatoi, Baseera Khan, Bharti Kher, Bhupen Khakhar, C. K. Rajan, Chandraguptha Thenuwara, Chila Kumari Burman, Chitra Ganesh, Dhali Al Mamoon, G. Ravinder Reddy, Hangama Amiri, Jeanno Gaussi, K. M. Madhusudhanan, K. G. Subramanyan, Lala Rukh, L. N. Tallur, Lubna Chowdhary, Maligawage Sarlis, Mehreen Murtaza, M. F. Husain, Mian Ijaz ul Hassan, Muvindu Binoy, Naiza Khan, Pushpamala N, Raja Ravi Varma, Ram Rahman, Ramesh Mario Nithiyendran, Saba Khan, Samsul Alam Helal, Seema Nusrat, Seher Naveed, Seher Shah, Shishir Bhattacharjee, Sunil Gupta, Tejal Shah, Thukral & Tagra, Tsherin Sherpa and Vivan Sundaram.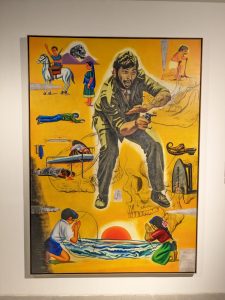 The collage drawings with poetry n it by KG Subramanyan takes a satirical narrative course, inspired by the impact of the declaration of a national state of emergency in India (1975-1977) and the rapidly changing political environment it facilitated. The work titled 'The Tale of the Talking Face' cautions the viewer about the state of corruption and oppression inflicted by the protagonist, an autocratic ruler.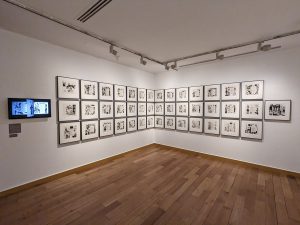 The exhibition also features a 5-min long single channel animation of hand drawn and stop motion iPad drawings by Nalini Malani titled 'In Life (2023)'. With her interest in 'the absurd' in literature and theatre, she complements the animation with late Tamil writer, folklorist and linguist AK Ramanujan's poem, 'The Elements of a Composition (1986).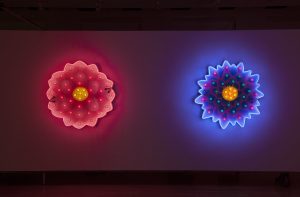 Iftikhar Dadi and Elizabeth Dadi's 'Efflorescence' is on view for the first time in this exhibition and been added to the KNMA collection.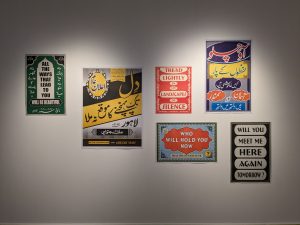 Sunil Gupta's photographs from the 'Homeland (2003)' series, Ayesha Joshi's prints titled 'The Lockdown Posters' and Pushpamala N's photographic series 'Native Women of India: Manners and Customs (2000-2004) are also a part of this exhibition, featuring more than 100 artworks by artists from Afghanistan, Bangladesh, India, Nepal, Pakistan and Sri Lanka. The whole exhibition navigates through multiple diverse themes.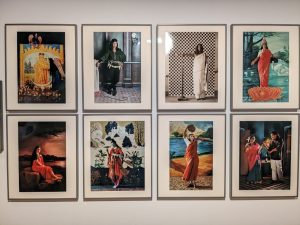 The show which alludes to the fluid nature and evolving definition of the Pop, does not aim to be a comprehensive description and instead offers a variety of parallel and overlapping paths that come together from many perspectives.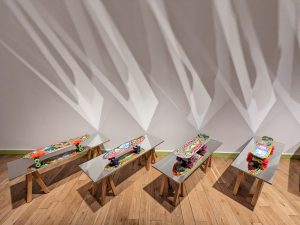 'Pop South Asia: Artistic Explorations in the Popular' is on view at Kiran Nadar Museum of Art (KNMA), Saket from February 8 to April 30.