Smriti Malhotra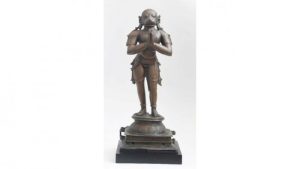 A stolen sculpture of Lord Hanuman has been repatriated back to the Vishnu Temple, Sri Varatharaja Perumal, Pottaveli Vellur, Ariyalur District. The sculpture belonged to the Chola Period (14th – 15th century). Four metal idols of Varadaraja Perumal, Sridevi, Bhoodevi and Hanuman were stolen from the temple in the year 2012, the sculpture has been famously documented by the French Institute in Pondicherry in 1961.
The sculpture found its way to Christies, the renowned auction house where upon investigation, it was found that an American art collector residing in Canberra had auctioned it. After due diligence, the sculpture was handed over to the High Commissioner of India in Canberra, Australia and returned back to Tamil Nadu.
Around 251 antiquities have been repatriated back to the country over the years, the Government of India is taking measures in safeguarding Indian antiquities and initiating conversations to bring back stolen and illegally taken artefacts of Indian heritage.
Speaking about repatriation, an exhibition by the name of "'Re(ad)dress: Return of Treasures" was held at Maharaja Chhatrasal Convention Centre (MCCC) at Khajuraho, Madhya Pradesh. It was held in tandem with the first G20 Working Group meeting that was held in the state. The exhibition showcased the spirit, need and future of the Repatriation of Cultural Property through select examples of successful return of Cultural Heritage to India and worldwide. Various cultural objects were displayed at the exhibition that reflected upon the notion of repatriation and reclaiming Indian heritage. The many histories, narratives and stories were told through the course of the exhibit.