Krispin Joseph PX
What do you think about writing a postcard to someone? When it's not only a write something, it's more than a part of an art exhibition. It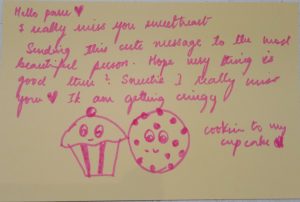 is just a postcard, and anyone can write to anyone. You only have someone to write to, and you have the address to send it. 
Something like this happened in the "Communities of Choice show in TKM Warehouse, Mattancheri, as a part of Kochi Muziris Biennale. In the gallery space, they put some postcards, provided sketches and a pen to write, and put the card in a briefcase. There is a short note mentioning, "write a postcard to home and drop it in the suitcase", and "postcard with a complete address (in India) will be mailed out after being photographed" as a part of the show. This postcard writing is not a part of the show, specifically of Chilean-Wales-based artists Sebastian Bustamante's work "the Autumn". 
Bustamante's work tells us about the horrors and disappearances that happened in Chile during the time of general Pinotche's regime. In this work, Sebastian displays family albums photographs, photos of the relatives of the disappeared people from Chile, a video documentary, and postcards; the audience can write a letter to home. 
The artists write about the suitcase in his project, 'suitcase represents the journey of exiles, and lost memory archives. Sebastian's father's photographs collections were lost, his mother's paternal grandmother cut up negatives of the photographs after the artist's father's arrest, and they disposed of the pictures. That suitcase is lost with the negative of the photos.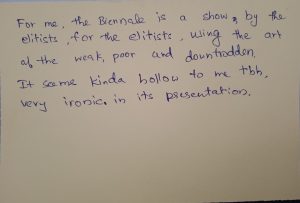 The suitcase symbolises journey and exile, an uncertain voyage from land to land, memory to memory. And another thing is artist lost his homeland for many years of his life, and that nostalgia brought here as a postcard; tries to engage with the artwork's audience. This project gives a chance to the audience to engage with a politically thematic art project: writing a letter to your home is a political activity. 
Home and postcard
Home is always connected with many things. When a show gives a chance to write a letter to home, the audience uses this opportunity to write. The Chennai Photo Biennale team has already purchased more than 3000 postcards nearby the post office and most of the written postcards they send. They photographed it before sending it, as they mentioned in the postcard corner, and I used that archives to write this short note about that writing. Most people write to their moms; when they remember home, they memorise their mother. Mother is home to many people. What is home is someone they love living there.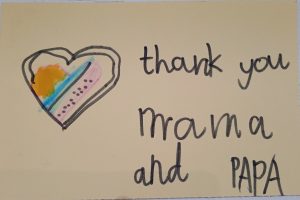 Most people address home by addressing their moms, letters are starting from dear mom, I hope you are doing well. People mentioned they are in a show at Biennale and writing to you from Kochi with much love and caring. Moms wrote some letters to their children with love and kisses. People use sketch pens to draw beautifully, like a home, a space, a flower and people. 'Wish you were here' is the most written sentence in letters. People miss the dearest people when they are away from them. They express their love and caring through letters, and they hug through words. Families let children write or draw images into postcards and send them to their parents. 
The children have grown up, but we are still growing younger with the thought and memories of our loved ones, the past and the beautiful future! Someone writes these to a dear one; on one postcard, a small drawing of two people hugging; another one is only a flower. People are thinking about the shows that they are engaging in Biennale. Someone writes or asks questions about belonging and identity. Who am I, and where do I belong? 'Communities of choice' show in Biennale raise these questions, people carrying these questions in their letters, and maybe their life too. That is the only thing 'art' can do in society.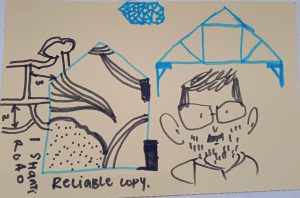 People share their experiences of Biennale in the letters; many of them stimulate and experience the creative expressions of the people. Someone writes to dad about the writing letter because he needs to record this visit, and he asks father 'things exist because they are recorded. He writes because of trying to keep a record of everything in life. These letters reach their destinations, their address very soon. After that, these letters become a material or a document, kept in safeguard. This letter has become a memorial for the people who received it. People who write this letter know this thing. They are not writing a letter but creating a monument, a valuable gift for their loved ones. The expressions of love through words and the postcard make the show more than a show. The audience is not the only audience of the art show; they are engaged with the artwork. 
Why do most people think this place is so magical and wish to bring their dear ones here for the vacations of the Biennale and Christmas New Year? 'Have a wonderful life ahead'; people wishing happiness and health to people. People need to remember to write a letter in this digital age. Many of them mentioned this thing in their letter. Writing a letter is an activity; bring many things with a postcard. Postcard writing is a corner of Sebastian Bustamante's work. People may need to be made aware that this postcard writing is a part of a work of art and will be a political activity.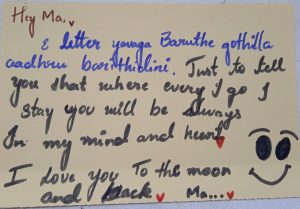 In this postcard, one card is touching because of the content of that letter. "For me, the Biennale is a show by the elitists, for the elitists, using the art of the weak, poor and downtrodden. It seems kinda hollow to me and very ironic in its presentation". Someone writes to his classmates or roommate in a college in Delhi. This letter is touching with remarks and criticism against the Biennale and the eliteness of the art world. Biennale foundations claim this Biennale accommodates many ordinary people as a viewer. But how many artworks do they display from people of the lower caste and class? How many artists represent the oppressed? Highly privileged artists make art, and that visual language didn't even welcome ordinary people to engage in artwork as viewers.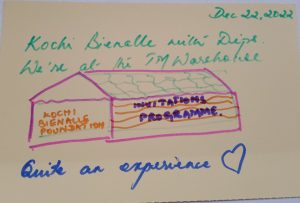 What Biennale represents is debatable; we must start thinking and discussing what Biennale means for whom? How we can manage elitism at Biennale is also an arguable subject.