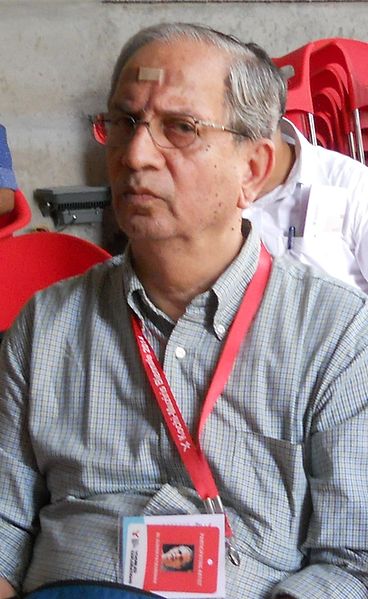 The bustling, ever-frenetic, almost endearingly claustrophobic charm of Mumbai is not one to be taken lightly. It inspires fierce loyalty, reluctant admiration and often stunning art — as evidenced in the works of notable and (more notably so) self-taught artist Sudhir Patwardhan, who for several decades now has managed to distill this incredibly mundane yet elusive, inexplicable beauty into his artworks. The cityscape features prominently in his canvases, "reflecting the agonies of the urban middle class and poor" it has been described. His paintings, called "urbanistic", take on not just a sociological gaze but also a somewhat autobiographical one, their creator has admitted along the way.
But Patwardhan was not always a Mumbaikar. He was born a hop away from the financial capital in the quieter, then-greener climes of Pune in 1949, and what's doubly interesting is that he is actually a certified radiologist. He graduated in Medicine from the Armed Forces Medical College, Pune in 1972, and moved to Mumbai only in 1973. While Patwardhan worked as a radiologist in Thane from 1975 to 2005, he became a full-time artist thereafter, at age 56, inform reports — after his first one-person show was held by famed art collector Ebrahim Alkazi's Art Heritage Gallery in New Delhi in 1979.
Today, at the age of 72, Patwardhan's accomplishments as a contemporary artist make for a brimming list. His works are in the permanent collection of National Gallery of Modern Art (NGMA), New Delhi and Mumbai; Roopankar Museum, Bhopal; Kiran Nadar Museum of Art, New Delhi, Jehangir Nicholson Art Foundation, Mumbai; and the Peabody Essex Museum, Salem, Massachusetts to name just a few, not to mention several other prominent private and public collections. Further, he has held exhibitions at prestigious venues in cities across the world, including London, New York, Hamburg, Paris, Geneva and more. During the Covid-19 pandemic-induced lockdown, several of his incisive works focusing on interiors, on home, were displayed in online exhibits by Mumbai's The Guild and Delhi's Vadehra Art Gallery. Award-winning Indian poet, art critic, cultural theorist and independent curator Ranjit Hoskote has written books about Patwardhan's oeuvre — 'The Complicit Observer' (2004) and 'The Crafting of Reality' (2008). His paintings have been used in Saacha, a 49-minute film on migrant life in Mumbai by well-known documentary makers Anjali Monteiro and K.P. Jayasankar.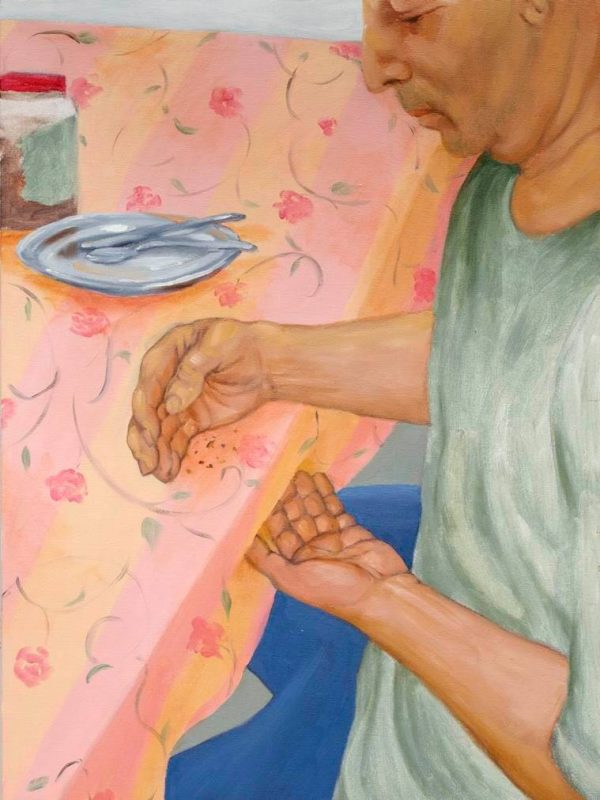 Patwardhan's art is stark, truthful and contemplative. Some have invoked his style as similar to well-known American realist painter, Edward Hopper. Patwardhan has evolved what some call a figurative style in expressionist drawings, alongside his large and complex oil paintings of towns and cityscapes. In much of his paintings, the emphasis is on the ordinary working people of India, be it in suburbs, shanty towns or satellite townships. "The anonymous individual" who is somehow "confronted by the challenges of the city" is a centrepiece for Patwardhan, whether this then be railway or bus commuters, daily wage labourers, or the quintessential now "solitary man in an Irani restaurant", engaged simply in their everyday particularities but observed silently and keenly by the artist, eked onto the canvas with every telling nuance of behaviour or appearance meticulously kept in mind.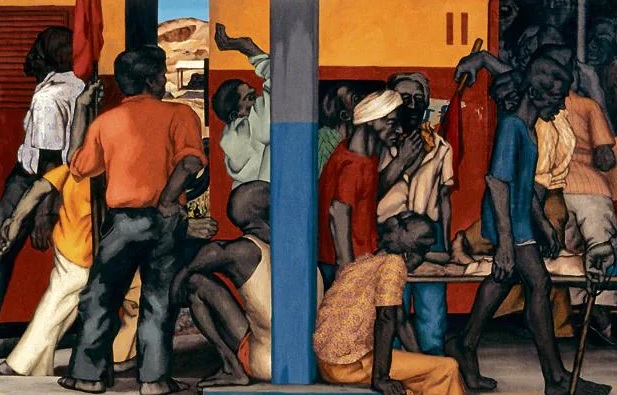 The canvases created by Patwardhan are a fascination of paradoxes, on some level. There is the inescapable intimacy of the crowded big city to the characters, as well as the amount of detail the artist himself engages in capturing — "a detail of an eye or a nose, or a tilt of the head", he has professed in a past interview. And, at the same time he has emphasized on honouring an uncompromising detachment to his subjects, so as to respect their autonomy, individuality, inaccessibility and even dignity.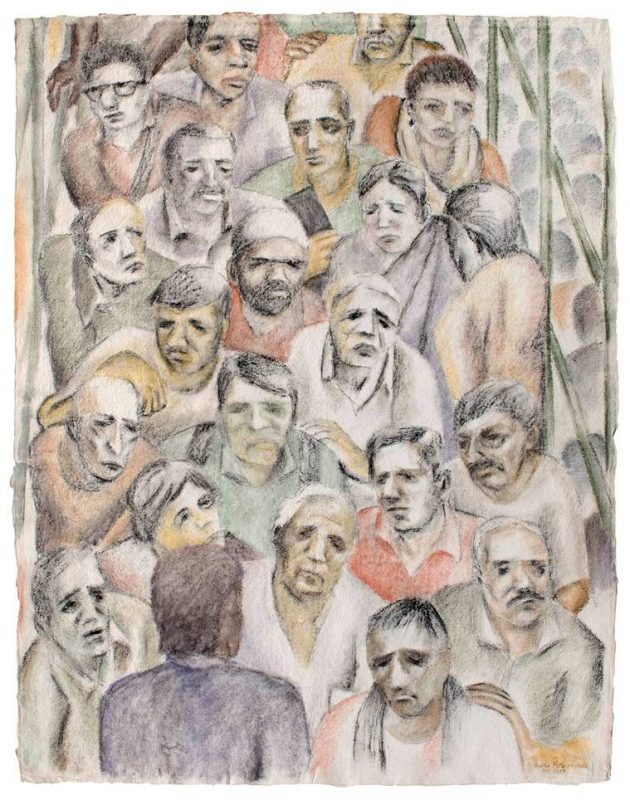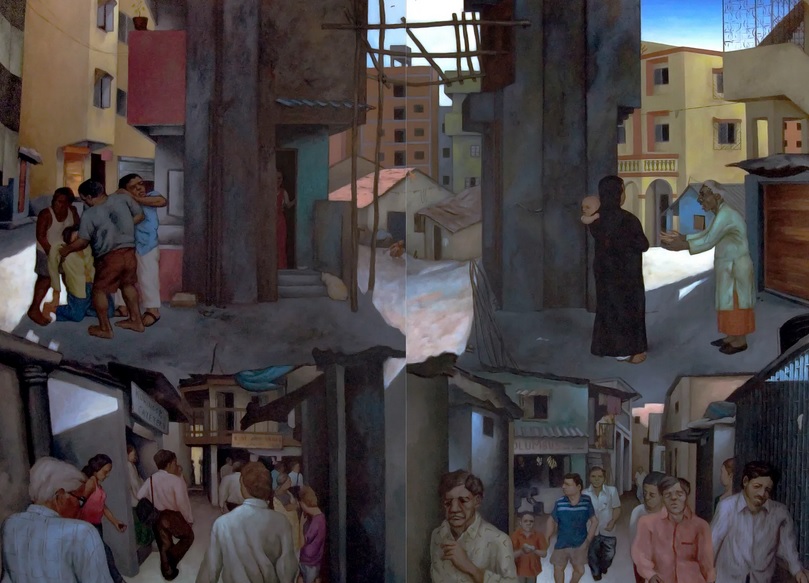 In an interesting anecdote, Patwardhan's 'Bylanes Saga' (2007) is said to be an ode to Bhupen Khakhar — another painter who counted Bombay as his muse. This painting is a diptych, showing a man who looks like Khakhar sitting with his back to the viewer and two different groups of people — one-panel symbolising violence and hatred, while the second representing love, family and tenderness. His 'Another Day in the Old City' (2017) is said to be a rarer paean to Pune, evoking its famous, cloistered Peth areas in the heart of the city, juggling geometry, colour, dimensions and forms, packed into a frame with the promise of an open sky on the horizon. In more recent times, with age (and the pandemic), his art has also taken a more inwards rerouting, both literally and metaphorically. Nowadays, he explores domestic spaces, themes of loneliness and mortality, as well as compelling and intriguing self-portraits.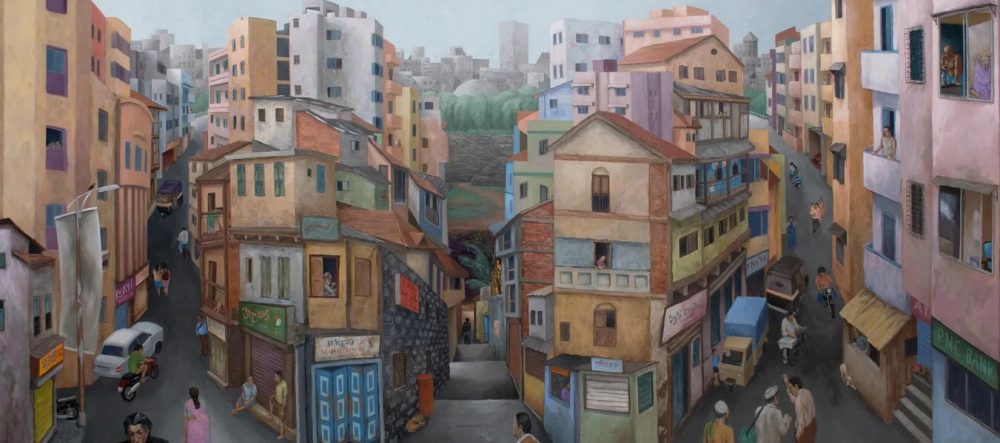 If one were to look upon the vast body of art the septuagenarian artist has produced in his time, and continues to, one may find that the everyday allure of Patwardhan's artworks is in itself a standout draw. It is tellingly, as he has once professed, his most evocative attempt to "capture the essence of life" as an observer.