Ved Prakash Bhardwaj
Prabhakar Kolte's solo exhibition opens on 7th February at TAG Art Gallery, Delhi, and is titled "Discovered Poetry". He is a major signature of contemporary Indian art. The experiments he did with art in the initial period are remembered even today. He is considered the most important abstract painter today. The intellectuality in his art is found in very few artists. His early canvases are characterized by a single dominant colour in the background on which lighter and more complex forms both geometric and organic are placed. He says about his abstraction that immediately covers up any identifiable image, making sure that my forms would function as pure. Prabhakar Kolte was born in 1946 in a village called Nerurpar of District Ratnagiri in Maharashtra. He received his Diploma from the Sir J.J. School of Art, Mumbai in 1968. He also taught there between 1972 and 1984.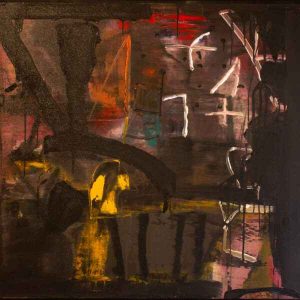 Prabhakar Kolte's art is the art of seeing the invisible. His paintings do not have any scenes like a story. There is no form by which you can reach a certain story. He also says that "I don't see and paint but I paint and see." To see and paint means you paint what is in front of you, which is a visual experience. This may be an easy way, but Kolte does not accept it. He follows the difficult path on which the invisible world is more attractive than the visible world. There is a kind of mystery in that. What is not known or what is not visible attracts us like a mystery. Kolte tries to reveal this mystery in his paintings but not completely. His abstract paintings deepen this mystery.
If we look at his paintings, there are some unfamiliar or unidentified forms in them, which are seen glimpsing on the canvas through some thick lines, by the combination of colours. His painting method is such that painting never opens up completely. Just as words in poetry expand a new meaning by association with each other, in the same way, colours in his painting create an expansion of exclusive and infinite images. He applies one colour to the canvas and then creates some non-representational forms with other colours on them. But his work does not end here. They often apply a deep layer of one colour on the topmost surface. In the process, he leaves some part of the canvas free. He lets the colour flow on the canvas. In this way one colour peeping through the other colours on the painting appears with different structures in the final form, as if someone is peeping from behind a curtain or behind a sheet of mist or darkness, something is clearly visible and something is shimmering. There is also an impression of geometrical shapes in the paintings and sometimes there is a sense of the structure of a city in a large part of the picture. It is from here that his painting becomes the light of the parable of the invisible.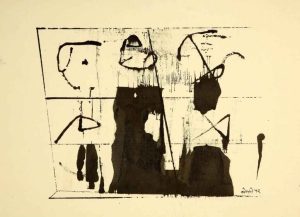 Kolte is recognized as an abstract artist who goes from simple to complex. He believes that the abstract cannot be explained easily. He stresses on imbibing its beauty instead of interpreting the picture. At an exhibition in Delhi when a person requested him to explain his paintings, he politely said that you should see them and enjoy them.
The joy of creating is like the festival of his art. Looking at his pictures together, it seems as if a singer has sung many ragas one after the other. That is why in his paintings the acoustic beauty of music comes out in the form of juxtaposition of colours. Like intense and medium Aalap, the colours seem to be spreading their brightness somewhere lighter, somewhere darker. As we go on seeing his paintings, the vision of the invisible becomes more and more enlightened.