Aarti Zaveri's installation focused on the earth and the environment
Ved Prakash Bhardwaj
Whatever art may be, it has concerns related to private and public life. In the performing arts, these concerns sometimes come to the fore and sometimes they do not. In fine arts, there has been an increasing trend among artists towards such art which gives a social message. This is how artists transform their art from a personal experience to a social expression. Aarti Zaveri is also one such artist. She has worked for a long time regarding the river Ganga. Here, keeping the earth at the center, she has taken forward the art of installation with natural materials.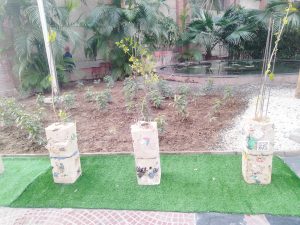 One of her installations is currently on display at the India Habitat Center in Delhi. She has done site-specific installations in the past as well. Often she uses locally available materials with natural materials in her installations. She has done the same in this installation also. The fragility of habitat refers to the earth and environmental crises. In this installation, Aarti has used bamboo, rope, jute cloth, waste material, etc. Empty cans and bottles of cold drinks have also been used in this. Such disposable materials have become a threat to the environment and ultimately to the earth. The earth is the home of all living beings. This installation does the work of awakening sensitivity towards this earth and giving a social message.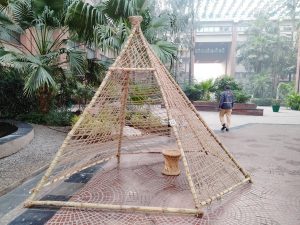 In this installation, bottles filled with red liquid have been placed in an orderly manner. This is an appeal to save water. The centre piece of this installation is a globe made of bamboo and ropes. Jute cloth is spread all around it like the flow of the river. Hope is written on this cloth in different languages. The use of different languages here symbolizes that this earth and rivers do not belong to any one society but to all societies, and therefore it is everyone's job to save them. On entering it, bottles filled with red colour liquid have been combined in the shape of a triangle in one corner. Its title is 'The Cry of River'.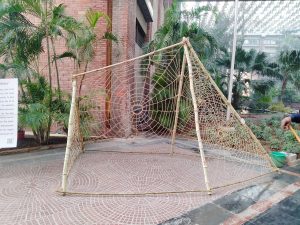 A step away from this is another installation titled 'Layers of Earth and Seeds'. In this, the artist has used materials like clay, plastic, glass and tin bottles, and synthetic cloth which is not easily destroyed. These are the materials that put a heavy load on the layers of the earth. Along with this, grown plants have been used which shows that it is the character of the soil that even after carrying the load of all the harmful substances, it does not forget the character of growing and nourishing the seed. Similarly, on one side the artist has made an installation with bamboo and jute ropes titled 'The Web of Life'. It is a kind of shelter.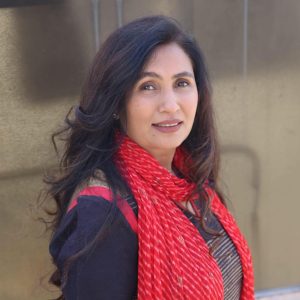 In this way, the artist has tried to arouse sensitivity towards earth and water through a group of installations. This type of art does not directly benefit the artist but artists like Aarti Zaveri are working for social benefit instead of economic benefit. This is a good situation for Indian art.