Manjeera
I like nonsense, it wakes up the brain cells. Fantasy is a necessary ingredient in living, it's a way of looking at life through the wrong end of a telescope. Which is what I do, and that enables you to laugh at life's realities.

Dr. Seuss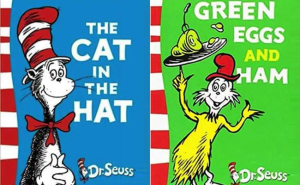 If there was a man who understood humour and how important imagination is to the soul, whether that be of a child or an adult, it was Dr. Seuss. Theodor Seuss Geisel, better known as Dr. Seuss, is an American author, cartoonist, and illustrator best recognized for his iconic children's book series The Cat in the Hat, How the Grinch Stole Chrismas and Green Eggs and Ham. Dr. Seuss is beloved by many children all over the world and has left a significant impact on the American education system, revolutionizing the old pedagogical systems and introducing more organic ways of learning that are conducive to a child's betterment and interests. His simple and clean illustrations have become iconic, and are easily recognizable due to their distinct style and clear design. In addition to his work as an author and illustrator, Dr. Seuss was also a political cartoonist and filmmaker. Throughout his career as an illustrator, Dr. Seuss has illustrated over 60 children's books and has won numerous awards and honours for his contributions to children's literature, including a Pulitzer Prize special citation, several Academy Awards, and multiple honorary doctorates. His books continue to be beloved by generations of readers around the world, both adults and children alike. 
Seuss before Seuss: Illustrating for advertisement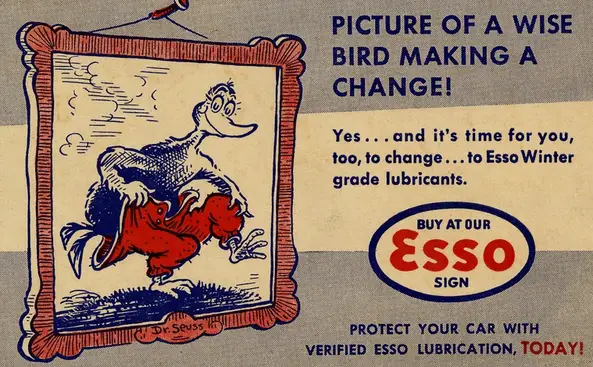 Though Theodor Geisel is now well remembered as Dr. Seuss, this wasn't always the case: he was a failed inventor and worked for some time as an illustrator and cartoonist for Vanity Fair and Life. He had already adopted the moniker of "Dr. Seuss" as an undergraduate student and was a part of his college's humour magazine called Dartmouth Jack-O-Lantern, giving him an understanding of how humour functions. It's ironic that his moniker has the title of "Dr." in it since Seuss himself dropped out of a P.hD Programme at Lincoln College, Oxford in order to pursue a career as an illustrator. He pitched ideas and drawings to several magazines and publishing agencies, but several passed on to him. Eventually, he found relative success and was involved in several popular illustrations and advertisement campaigns. The most popular ad campaign he was part of was Standard Oil's "Flit", an insecticide, where the slogan " Quick Henry, the Flit" was recognized nationally at that time. This was the first time Seuss' distinctive art style was appreciated and his characters gained appeal. Other popular advertisement designs he created were commissioned for Esso, Holly Sugar, Brevo shaving brushes, and LPCC calling cards.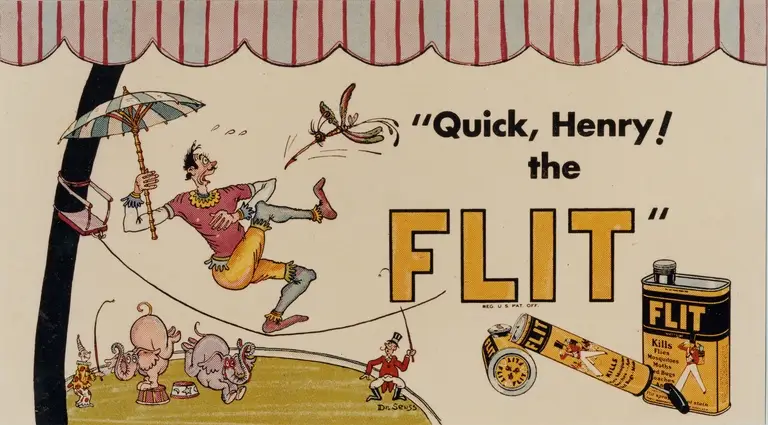 As a Political Cartoonist
Geisel sought a change and decided to write children's books, but this plan did not go as intended. His first book was rejected by more than 20 publishers and could only see the light of day after a chance encounter with the editor of Vanguard Press, who was Geisel's old friend. The book And to Think That I Saw It on Mulberry Street was published in 1937, under the Dr Seuss name, but did not see much sales, despite high praise from critics. 
The onset of the Second World War brought another change in Geisel's approach and career. He could not ignore the political landscape and throughout the 1940s, Geisel created political cartoons for various publications, including PM newspaper and Judge magazine. His cartoons shed a humorous and critical glance at the devastating war and criticized Hitler and Mussolini, supporting the U.S. war effort. He was an editorial cartoonist at PM, a liberal New York newspaper, and took the opportunity to be as scathing as possible. His political cartoons were often humorous and whimsical, but they also had a serious message. He did not show blatant patriotism here, constantly criticising America as well. For example, in the following cartoon, Seuss is obviously pointing out the monstrosity of Hitler's Nazi regime, but also criticising the U.S. Government's callousness when it comes to the lives of children who are not American. He had also joined the active war effort and was part of the Army Signal Corps and created propaganda films under Frank Capra's watch.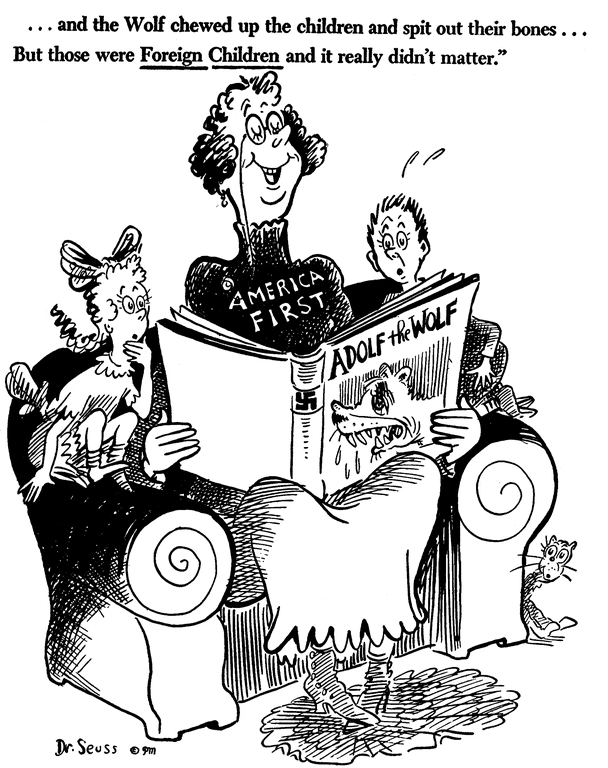 Children's illustrations and impact on American Education
After the end of the war, Geisel returned to writing books for children but little did he know the popularity his books would attain and how they would alter the landscape of American education. The condition of schools was dire during this period and kids were taught in mostly pedagogical and disciplinary methods that encouraged route learning and stifled creativity. Children were not in organic ways that made them enjoy the learning process. This was the time that Dr. Seuss became extremely popular, with his whimsical characters and simple verses that rhymed. His illustrations often incorporated bold colors, playful characters, and surreal settings, creating a world that was both familiar and entirely unique.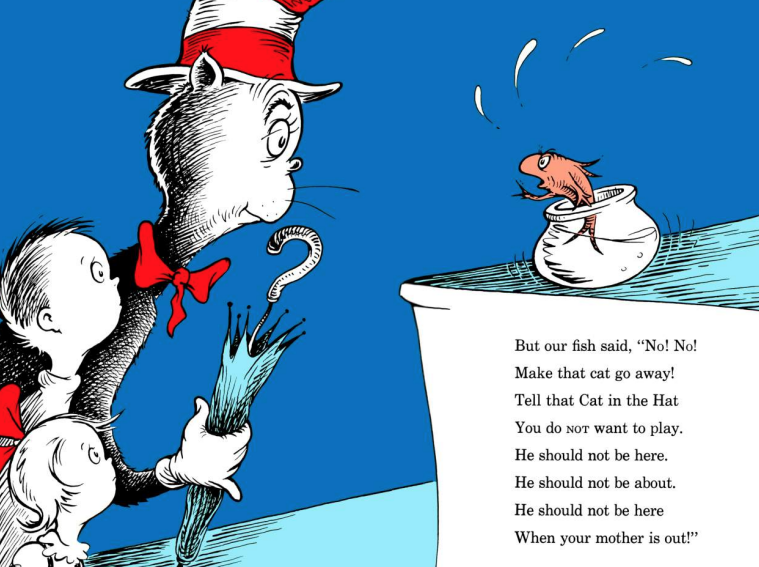 As part of an effort to improve the quality of learning due to the high illiteracy rate among school-children, William Ellsworth Spaulding, who was the director of an American schoolbook publishing house, compiled a list of important words for first graders. A list of 250 such words was given to Geisel and he created his most iconic book, The Cat in the Hat. This book retained Dr. Seuss's style and imaginative power but possessed a simplified vocabulary. This not only increased readership but made a significant impact on American schools. This book was selling more than a thousand copies per day; by Christmas of '57, it had almost sold 250,000 copies. Apart from his illustrations for children's books, Geisel also created several other illustrations, such as 'Joseph Katz and His Coat of Many Colors'.
Geisel's books have been translated into numerous languages and have sold millions of copies worldwide, helping children learn English in a fun way. Dr. Seuss's signature illustrations of fantastical creatures and imaginary landscapes will always be remembered.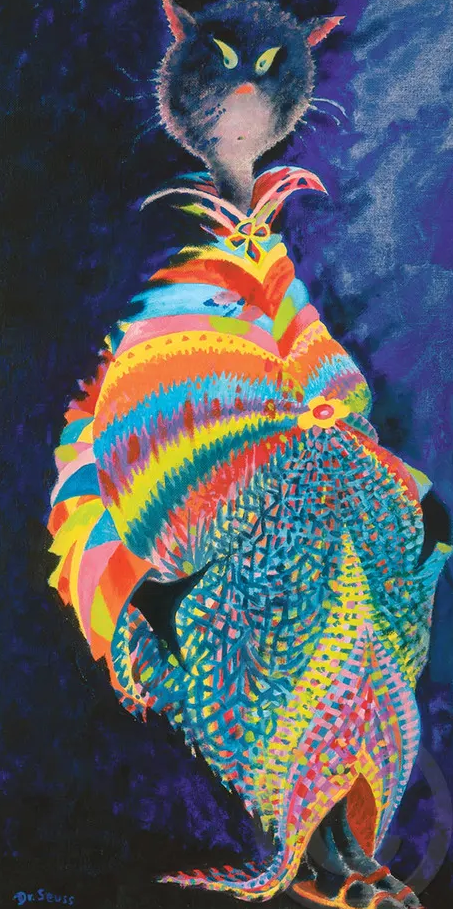 References:
https://nfc.cambridgeschool.edu.in/wp-content/uploads/sites/2/2020/05/THE-CAT-IN-THE-HAT.pdf
https://www.theatlantic.com/entertainment/archive/2017/01/dr-seuss-protest-icon/515031/
https://www.businessinsider.com/these-ads-drawn-by-dr-suess-before-he-was-famous-are-utterly-charming-2012-1?IR=T