Manjeera
March 9, ON THIS DAY
Luxury in clothes to me has no meaning. It belongs to the past. My problem is not rich embroidery, useless lavishness – it is to harmoniously resolve function problems – just like the engineer who designs a plane, like the man who conceives a car. There is no real difference between them and me and, like theirs, my place should be in the anonymous shadow of a laboratory.

-Andre Courrèges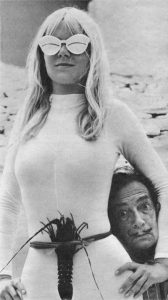 There are a few fashion designers who have left a firm mark on history; revolutionising the current trends with their radically innovative designs. Andre Courrèges, the French fashion designer formerly associated with Balenciaga and later his own self-made brand, Maison de Courrèges, was one of them. Courrèges is someone who takes clothes and designs that are conventional and answer to the fashion industry and deconstructs them entirely, making them respond to his artistic visions. His designs were influenced by architecture and modernist art movements, often leading him to experiment with new technology and fabrics to create his iconic designs. He rejected the post-war fashion that encouraged restricted silhouettes and introduced elements of 'balanced avant-garde', opening up the world of haute fashion to pop culture.
Andre Courrèges, born on 9th March 1923, had an artistic spirit since his childhood, but he suppressed his passion in order to please his working-class family. He studied civil engineering and was always interested in architecture, especially modernist architecture and textiles. He could not pursue engineering as a career, soon joining popular Parisian fashion houses. He initially worked at Jeanne Lafauire, and his ardent passion for fashion earned him the position of a presser at Cristóbal Balenciaga's fashion house. Though he started by doing the most manual of the jobs in the fashion industry, Courrèges soon advanced to a more prestigious position as Balenciaga's first assistant. He learnt a lot from his experiences at Balenciaga's; he understood how fabric can be manipulated under a dressmaker's careful hands and learnt the foundational sensibilities about the make of a woman's dress– the cut, the structure and the style. He also met his lifelong partner and co-founder of his brand, Coqueline Barrière, at Balenciaga.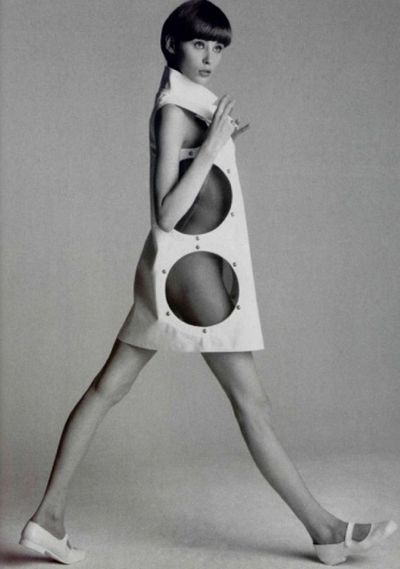 When he started creating his own designs, Courrèges was greatly influenced by modernist art movements such as Russian Constructivism of the 1920s and modernist architecture, a call back to his civil design days. Courrèges followed the clean lines and simplistic but sharp design patterns of Constructivism, but he used luxury materials that the soviets would never touch to create his clothes. The color pallet in his initial days was also dominated by whites, creams and reds– popular colors endorsed by the Constructivists. There was a certain body to his clothes, with tailoring that resembles the careful construction of a building, giving a boxy feel to the design. He often incorporated circles, squares, and triangles into his designs, creating a graphic distinction between the human body and the dress. He also prioritized comfort over impractical design, prioritizing the workability of the clothes. This can be seen in few of his preserved designs displayed at the Metropolitan Museum of Art, where the strict and geometric tailoring of the clothes give a utilitarian effect, while delving into the familiar color scheme. This construction led to the creation of the miniskirt (with Mary Quant also claiming to be the creator of the product) and Courrèges is reputed to have launched the fashion scene into more liberating designs and styles.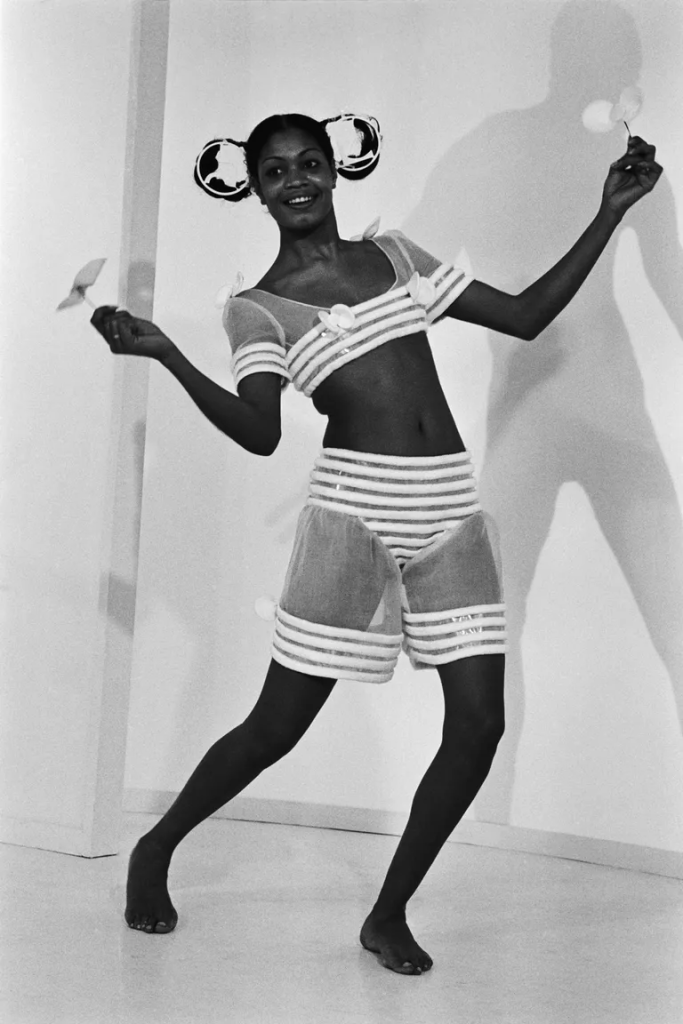 Courrèges' designs did not resemble Balenciaga's– though there is an inheriting of the clean cuts and masterful craftsmanship, his style was distinct. While Balenciaga's dresses were cut to hug the curves of a woman's body Courrèges' work was more shapeless, with dresses hanging loosely from his models' shoulders, formless and ephemeral. Balenciaga's dresses were also deep in color, but Andre's stylistic choice has always been with whites and lighter colors. There was more childishness to Courrèges as his models mostly more gogo boots, or low-heeled white ankle boots, made of plastic and his dresses evoked a cutesy aesthetic that led to Chanel accusing the master designer of preferring toddlers to adult women.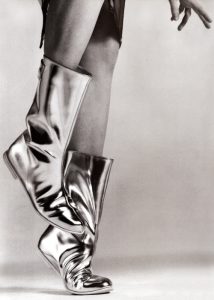 Courreges experimented with several different fabrics that other fashion designers were afraid to use. He embraced synthetic fabrics and plastic materials such as lycra, PVC and vinyl. Courreges greatly influenced the Space age movement that would emerge in the mid-60s; he embraced this new bizarre style and created few of the most iconic looks is the 'Space Age' style. This movement was inspired by the growing interest in space travel that enthralled many, including the designer, and was influenced heavily by the futurist movement. The designs featured short hemlines, boxy silhouettes, and metallic fabrics that mimicked the look of space suits. This contrasted the traditionally feminine look that encouraged modesty and was widely experimental. Courreges envisioned what clothes in an impossible utopic future would look like while designing this parts of this space age collection.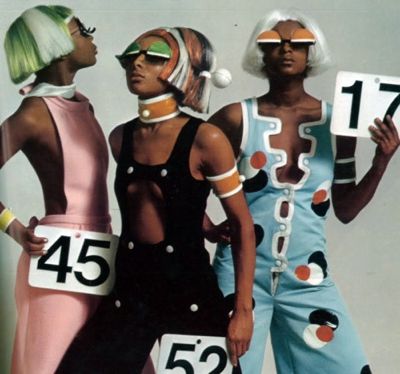 Courrèges had a fascination with working women, even saying, "Working women have always interested me the most. They belong to the present, the future". He used them as an inspiration for his haute couture designs, but seldom did they ever get to dress in a Courrèges original, as the prices of couture were astronomical. There is this uneasy divide in Courrèges' work; while he inspired simpler silhouettes and popularized the use of synthetic materials that made womenswear comfortable and liberating, his designs were kept restricted and his brand did not accommodate the women from the lower rungs of the society.
Sources:
https://www.formidablemag.com/andre-Courrèges/
https://www.thecut.com/2016/01/andre-courreges-obituary.html