Vaishnavi Srivastava
20th May 2023. ON THIS DAY
On this Day, May 20, 1867, an important event in the history of the Royal Albert Hall took place as Queen Victoria personally laid the foundation stone for the building. The ceremony took place in a large marquee that was built especially for the event and matched the size of the Hall. The famed Royal Albert Hall of Arts and Sciences is located in London's thriving City of Westminster. One of Britain's cultural sites and a well-known landmark, the concert hall is recognised for its outstanding performances. It catches the attention of everyone who sees it and is situated just north of the renowned Imperial College of Science, Technology, and Medicine and just south of the Albert Memorial.
When the museum's foundation was about to be laid, an astonishing crowd of more than 10,000 onlookers rushed to watch the event, posing a difficult scenario for the on-site police force. The marquee was built to hold 7,000 people. The Prince of Wales, who would later become King Edward VII, and Queen Victoria rode a train to Paddington Station. They were then taken across Hyde Park to the ceremony from that point. One of the monarch's few public appearances since the death of her beloved Prince Albert in 1861 was this one.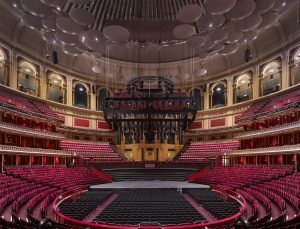 She also buried a glass time capsule beneath the foundation stone when she laid it. An inscription and a selection of gold and silver coins were included in the time capsule. On this historic occasion, the Queen announced that the building's name would change from The Central Hall of Arts and Sciences to The Royal Albert Hall of Arts and Sciences in honour of her beloved Prince Albert. A resounding 21-gun salute from Hyde Park reverberated through the great marquee's canvas as the foundation stone was lowered into place. The Lord's Prayer was said by the Archbishop of Canterbury, and the orchestra and band of the Royal Italian Opera at Covent Garden then gave a special musical performance. The late Prince Albert himself wrote the music that was performed.
Unfortunately, Queen Victoria's time capsule has never been found, therefore its contents and inscription are unknown. The Royal Albert Hall once owned a particular ceremonial royal trowel, but it vanished sometime in the 1980s, lending the venue's historical history a mysterious aura.
A Capriccio of Roman Ruins by Frans de Momper, A Lobster with Fruit in a Wan-li Dish on a Partially Draped Table by Cornelis de Heem, and other significant works of art may be found in the museum, among others.