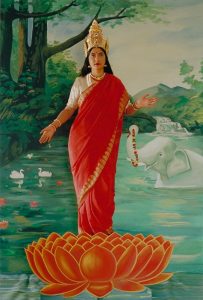 Saptarshi Ghosh
In what appears to be a still from a 1950s black-and-white film noir, a masked woman donning a black hat sits at a table in a cafe, looking directly at the viewer. She reappears in an oleograph purportedly printed in 1908 by the famed colonial-era Calcutta Art Studio, but this time in the avatar of Goddess Kali. The same woman is also the subject of a sepia-toned ethnographic print from the 19th century, where she appears as a destitute woman clad in a white drape. No, we don't have a time traveller at large; these are photo-performances by the famed Indian photo and video performance artist Pushpamala N. Described as "the most entertaining artist-iconoclast of contemporary Indian art", she is known for her 'performance photography' practice, wherein she casts herself as the subject in various roles (1). Dramatic, confrontational, quirky, Pushpamala's works consciously borrow tropes, stereotypes and aesthetics from popular culture, myths and history to foreground issues of female identity and challenge dominant representations of women.
Pushpamala started out as a sculptor in the late 1970s, having obtained formal training in it from the Faculty of Fine Arts, MS University of Baroda. She was greatly influenced by artists like Bhupen Khakhar, K. G. Subramanyam and Raghav Kaneria, who were her teachers in university. Pushpamala was part of a group of young sculptors trying to break away from the abstract and purist tradition prevalent in the sculpture scene around that time: "As students in Baroda we started breaking the rules, doing figurative works and using alternate materials like fibre glass, terracotta, papier mache and plaster of Paris, and painting sculptures." Her terracotta sculptures from the 1980s exhibit a radically different style of representing animal and human figures,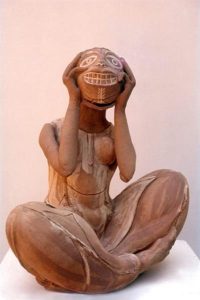 as evident in works such as The Fool (1985) and Pig (1985). Her impulse in these early sculptures was to devise "an indigenous language based on an essential idea of 'Indianness'". The year 1994 witnessed her landmark exhibition titled Excavations, which marked a departure from her earlier sculpture practice. In response to the rising communal polarisation following the Babri Masjid demolition in 1992 and Bombay riots of 1992-93, Pushpamala used discarded material and found objects, much in the Dadaist fashion, to convey ideas of fragmentation and ruin. By the late 1990s, Pushpamala gave up sculpture to enter the realm of photography and performance.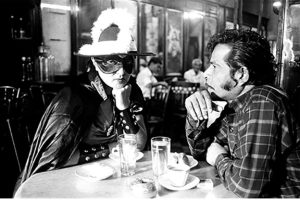 Phantom Lady or Kismet: A Photoromance, which opened as a solo exhibition at Gallery Chemould, Mumbai in 1998, is a series of photographs resembling stills from an adventure thriller in film noir style. The story goes like this: a masked adventurer undertakes a mission to rescue her lost twin sister, only to find herself embroiled in a dark web of conspiracy, featuring villainous characters and the seedy, decrepit underbelly of Mumbai. Pushpamala poses as both the Zorro-like Phantom Lady and her twin sister. Wearing a cape, hat, leather boots and mask, the Phantom Lady persona was inspired by 'Fearless Nadia', the famous stunt queen of 1930s Hindi films. Pushpamala creates an alternative reality through these images, where she projects herself as her fictional characters, thus collapsing the sacred boundary between art and the artist. By exercising complete control over how her body is represented, Pushpamala takes on sexist stereotypes of the 'damsel in distress' and the femme fatale, usually found in such films. The kitsch aesthetics, coupled with humour and playfulness, was pretty radical for the time: "[M]y work was laughed at for a long time as non-serious because I used performance, humour and fiction."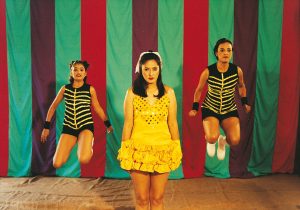 In Native Women of South India: Manners and Customs (2000-04), which was created in collaboration with British photographer Clare Arni, Pushpamala engaged with a wide range of visual materials and cultures from the past: from Raja Ravi Varma's oil paintings and mass-produced oleographs from early twentieth century to film stills from the 1990s and colonial-era ethnographic portraits. The intention was to distill the archetypal representations of women from popular visual culture over the past century and present them as a taxonomy. In this, Pushpamala borrowed the reductive, problematic organising principle of anthropometric and ethnographic studies from colonial times, which classified humans into 'types'. Through her ironic and witty masquerade of these archetypes, she manages to critique and subvert them. The interrogation of such stereotypes ascribed to women continues in the still-ongoing Mother India project, wherein Pushpamala re-enacts the various personifications of the Mother India or Bharat Mata figure that circulate in popular culture and history. The project encompasses works in multiple media, including photography, video, installation and live performance.
Pushpamala defamiliarises familiar stereotypes, thereby demonstrating a feminist revisionist approach. "By casting myself as the central character I put myself at the crux of social and political inquiry. I become part of the situation and compromised in it (and not only a commentator). The audience recognises me enacting something and laughs out loud. Or sometimes they get so caught up in the fantasy, they enter the narrative through my presence, which […] creates an emotional connect. I like the confusion between the real and fictional […] I use women's narratives and twist the story."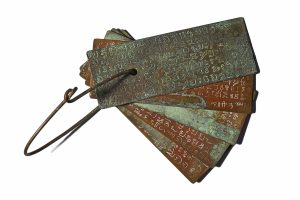 Pushpamala's recent works were displayed during two exhibitions in 2022 – Epigraphica Indica, held at Gallery Sumukha, Bengaluru in April and Documenta Indica, at Chemould Presscott Road, Mumbai in November. A departure from her usual performance photography practice, they not only channel her usual concerns regarding the archive, cultural ephemera and anthropology, but also stem from her new-found fascination with epigraphy, or the study of ancient inscriptions on metal or stone. Her monumental work from these exhibitions, Atlas of Rare and Lost Alphabets, involved painstakingly inscribing letters on hundred copper plates with an engraving tool.
The vamp, the village woman, the goddess, the seductress, the mother – Pushpamala's ever-changing avatars stand testament to her eclectic and vibrant modes of artistic expression. According to her, the key to her practice is keeping abreast of latest intellectual trends and artistic practices: "I think you need to be aware of what's happening around you and everything enters your practice."
References: