Manjeera
Mourning itself becomes an alienated task in societies torn apart by constant war and strife; and this is the gap that Colombian visual artist and sculptor Doris Salcedo wishes to address. Her works, which often utilise mundane everyday objects that gain profound significance in the context of war and the trauma it produces, are presented as poetic sculptures and installation works. She takes commonplace items like chairs, shirts, shoes, wardrobes, tables and creates complex artworks that express the embodiment of loss. It is Salcedo's aim to create spaces of collective and individual mourning, where her works can serve as catalysts that materialise hidden emotions of grief and pain. While Salcedo's earlier works were a response to violence in Colombian history, she has since broadened her approach. Her latest installation, Palimpsest, is on display at the Foundation Beyeler, Switzerland from 9th October 2022 to 17th September 2023. This installation intends to serve as a monument of  emembrance for refugees who have lost their lives during the recent migration crisis in Europe.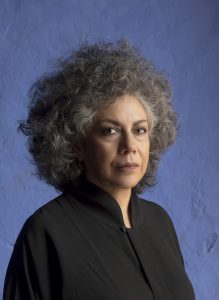 Doris Salcedo was born in 1958 in Bogotá, Columbia near the end of a ten-year long civil war, La Violencia. This was perhaps followed by the most violent period in Colombia's history and the shadow of this continuous conflict characterised Salcedo's childhood. The artist describes that the social unrest produced by wars and other political upheavals in her country are felt as a "single, continuous event". She has experienced the loss of several family members as a consequence of this violent history, of which she is both a witness and a victim.
Salcedo began her artistic career in the latter half of 1970s and studied painting at the Universidad de Bogotá Jorge Tadeo Lozano under the tutelage of Beatriz Gonzalez, who incorporated domestic objects and furniture in her pieces of art. Salcedo graduated with an MFA from New York University in 1984 and it was during this time she started thinking about integrating politics with art. 
The socio-political concerns surrounding the complex and violent terrain of Colombia's history motivate and structure Salcedo's artwork. The Latin American country remained as a site of strife and continued armed conflicts did not leave the country till late 1990s. Salcedo brings out in her works not the enormity of war, but the tragic afterthought embedded in small material objects of everyday use. Her installations contain small objects of everyday use that are very recognizable and familiar to us. But these objects are presented in a usual and jarring fashion, and from within this discord the viewer comes closer to the meaning the objects imbue. Often she transforms these material objects using techniques and processes such as wrapping, binding, cutting, and stitching. These are processes we use for grooming and tending our bodies; under Salcedo's care inanimate objects are treated as absent figures removed from history, the countless many that have disappeared during events of violence and upheavals. 
A good example that visualises this technique can be found in one of Salcedo's earliest works, the Atrabiliarios (1996). The artist collected used shoes of the victims of forced disappearances who were known as the desaparecidos for this installation. Forced disappearances were a way to control the population as the conflict between paramilitary and guerilla forces reached a peak in 1980s, and majority of the victims were women. These worn out shoes are placed inside a hollowed out cavity of the gallery wall and then covered with cow bladders, which forms a milky screen that blurs out the solidity of the shoes. The grotesque skin-like membrane is stitched up haphazardly with surgical thread, calling to mind the imagery of post-autopsy stitches. These discarded shoes were preserved by the family members who cannot let go of their loved ones; they have neither a gravestone to mourn their loss, nor do they know what happened to the bodies of their loved ones. Their perception and memory is equally as foggy as the viewer looking at the shoes through the screen.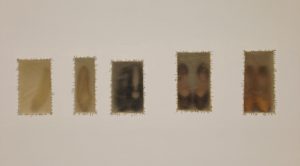 Several of Salcedo's installations are massive in size and require the combined effort and work of several technicians and engineers. These technical marvels continue the artists' key themes, giving concrete form to formless expressions of pain. Salcedo's most well-known work is a massive installation known as Chairs, though the piece itself is untitled. This was presented as a part of 2003 Istanbul Biennial, addressing the migrant crisis in Turkey. In the hollow space between two buildings in Istanbul, 1,550 chairs were placed haphazardly, almost packing the space to the brim. This was based on an older installation Noviembre 6 y 7 (2002), where chairs were lowered from the Palace of Justice in Bogota in remembrance of the victims of the Banana plantation massacre of 1985. The artist has described Chairs as an attempt to create a "topography of war that was so embedded" in the reality of everyday life. Memory itself is unreliable and doubtful according to Doris, and her piece in essence is trying to convey the experience of the loss of human life. The chairs itself stand for the people who have gone missing as refugees and migrants, or whose lives are lost and distant to their families.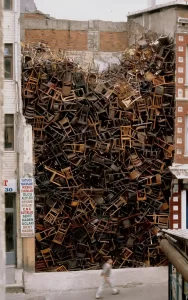 Another untitled art installation created between 1989 and 1990 is similarly significant. The work consists of eleven steel rods of different heights impaling a series of white shirts folded on top of each other systematically. These shirts are stiffened with plaster and are supposed to represent the uniforms of the banana plantation workers who were massacred in front of their families. The shirts are stacked unevenly, similar to a bar-graph, serving as a metaphor for human lives that were measured so callously. Taking a closer looks reveals that the shirts are frayed and look worn out, an intentional effect to imbue them with more presence of life.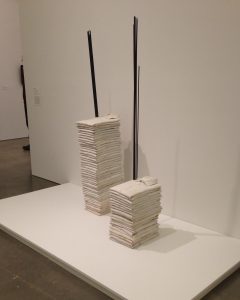 A running theme that can be seen in Salcedo's works is the use of small material objects to stand in for the people who cannot be represented as they have essentially been erased from history. These are the migrants, the refugees, the victims of violent conflict- existing on the edges of memory. Doris considers herself a third world artist representing the pain and trauma of the exploited half of the world, whose conditions of existence have been in precarious positions after colonial and neo-colonial influences. These countries have experienced wars, riots and other conflicts, most of which stem as a result of foreign influence. This creates a perpetual cycle of violence that leaves a lasting scar in the minds of the people who live through the harrowing events, and Doris Salcedo's art wishes to showcase this pain to the larger international audience.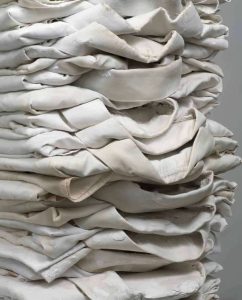 References:
https://www3.mcachicago.org/2015/salcedo/works/untitled-istanbul/
https://bananacraze.uniandes.edu.co/language/en/obras/art,violences/doris-salcedo-2/
https://www.theguardian.com/artanddesign/2022/aug/29/tower-chairs-doris-salcedo-putin-war
https://art21.org/artist/doris-salcedo/
https://www.studiointernational.com/doris-salcedo-review-white-cube-bermondsey-tabula-rasa-palimpsest-shibboleth