Tsuktiben Jamir
The 'Still & Sanguine: Stitches by Morii', an exhibition by the art and design movement Morii, who are involved in creating contemporary heritage with the rural craft communities, is now taking place at the Mumbai-based Tao Art Gallery in collaboration with Bougainvillea Gallery. The exhibition will be up until April 10, 2023. The press release states that "The show harnesses the visual language of natural elements around us, presenting dynamic and intricate hand-embroidered pieces. These striking pieces are executed in collaboration with artisans from Bhuj (Rabari embroidery) and Bihar (Sujni embroidery). With the simple aim of creating embroidery that transcends its traditional roots, Morii produces visually striking pieces that embody the spirit of abstract painting."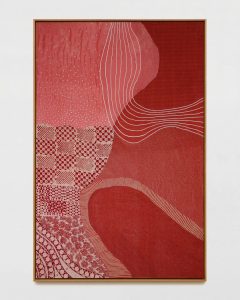 Brinda Dudhat, an artist who has reimagined the nexus between art and design with her innovative brand Morii, is trying to revive a dying tradition of India; the once rich and intricate practice of embroidery. Our country is famous for its complex, colourful and unique embroidery practices, however, with the advent of modern fashion and with it, the machines, we have noticed a gradual decline in the practice of the artform.
In an effort to celebrate and promote the artform, her works will be showcased at the Tao Art Gallery, in collaboration with the Bougainvillea Gallery. The exhibition seeks to honour embroidery's rich cultural past as an artistic medium and serves as a reminder of the strength of imagination and community. For this exhibition, Brinda has taken the minimalistic path and has also drawn inspiration from nature itself, like the gentle and serene movements of water, the eye-catching patterns of ripples and waves, and the soft sway of the wind. She masterfully weaves these movements into an experience that is both soothing and alluring, with the technique serving as a vehicle for deeper expression. The spectator is hence left with a sense of tranquillity by this, and together with the colours and patterns, provides an opportunity for reflection.
Brinda is dedicated to empowering and guiding the female artisans and she tells The Indian Express, "Each of the pieces to be put up on display is a unique collaboration between me and woman artisans who work relentlessly to bring my designs to life. My aim is to transcend beyond the traditional roots of embroidery to produce visually striking pieces that bring out the spirit of abstract painting."
"We are delighted to bring forward Morii's slow-stitched, conscious storytelling. Enabling Morii to shape this narrative has been a curatorial pleasure. Our shared ethos of supporting artisans is embodied in this unique show, transcending traditional roots, yet staying grounded in 'The Still and Sanguine'," told Ishita Parikh, the founder of Bougainvillea Gallery.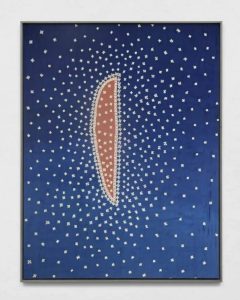 Embroidery is an artform that is both ancient and has historical significance to India; it is a commendable effort by Brinda to revive this beautiful and intricate artform through her brand Morii as well as the exhibition at the Tao Art Museum. If you happen to be in and around Mumbai, you must pay a visit to the museum in order to witness the masterful techniques of Brinda and her creativity.
Exhibition Dates:
25th March 2023 – 10th April 2023
Timing:
11AM- 7PM
Location:
Tao Art Gallery, Worli, Mumbai – 400018.