Vaishnavi Srivastava
13th April, ON THIS DAY
"His (Emil Ganso) career was a symbol for the hope and excuse of democracy"

—A Critic on Emil Ganso
The life of Emil Ganso is the living embodiment of the infamous trope of a suffering artist getting his success story. On this day back in 1895, Ganso was born in Halberstadt, Germany. The Guggenheim Scholarship recipient had a very rags-to-riches story, as he entered America by jumping ships (quite literally) and arriving in New Jersey. Ganso started out as a baker switching several cities in America. By the year 1916, however, Ganso was left unemployed whilst living a "Bohemian Lifestyle" while surviving on 30 cents a week in New York. On his day of birth, we pay homage to the great artist Emil Ganso and his life's works.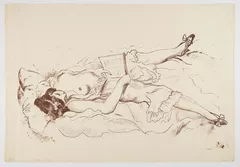 In 1914, Ganso started to receive formal training, after several years of being a self-taught artist, by taking classes at the National Academy of Design. Ganso juggled between his work (as a baker) and as an artist. It was in 1924 when the artist marched down to the Erhard Weyhe Gallery with a portfolio of his art and introduced himself:
"I am a baker and my name is Emil Ganso"
His work impressed Erhard Weyhe, so much so that the gallery offered Ganso a contract with a monthly payment of $50. This was when Ganso quit his job as a baker, in 1925. From 1926, Ganso started spending his summers in Woodstock, New York wherein he acquainted himself with several infamous individuals such as George Ault, Katherine Schmidt, Doris Lee etc. which led him to settle in Woodstock in the year 1927. It was his trip to Paris that strikes Ganso's interest in the art of photography as well. After receiving his Guggenheim Fellowship in the year 1933, Ganso travelled to Europe to study painting. The success of Ganso's work, had him invited to be exhibited in a wide range of infamous places which includes the Corcoran Gallery of Art, The Whitney Museum, the Art Insitute in Chicago, the World Fair in New York, Golden Gate Exposition in San Franciso and much more.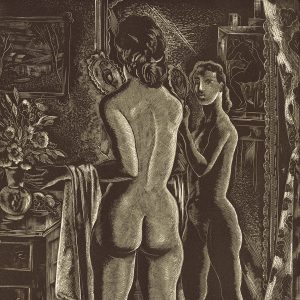 The brilliance of Ganso's works had him receive honorary accolades such as the Pennell Memorial Medal by the Pennsylvania Academy of Fine Arts. After being given the position of artist-in-residence at the University of Iowa, Ganso passed on in 1941.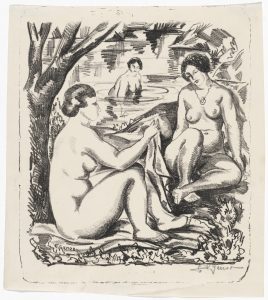 It is extremely difficult not to use poetic verbs such as tranquillity, serenity and peace while describing the works of Emil Ganso. Artworks by Emil Ganso stand out due to the ability of each of his strokes to evoke emotions. They are characterized by the use of colour and texture that emerge calmness in the human mind. The depth of his art is evident in the amalgamation of symbolism. His works are particularly known for their Surrealist landscapes and eroticism. One of his well-known masterpieces includes Bathers, wherein Ganso used the white line method to build his woodcut technique. His works mostly included still lifes wherein he portrayed his subjects. His art forms are identified by distorted forms yet powerful contrasts. His works are said to be influenced by Abstract Expressionism as seen in America. Some of the other notable works by Ganso include The Blue Silk Dress, The Duet With the Winds and The Summer Clouds.