Paridhi Badgotri
This could have been a phenomenal enlightening experience but what it really offers is the pop-culture aesthetics to generate reels — giving you a fancy cup without any chai in it.
After insurmountable reels of Van Gogh 360° overtaking my feed, I was excited to visit Van Gogh 360°: The Immersive Art Experience even though I had my doubts about it being a shallow performance of his art. Unfortunately, it went over and above my apprehensions.
Van Gogh 360: Immersive Art Experience came to Delhi after a successful production in Mumbai. The room-filling projections of Van Gogh's paintings are tented in a DLF parking lot in Gurgaon till May 31. After office hours, I saw couples coming in for a date, enthusiastic Gen-Z for their aesthetics, and elite socialites for slaughtering their boredom with art — all to dabble in the world of the 19th-century Dutch painter. Except, it wasn't really his world.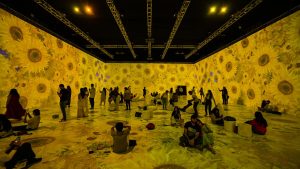 As soon as I entered, I was wonder-struck by the combination of soft music and colourful multi-hue strokes in the open cuboid. After a few minutes, the shimmering space lost its sparkle. With smudged edges, ghostly cut-outs of Van Gogh's portraits were floating around and dissolving into nothingness. His brushstrokes were springing from one side to the other. His flowers were plucked and left in a tornado surrounding the viewers. This might be a beautiful sight for someone but this takes us back to the question: can you equate art with beauty?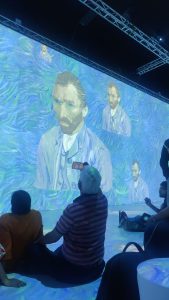 Van Gogh famously said,"If you really love nature, you will find beauty everywhere" — and while the post-impressionist artist felt a deep connection with natural beauty, he often also focused on the bleak side of the world. Tormented by psychiatric illness over much of his life, his paintings like The Prisoner's Exercising(1890) depict a group of prisoners endlessly walking around inside the prison walls — representing his fragile state of mind, trapped and unable to escape routine. They also sometimes delineate the peasants of his time, who were scratching a living out of the cold harsh world. In the painting The Potato Eaters(1885), he portrays a peasant family with coarse faces and bony hands sitting in a congested room and sharing a simple potato meal. This painting is projected with computer-generated moving hands in the exhibition — dislocating the painting from its depth with cheap gimmicks. The ambience, moreover, felt like scrolling through an Instagram feed with substandard facsimiles — forcing us to believe that we are inside Van Gogh's painting but in reality, we are far away from anything near it.
Capitalism has been feeding us art in various ways but Van Gogh 360°'s expensive tickets have found a way to drain all his paintings of their actual meaning and then repackage them in dancing images that would float heavily on Instagram. More than once, I instinctively pulled out my phone from my bag to capture the sight and saw other people doing the same. In the end, it's a good content strategy but if put into context with an informative narrative, this could have been more immersive than Instagramable. The exhibition turns out to be a simplified and degrading strategy of consumerism — and not a true experience of Van Gogh.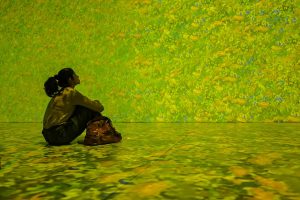 I know Van Gogh's work and life in bits and pieces — and I was hoping this experience would complete the puzzle by adding more remaining components. Instead, I got to see his famous sunflowers rolling like the wheels of a high-speed car. Their comfortable bean bags, the colours and the music offered a perfect environment to sedate but not the informative experience that I expected. With multiple paintings merged with descriptions of his life, the preview to the art experience was more indulging than the real deal itself. Behind the shimmering pop-appropriated The Starry Night(1889), Sunflowers(1888) and various fascinating portraits lie a man who felt despair as well as the beauty of the world. What a true Van Gogh experience should have been like? One that draws you into the ripple of flowers and pulls you into the dark hole of his despair. One that makes you feel the pain of a man who died while painting and the one who saw his paintings as a sign of gratitude.
As I finish writing this piece, an image of a college student popped up on my Instagram. The caption said "Never one to really appreciate art but had an awesome day at the Van Gogh exhibition. This guy really loved sunflowers for some reason." I wish the exhibition told him why he loved sunflowers.
In more recent news, the Van Gogh 360 exhibit is coming to Bangalore at the Bhartiya Mall of Bengaluru this August.