Abhishek Dixit
Krishnaji Howlaji Ara was born in 1914 in Bolarum near secunderbad. Because of his humble antecedents, his initial days of life were full of struggles. He lost his mother when he was just three years old and his father remarried when he was seven years old, no doubt it left a painful wound on his heart as a kid. It was never easy for him to get settled in the big city blues and therefore he ran away to Bombay where he began working as domestic help at an English household. After a few years, he switched to the job of a car cleaner with a Japanese firm that also offered him, accommodation in a small room. He used to spend his days in solitude in a small room which eventually led him to draw and paint, and his work was so appealing that it caught the attention of renowned art critics. Ara received financial help for all his endeavors from academicians, critics, and all the lovers of art, his passion for his work was undefined. The fantasized moment of his life arrived when he had an opportunity to present his work in a solo show at Chetna restaurant in Bombay where he sold all of his work and earned a profit of 2000 rupees. This played a vital role in his decision to work full-time as an artist and dedicate himself to his artistic journey.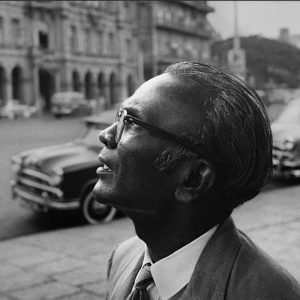 K.H. Ara mastered the genre of still life in India, and he did it so consistently with precise meter and substance. He was among the many modernists who tried to experiment with his work, and also fusioned classical devices to comprehend the visual language. He developed a compositional syntax through his unremitting compassion and ceaseless experimentation with bowls, fruit, and vases. He succeeded in combining all these elements into a unique style that impacted the era quite significantly. Being a man who lived within the core of society, he knew and understood it very well. He had sympathy and empathy for his fellow beings, thus it became his inspiration for his early works which were highly based on human situations. A generic style of composition reminiscent of turn-of-the-century painters like Dhurandhar and Abalal Rahiman, these studies featured fishing trawlers, couples at wedding receptions, and horse-riders. In many ways, Ara's lack of academic training actually helped him to be original and one-of-a-kind. In spite of its eclecticism and rawness, his painterly forms were authentic and expressive of his inner striving and were later used to stunning effect. It was evident even at this stage that he had a penchant for compositions that tapped into the raw edge of life.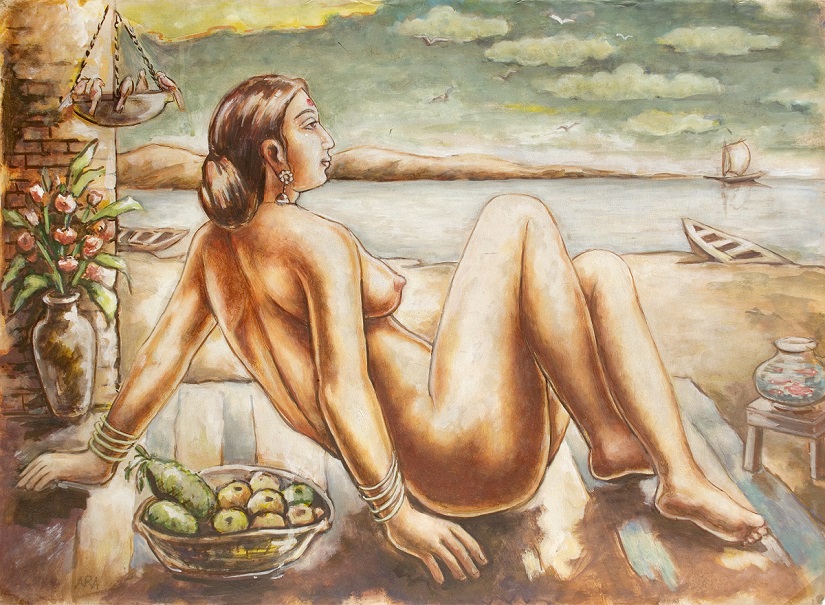 It was around the 1940s and 50s when Ara's attention moved toward the in-depth study of still life. It could be possible that his leaning toward the progressive artist group led him to paint in a certain fashion with a modern approach. His style of drawing ad using paint strikes the most in his works. The astonishing white effect in Ara's still-life works was a hallmark of his work. To mold form, he used artificial colors, which do not exist in nature. Ara revitalized the still-life genre by fusing raw sensuality with calculated structure. In order to achieve an 'honest expression of the form', he constantly experimented with paint. In contrast to other still-life paintings, his have a rough, uneven, jagged look, with barely any attention to detail. The majority of his paintings were watercolors, but he developed a technique for making them look like oil paintings. Using a dry impasto method, he applied his colors directly from the tube. The fact that he used white as a color was entirely original and full-bodied, enabling him to create infinite recesses on his surface.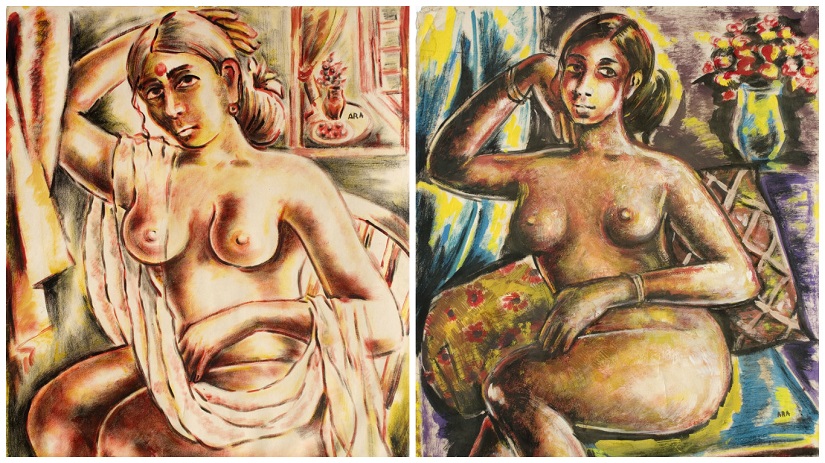 In addition to FN Souza, SH Raza, and MF Husain, KH Ara was a member of the Bombay Progressive Group. I find it strange that Ara's relative obscurity, the marginal reputation he has as an artist, and even the unacknowledged story of his personal struggles go unrecognized. It was Ara's eroticization of still life as well as the nude that captured his attention. Even more intriguing is the fact that Ara himself was asexual. Over the years, Ara's work has been criticized. He has received a fair share of criticism for his obsession with still life and the eroticization of flowers.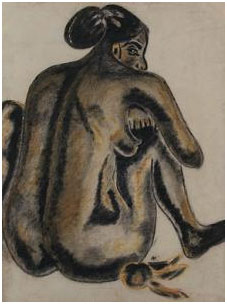 Ara's understating of the female form and of the vase of flowers is a metaphor that presents gentleness, fidelity, and unsubtle beauty. Ara juxtaposed the female form with the flowers as for him these two are highly related to each other in terms of beauty, and he eroticizes one to the benefit of the other. Ara was so sensitive towards the realm of sexuality as if to banish what he did not even possess. Though for some his work might lack nuance and academic style of strokes, however, his mesmerizing palette is visible in all of his work. Using soft colors and textures, he clothed his women in un-erotic tones. A close look at his work will reveal his meticulousness.
Because of Ara's affection towards the ground root people, his early work comprises the underprivileged people of the society, and he explored the subjects of daily life including fishing, weddings, horse riding, etc. because he was a self-taught artist his work is independent of the academic style of painting which was common at that time. His articulation comes from his heart and the effective use of colors. His painterly forms were raw and eccentric; whatever he represented he did it with whole authority and with his imaginative capacities. His raw identity proved beneficial for him as he entered the world of Modern Indian Art. Experiencing life on the ground roots, Ara was always an innate humanist who helped the other young artists in need of organizing their shows by sending invitations and visiting newspaper offices. He was not only an artist who painted with heart but his compassion toward everyone else was remarkable.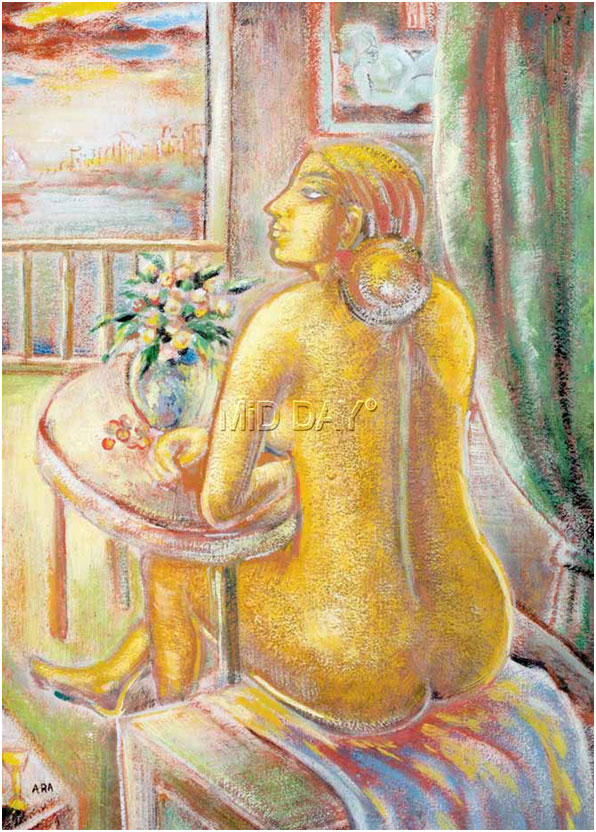 Ara's major hold was on female nudes and still life, which he did magnificently. His raw approach to portraying his subjects became a unique style and his mise-en-scène was usually a combination of landscapes and stills. The artist often displayed an object against a window or open sky within the intimate setting of a closed room, such as a vase of flowers or a bowl of fruits. His inanimate protagonists were given human-like personalities through light, shadow, and perspective techniques. Ara's philosophy of portraying female nudes was beyond the realms and explored a fantasized yet the high meticulous style of celebrating the beauty of the female form. It was the poetic simplicity that was the result of his imaginative subject strikes and the reason for people's gaze. In one vase, a luminescent nude woman is often paired with a rounded vase, with their rounded contours mirroring one another's voluptuousness. As they gaze at their painted world, solitary women appear at peace with their nudity, often resting and brooding.
The spontaneity of Ara's work was independent of academic principles. Not only did he engage intellectually with his subjects, but he also expressed his innermost self in his art. The strokes of his brush were guided by his intuition throughout his life. He passed away in 1985, aged 71, after a long and prosperous life.