Abhishek Kumar
"I don't want to control the experience, but I do want to couch the experience. For me my strokes and colours in my landscapes have the ability to create channels of energy that allow me to focus my view on special things." — Nabibakhsh Mansoori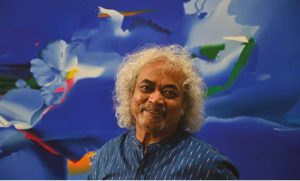 Through his abstract studies of landscapes, Nabibakhsh Mansoori creates a series of formal relationships between the elements that serve as a forceful yet subtle depiction of the "flowing" qualities. The spatial flow of colour and the addition of light produce symbolism and a deliberate and repeated impression of upward motion that is countered and balanced by the chromatic brilliance and apparent weightlessness of his short and staccato strokes with a satin finish.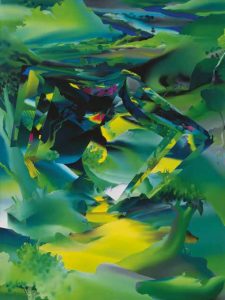 For Nabibakhsh, art is the sky opening up and allowing us mere mortals to peer inside as it unfolds in an asymmetrical, unpredictable, but spontaneous series of abstracted kaleidoscopes. It is possible to perceive the various synergy he chooses to depict as a reflection of his artistic philosophy and creative process. The gardens of surprise and sensory apertures have a peculiar enchantment and a quiet joy. It is also energy and a creative impulse created around solitary islands of silence. There are both inquiries and responses. It is a rationale beyond limits that were developed through centuries of thought.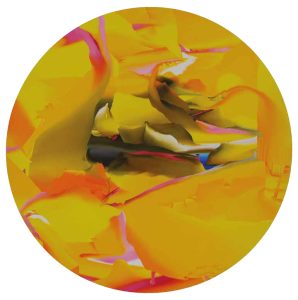 The exhibition titled "Time in a Prism" curated by Uma Nair shows different perspectives of the Artist. Both artist and the curator have done an extraordinary job in executing the perspective. They have distinctly showcased the themes like Seeking light in landscape elements, Gardens of surprise, Meditative moorings, Synthesis of elements, Couch the experience, Cosmic Beauty, Transcending time, Colour as a canticle, and Lyrical precision. Different themes show different colours of the rainbow as one would see through a prism. The artworks also incorporated the surroundings of everyday life.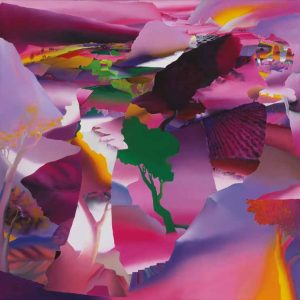 "Artists bring their own visual experiences of life onto the works they create. According to me, Nabibakhsh ji is a happy and content human being – he transmits very positive energy through his art, this same energy is reflected in every canvas; regardless of the colour palette. His understanding of colour is deep and crystal clear. For him the land he loves is filled with elements of life and the living. The way he frames everything into his design is like a channeling of his own energy and his love for the land and its atmosphere and environment" says Tripat K Kalra, Director of Gallerie Nvya.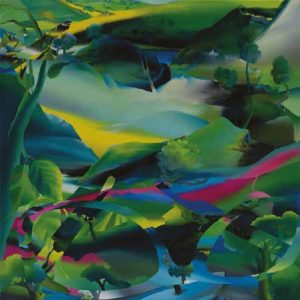 "Nabibakhsh also uses various shades of colour tones, so as to form candid colour contrasts within the frame of his observational fantasy. The contrast lends an auspicious Eastern ambience to the tableau. In addition to this bold use of colour, his contours in his works recall modern Western aesthetics, such as the terseness and purity of Abstract Expressionism. By combining precious threads of his own making Nabibakhsh creates a unique painting style that blends many characters of thought and treatment" says Uma Nair about the artist.
A solo show by Nabibakhsh Mansoori "Time in a Prism," curated by Uma Nair is on show at Gallery Nvya till 15th of February.