Ved Prakash Bhardwaj
Senior artist Dipali Bhattacharya's solo exhibition is going on these days at Bikaner House, Delhi. Art Pilgrim Gallery has organized this exhibition. Art lovers of Delhi have got an opportunity to see the paintings of Dipali Bhattacharya after a long time through this exhibition titled, "Untold Stories". Dipali Bhattacharya was born in Calcutta in 1952. She graduated from the University of Calcutta in 1972 and from the Government College of Arts and Crafts, Calcutta, in 1974.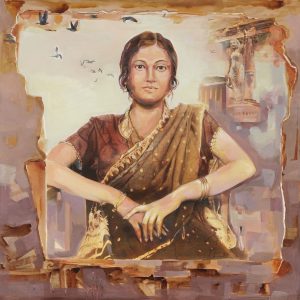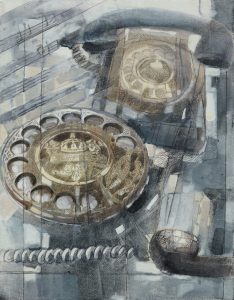 Dipali Bhattacharya's art underlines the relationship between memory and the present. Two types of her paintings are included in this exhibition. In one, the world of women is at the centre, while in the other type of painting, the objects with which the artist has had a personal relationship. These are the things that, till some time ago, were only in the memories. Many of these are now becoming a part of contemporary life again but in the form of fashion. Gramophones, chandeliers, old telephones, lanterns, etc., are now becoming a part of the interior, whereas, at one point, all these were part of common homes. The feeling of the presence of these objects gives these paintings a different kind of sensuality. It can be said to redefine our relationship with things. The artist has given the title of these paintings, 'The Objects I Live With'; not only do these objects appear in her art, but they are also visible in the paintings in which the world of women is at the centre.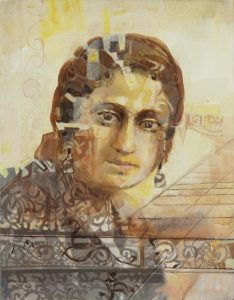 Another dimension of Dipali's art brings to the forefront a world of women in which she is often seen alone, as if she is merely a part of the interior of a house. Some symbols of interior and exterior architecture and decoration appear in the world of these solo female images. In this symbolism, the woman seems to be trying to give herself some meaning. The environment in which the woman alone is shown in these pictures gives an entirely new meaning to the picture; this is why at times, these paintings seem like a challenge, for instance, saying, "Can you feel me apart from just looking at me?" Dipali's art needs to be experienced more than seen.
Deepali works in mixed media, although she is not very liberal in terms of colours. Most of her paintings are in a single colour, wherein she uses different tones of that colour. Bright colours are non-existent here, which is why there is a kind of seriousness in his paintings and some mystery too. Working in many layers, she brings depth to the picture with light and dark tones. With this technique, she also establishes the effect of abstraction with the shapes. In many paintings, the careful and impressive use of abstraction is seen in the background. The exhibition is open till 12th April 23.