A SUMMARY OF THE MOST EXCITING ART NEWS FROM AROUND THE GLOBE
While we focus on Indian art, we can't obviously function in a vacuum. It's a small world and everything is connected, especially on the web. So, let's train our spotlight across the world map to see what's going on — from art trends to socio-political issues to everything that affects the great aesthetic global consciousness. Or, let's just travel the world and have some fun!
Kapwani Kiwanga to represent Canada at the 2024 Venice Biennale
View this post on Instagram
The 2024 edition of the Venice Biennale continues to take shape. Kapwani Kiwanga, a multi-disciplinary artist whose research-driven projects probe the social, political, and economic histories embedded in familiar materials, will represent her home country of Canada in the prestigious show, set to open next April. The news was announced today by the National Gallery of Canada, the institution responsible for commissioning the country's pavilions in Venice. For Kiwanga, the commission caps a recent string of accomplishments that have put her among the world's most important working artists today. The Canadian-born, Paris-based artist took home the Zurich Art Prize last year, the Prix Marcel Duchamp in 2020, and the Sobey Art Award in 2018. Recent solo shows have been mounted at the New Museumin New York, theHaus der Kunstin Munich, and theJeu de Paumein Paris.Kiwanga was also included in the main show at last year's 59th Venice Biennale, for which she contributed a new installation of semitransparent paintings and glass sculptures filled with sand. Read more on Art Newspaper.
VR experience of the deserts and monuments of ancient Egypt Ramses II exhibition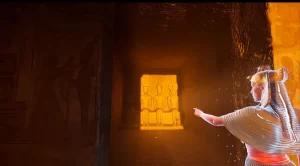 Off the central court of the de Young Museum in San Francisco, a large room is filled with what look like mid-century egg chairs—they are actually Positron Voyager virtual reality (VR) pods. Here, after an attendant fits you with heavy VR goggles and headphones, you sit back and wait for the ride to start. "Ramses & Nefertari: Journey to Osiris" is a 10.5-minute VR experience that sweeps you through the desert and monuments of ancient Egypt. It has been a popular sideshow of the museum's blockbuster exhibitionRamses the Great and the Gold of the Pharaohs (until 12 February), which boasts some 180 ancient Egyptian treasures. Your "guide" on this journey is an animated Nefertari, beloved queen of Ramses II, the king who reigned between 1279 and 1213 BCE and is known as the Pharaoh of Pharaohs for his military conquests and construction of cities and grand monuments. In this virtual afterlife, Nefertari can miraculously fly, transcend time and speak English (with a stilted accent). She takes us to Abu Simbel, the temple fronted by four colossal statues of Ramses II. "Ramses built this temple as a monument to himself and his grand accomplishments," she says. "I admit, he could be a little vain at times." Then we zip to the magnificent tomb he built for her, with chambers upon chambers decorated with colourful hieroglyphs. The chair tilts and shakes just enough to give you a sense of moving through space with her, and certain smells are at times released. Read more on Art Newspaper.
U.S. authorities return dozens of looted artifacts to Italy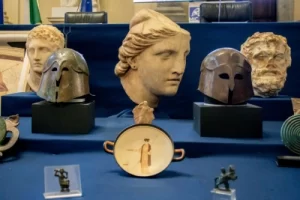 The Italian Ministry of Culture recently presented a trove of looted artifacts worth $19 million, including 27 from the Metropolitan Museum of Art in New York, that US authorities repatriated last year. On display were 57 of the 60 antiquities returned by the New York County District Attorney's office last July and September, nearly half of which were seized from the Metropolitan Museum of Art. The items included marble busts, three Corinthian helmets, intricately painted pottery, a fresco which survived the eruption of Mount Vesuvius, as well as bronze plates and sculptures. One double-spiral brooch was estimated to from 1100 to 1400 BCE. The repatriated artifacts also included theMarble Head of Athena, a 200 B.C.E. sculpture looted from a central Italian temple, and type of drinking cup known as a kylix, dating back to 470 B.C.E. valued at $1.2 million. Both items were part of the 27 allegedly looted artifacts seized from the Met last year. Read more on The New York Times.