Vaishnavi Srivastava
21st April, ON THIS DAY
" Ludovico Carracci was an artist of extraordinary stature. A faulted genius who opened ways for the future of Baroque Style."

-Sydney J. Freedberg
The name Ludovico Carracci echoes throughout the galleries of art history. Italian painter Ludovico Carracci was born on this day in 1555 in Bologna, and he is remembered for his inventive methods and naturalistic manner. He had a significant impact on Baroque art, and his legacy continues to enthral and inspire art lovers throughout. Let's explore this great artist's life and work more thoroughly as we mark his birthday.
Italian painter and printmaker Ludovico Carracci made a significant contribution to the Baroque era. Carracci was born into a family of painters in Bologna, Italy. Prospero Fontana, his cousin, provided him with his earliest instruction before he went on to study under renowned Bologna painter Bartolomeo Passarotti. The Carracci Academy was established by Ludovico in 1582 along with his relatives Agostino and Annibale, and it quickly rose to prominence in Italy. The talents and aesthetic preferences of Ludovico were greatly affected by the paintings of Parmigianino and Correggio.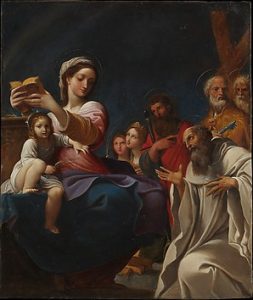 A fusion of traditional Renaissance ideas and naturalistic elements defined Ludovico Carracci's artistic style. His paintings reflect his concept that art should be inspired by nature and life as it is witnessed. His use of vibrant colours, striking contrasts, and accurate portrayals of human emotions and expressions made him well renowned.
The attention to detail and the ability to make his paintings appear three-dimensional were other characteristics of Ludovico's work. His use of light and shadow was particularly successful in giving his paintings depth and reality. Additionally, he added classical characteristics to his paintings, such as symmetry, balance, and proportion.
The Baroque era, which began in the early 17th century, was greatly influenced by the artistic methods and style of Ludovico Carracci. Intense feelings, grandeur, and dramatic use of light and shadow were all hallmarks of the Baroque style. The Baroque style was significantly shaped by Ludovico's naturalistic approach to painting and emphasis on producing accurate representations of human emotions and expressions.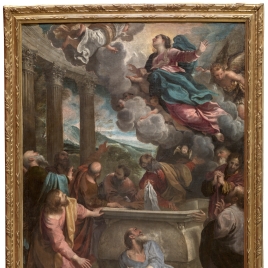 The works of eminent Baroque painters like Caravaggio and Rubens exhibit Ludovico's impact on the genre. Ludovico's naturalistic perspective had a significant impact on Caravaggio's use of dramatic lighting and powerful feelings in his paintings. On the other hand, Ludovico's use of colour and his capacity to give his artwork a sense of three-dimensionality had an impact on Rubens.
The Assumption of the Virgin, a sizable altarpiece that can be found in Bologna's Church of Santa Maria degli Angeli, is one of Ludovico Carracci's well-known creations. In the painting, the Virgin Mary is shown rising into heaven while being accompanied by angels and cherubs. The picture stands out for its bold colour choices and dramatic lighting, which provide a sense of depth and movement.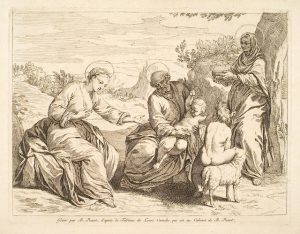 The Holy Family with St. Elizabeth and St. John the Baptist, another noteworthy piece by Ludovico, is housed in New York City's Metropolitan Museum of Art. The Holy Family, including the young Jesus, Mary, and Joseph, as well as St. Elizabeth and St. John the Baptist, are shown in the artwork. The picture is renowned for its accurate representations of human emotions and expressions as well as its use of light and shadow to give the subject matter a sense of depth and reality.
In conclusion, Ludovico Carracci was a revolutionary artist who helped to establish Baroque art by pushing the limits of conventional artistic methods. He was absolutely extraordinary in his command of naturalism and his ability to convey the core of human emotions in his paintings. Ludovico Carracci made a lasting impression on the world of art with his creations, and he still inspires and has an impact on artists today. Let's remember his accomplishments and pay tribute to his legacy as one of the great artists of all time as we commemorate his birthday.