Rishiraj Sethi
A joint initiative of IIM-A and the Mumbai-based Aura Art Development Pvt Ltd, the IIMA-AuraArt Indian Art (Price) Index — or IAIAI — has been called a "head-heart confluence"
While the international art market is at least a whopping 250 years old — if one were to take the formation of notable auction houses like Sotheby's (1744) and Christie's (1766) as relevant starting points — it is only around the late 20th century that attention to artwork significantly increased in globally cohesive investment circles.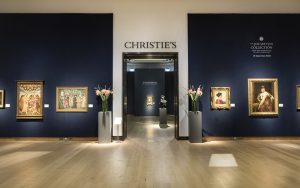 Till this time, it could be said that economists had more or less looked at art prices with a measure of skepticism. However, as the turn of the century approached, for instance, in 1974, the British Rail Pension Fund started allocating capital to art and collectibles. Elsewhere, by 1998, French businessman and art collector Francois Pinault acquired Christie's for $1.2 billion. Not so long later, come 2019, Sotheby's — interestingly already listed on the New York Stock Exchange for over 30 years — was acquired by French-Israeli telecommunications entrepreneur Patrick Drahi in a deal worth $3.7 billion.
Closer home, the first Indian private art gallery may have been set up in 1936, but the creations of Indian artists were featured in international auctions only by the late 20th century. Domestic markets for art auctions began during the century-end, initiating a trickle of art funding into the sector. Today, nearly $100 million is spent annually on art that is sold at auctions in India. At the dawn of 2023, the Indian art market could be called nascent, and yet clearly still burgeoning.
It is at this critical juncture that a unique collaboration has launched a first-of-its-kind index for Indian art. The IIMA-AuraArt Indian Art (Price) Index — or IAIAI — is a joint effort between the Indian Institute of Management Ahmedabad (IIM-A) and the Mumbai-based Aura Art Development Pvt Ltd (Aura Art), an art infrastructure solutions provider and specialist in art transactions.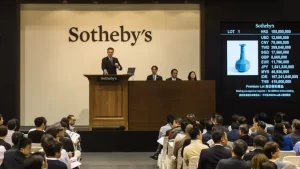 The index is based on hedonic pricing model and could be treated as a Constant-Quality Art Price Index.  The Index  reflects price changes in artworks of top 25 Indian artists auctioned across 11 auction houses around the globe, over the last 20 years, from April 1, 2001 to June 30, 2022.. They include Akbar Padamsee, Anjolie Ela Menon, B Prabha, Badri Narayan, Bhupen Khakhar, Bikash Bhattacharjee, FN Souza, Ganesh Pyne, Jamini Roy, Jehangir Sabavala, Jogen Chowdhury, K Laxma Goud, KG Subramanyan, Krishen Khanna, Lalu Prasad Shaw, Manjit Bawa, Manu Parekh, MF Husain, Ram Kumar, Sakti Burman, Satish Gujral, SH Raza, Thota Vaikuntam, Tyeb Mehta and VS Gaitonde.
Going ahead, this IAIAI is slated to be a updated quarterly and published every six months. The aim is to track the prices of paintings of the aforementioned iconic Indian artists, which offer a critical mass and also indicate possible price trajectory of their works.
The IAIAI was launched at the BSE International Convention Hall in Mumbai on November 24, 2022. At the event were dignitaries like Prof Errol D'Souza, director of IIMA, Prof Prashant Das, faculty member in Finance and Accounting at IIMA, Rishiraj Sethi, director of Aura Art Development and Ajit Singh, chairman of ACG Worldwide. They were further joined by Harmeet Singh Sethi, director of Aura Art eConnect, Suresh Pareek, MD of Ideal Cures, Madhu Bathija, chairman of the Paradise Group of Builders and Developers, Ashok Advani, promoter of Business India Publications, Karthiayani Menon, secretary of Jehangir Art Gallery, senior artists like Sanjay Kumar, Prakash Ghadge and Anant Nikam, and others.
In the words of Rishiraj Sethi, director of Aura Art Development "The Art Index is a great example of a head-heart confluence, which normally results in the best of both. Our collaboration reflects a confluence of IIMA's analytical prowess and Aura Art's grasp on esoteric factors that drive art value. We aim at measuring heartbeats of the Indian Art market."
Overall, the developers of the index noted that the need for this initiative is pressing as the nation has had limited experience with art indices and most purchases are still driven by a 'gut feeling'.
IAIAI plans to offer various stakeholders the data to calculate the percentage change in the likely market price of an artwork over time. Art collectors could use IAIAI to assess historical risk and returns in the past, which is useful in building future return expectations on investment positions. Asset managers could use this information to benchmark their own performance. Financiers and insurers could use this data for underwriting.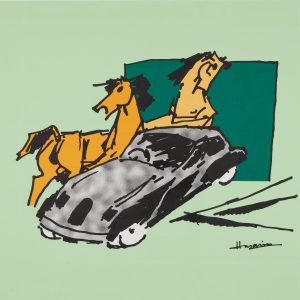 Professor Prashant Das, who developed the art index algorithm, explains, "Unlike financial assets, which are homogeneous in nature, real assets such as art are heterogeneous, which poses one of the primary challenges in creating a reliable index. Moreover, markets for such real assets are illiquid and thinly traded. The price of a work of art is determined by a combination of factors related to artists, such as representative work, primary medium, the age of the artist, popularity etc. There are also factors related to the medium used by the artist — oil, tempera, acrylic, ink, mixed, gouache and watercolour. Other determining factors are the subject, size, etc. Thus, comparing prices across artwork varying in multiple factors is fraught with cognitive errors."
So while an intuitive workaround is to summarize art price transactions observed in a period into a central tendency measure — such as average, or median — indices based on such central tendencies may be misleading indicators of price movements. For example:  Consider a Raza painting sells for Rs 1 crore in one time period and another painting which is double the size sells for Rs 2.25 crore in the next time period.  Now it will be wrong to say that the price has increased by 125%, since a large part of the increase in price is explained by the increase in size of the paintings.  IAIAI addresses this issue such that it is generalizable to a larger asset class despite the sample changing quality over time.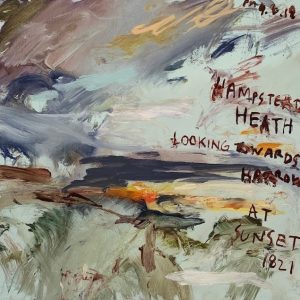 To further break it down, the factors that must be brought together to create a result vary on different levels altogether. For example, if Gaitonde topped the list of most expensive artworks, Husain recorded the highest number of artworks sold. 'Realistic' subjects scored over 'abstract' art, the value of oil paintings was double that of gouache, while nudes hardly sold. Mythological paintings and landscapes drew buyers. While Padma awardees fetched a good price, it's the death of an artist that drastically impacted price point… and so on. The hedonic methodology of the IAIAI eliminates these inconsistencies and overcomes the analytical challenge of clubbing such heterogeneous assets into a unified price index.
Ultimately, the purpose is to help an auctioneer fix a base value of a work of art, and a customer to make an informed decision before buying a canvas.
Professor Errol D'Souza, director, IIMA, said during the launch, "We are focused on the emerging importance and needs of the art investing community and the assets it invests in. This art price index will bring a higher degree of transparency to the realm of art investment. We believe it will also encourage investment in art and, thus, the artists."