Smriti Malhotra
A new exhibition has opened in the Design Museum, London which features artworks by the Chinese artist Ai Weiwei. What's unique about this exhibition is that they shall feature pieces by the artist that have never been seen before, the exhibition was launched on April 7th. It is the biggest show of the artist in the UK in eight years, it also has installations that juxtapose design, history and art together.
Ai Weiwei is a renowned contemporary artist from China who is famous for his politically and socially charged artworks. He is one of the most influential artists of our time with artworks on themes of human rights, social justice, freedom of speech, etc.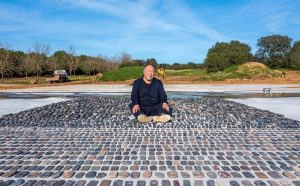 'Makes Sense' which is currently open in the Design Museum marks his first show where he comments upon the concept design and its effect upon changing values. In a world where we are spoiled for choices and mass production took over our lives slowly, he forces us to question what we value and look backwards at the history of things and understand craftsmanship. "Through material culture, he explores the tensions between past and present, hand and machine, precious and worthless," says the note at the exhibition. The exhibition focuses on human ingenuity through the years. It features many installations using elements such as stone age tools, porcelain balls and spouts. It has photographs from the Bird's Nest Olympic Stadium when it was being built in Beijing. The exhibition's chief curator is Justin McGuirk who has helped put Ai Weiwei's collection in a poignant manner in the exhibition.
Hundreds of objects and artefacts collected by the artist over the years are reflective of traditional artistry and craftsmanship is the central theme of the exhibition. With works that signify the Covid-19 pandemic, there are three sculptures made with toilet paper depicted in the context of China's rapidly changing urban landscape which Weiwei has documented through photography and film works.
Weiwei's works showcase destruction and creation and suggest that re-birth is still possible, this is seen through his broken porcelain pieces in the 'Left, Right' Studio Material from 2018. These were destroyed by the Chinese State in 2018, it is indicative of the interplay of control and chaos.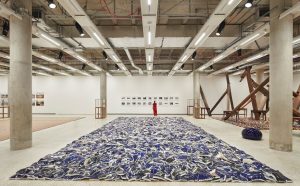 Ai Weiwei through his artworks has often questioned the reigning party in China, often paying a heavy price for his views and defiance. His artworks have led him to be arrested on multiple accounts by the Chinese authorities and he has had his passport confiscated, restricting him to travel abroad for years.
His arts span various mediums including sculptures, photography, installations, and video projections. Some notable examples of his artworks are: 'Sunflower Seeds' held in Tate, London (2010), 'Forever Bicycles' an installation made in 2011, 'Dropping a Han Dynasty Urn' in 1995, the artwork questioned the value of heritage and historical objects and diminishing traditional Chinese culture, 'Straight' made in 2008-2012 is an installation that again critiques the Chinese State, 'Trace' made in 2014 with LEGO bricks which commented on the Freedom of Speech and Expression.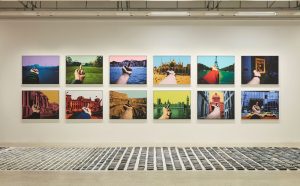 'Makes Sense' makes you question the past and the future and what we value as a collective unit. Weiwei sneakily plucks at the curiosity of the viewer in a video teaser for the exhibition states "Today, all I can do is pick up the scattered fragments left after the storm and try to piece together a picture, however incomplete it maybe". The exhibition is getting a lot of traction and rave reviews from publications, "The master provocateur creates timeless beauty from historical objects", says The Independent.
The exhibition shall run from 7th April to 30th July at the Design Museum in London.