A SUMMARY OF THE MOST EXCITING ART NEWS FROM AROUND THE GLOBE
While we focus on Indian art, we can't obviously function in a vacuum. It's a small world and everything is connected, especially on the web. So, let's train our spotlight across the world map to see what's going on — from art trends to socio-political issues to everything that affects the great aesthetic global consciousness. Or, let's just travel the world and have some fun!
The Painting of Madonna and Child is identified as of Raphael after Facial Recognition Technology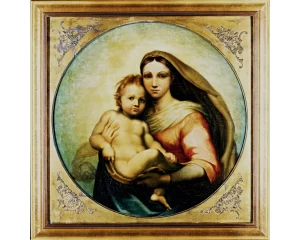 Researchers from the University of Nottingham and the University of Bradford used facial recognition technology to identify the author a painting known as the de Brécy Tondo. Its painter, researchers now believe, is highly likely to have been the Italian Renaissance painter Raphael. The researchers found that the faces of the Madonna and child in the de Brécy Tondo were identical to ones in the Raphael altarpiece Sistine Madonna. Digital image analysis and comparison of the figures in both works found the facial features of the Madonnas to be 97 percent similar, and the facial features of the child to be 86 percent similar. University of Nottingham honorary research fellow Dr. Christopher Brooke told the BBC these figures indicate a "very high statistical probability the artworks are by identical creators." Details on MSN.
Princess Diana dress, Lebron James jersey and ornate Bronze Age disc lead Sotheby's latest cross-category auction experiment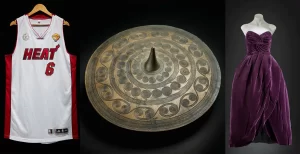 Boundaries between auction house departments have become more porous with the outbreak of Covid-19, but even by new standards for cross-border sales, "The One" auction at Sotheby's New York on Friday January 27 has was a stunning mashup. It opened with the Miami Heat jersey worn by basketball great Lebron James in Game 7 of the 2013 NBA Finals, followed by a set adorned with Edo era armor from 19th century Japan. , and later included a pair of 15th-century icon paintings, a 6th-century BCE Egyptian bust, and a ticket to the Madison Square Garden celebration for then-US President John F. Kennedy , during which Marilyn Monroe sang "Happy Birthday, Mr. President". George Wachter, co-president of Sotheby's of Old Master paintings Worldwide, wrote in the sale's catalog that he felt the company had "missed an opportunity" by not holding a sale in New York similar to its sale in "Treasures" cross-category auction held in London. , an oversight he strove to correct during this week's Old Masters flagship sales. "I wanted to try and create a sale to go along with these other auctions that would showcase anything and everything but paintings." Read more on Europe Cities.
Virgin Mary and Christ diptych, stolen by Nazis during WWII returned to Poland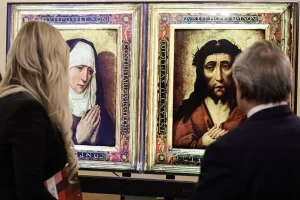 A museum in northwest Spain returned two 15th-century paintings to Polish officials on Wednesday after it was determined that they had been looted by Nazi German forces during World War II. The paintings "Mater Dolorosa" (Mother of Sorrows) and "Ecce Homo" were handed over to a delegation from Poland's culture ministry. According to Spain's Museum of Pontevedra, the works were originally believed to be by Dieric Bouts, a Flemish master born in the Dutch town of Haarlem, but now they are attributed to a member of his school or group. The museum said that in 2020 Polish officials made it aware that the works had been looted by Nazi forces. The museum quickly decided to send them back to Poland, but the completion of official permits for the transfer had delayed it until now. Nazi forces stole the works from the Czartoryski collection in Gołuchów when the city was occupied by the German military in WWII, Polish officials said. They appeared in Madrid in 1973 and had been in the Pontevedra museum since 1994 when they were acquired among over 300 works purchased from a Spanish private collector. Details on Fortune.