Krispin Joseph PX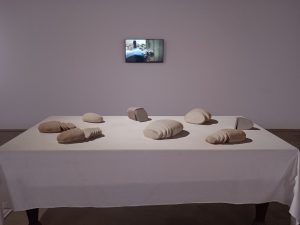 How can a piece of stone tell about a country or some loaves of bread about the people? Bread made out of rocks from the river flowing through western Ukraine can never be eaten, which became an anecdote for the people enduring a war. Ukrainian-based artist Zhanna Kadyrova's 'Palianytsia' brings the symbolical idea of war and peace in river-found stone. Sliced 'loaves' made of rocks rounded and composed in a peaceful flow of the Rika river near the Carpathian mountain range, a safe place for artists and other people in wartime. Zhanna's work tells about the war and how a piece of bread tells a story of the people and the etymological sensibilities shared with edible things.
Palianytsia is a large-sized round wheat bread baked in the oven. The work's title is so political; Russians can't pronounce the word 'Palianytsia' correctly, and this word is used to spot Russian spies; it's a shibboleth for Russians that distinguishes friends unequivocally from enemies. This word plays a crucial role in Ukraine, which helps them to understand friends and enemies quickly.  
There is a story behind this project that starts in wartime. When Russia began to attack Ukraine, artists and families were forced to leave Kyiv, and they moved to western Ukrainian, a safe location under the Carpathian mountain ranges. They reached a village protected by the Carpathian mountains, and many rivers flowed from the hill to distant lands. War burned all of Ukraine, and this village saved artists. There are no strategic sites such as airfields, military bases and weapons depots here, so we think we are safe. Even though sometimes there are air raid sirens.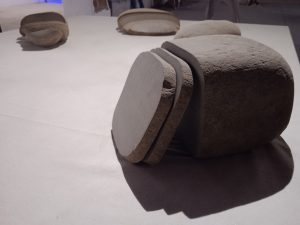 The artist and family walked a lot throughout this mountain range, and the artist started to look at river stones and slowly reached the concept of slicing the rock into bread that saved their life. There was no time for distancing and analysis, and there was a growing need to do something and be useful!  
After one year of the Russian attack on Ukraine, 6.5 million internally displaced people live in western Ukraine. Artists and friends started to work on this project and raise money to donate to volunteer organisations and friends who remained in Kyiv and joined the Territorial Defence forces. Working on this project helps artists and friends to stay sane because they do everything they can. Artists think 'art was powerless and temporary compared to the ruthless military machine destroying peaceful cities and human lives. Now I no longer feel so: every artistic gesture makes us visible and our voices heard!'. 
More than an exhibition, Palianytsia is fundraising for the victims of the war in Ukraine, a will to support Zhanna and share her message worldwide. The artist left her home and studio when the war started in 2022, and she spent three months in the western region of Ukraine; those days shaped this project. The Rika river gives her stones that are shaped by the flows of water. 
Artists living in a small community in the mountain areas of Carpathian people gather together for the village show opening. In this Kochi Muziris Biennale exhibition, Zhanna Kadyrova presents sliced stones and a video project that help the audience understand the process. A documentary movie was directed by a famous film director from Kyiv who escaped the war. He lived ten kilometres from Zhanna's home and spent two weeks shooting this process.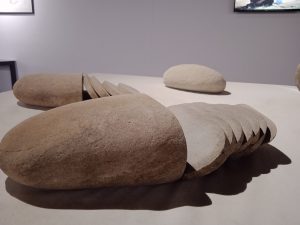 Palianytsia is a welcome bread that is impossible to eat because Ukrainian people didn't welcome Russian killers on their soil. Through this work, Zhanna brings many questions into people's memory and discussion table. Why war and for what? What is the point 'of war between people and territory? Russian-Ukrainian war makes one crore refugees, including artists. 
Are you sure to be safe? Do you think your cities are far from the destiny suffered by Mariupol and Bucha? We, witnesses of the war unleashed by Russia against our country, want to ask these questions; we, who for 43 days have seen the impotence of world diplomacy, international treaties and law in general against the perfidious aggression and brutalities of the Russian forces on the territory of the independent and sovereign state of Ukraine, artists ask this questions. 
'Are you sure that this criminal impunity will not hit your homes? And if you are, then let this siren commemorate the dead civilians and the people who gave their lives to defend their land! Let us remember that among them, many artists took up arms and went to defend their country, having no alternatives. Not only did they have no choice left, but also no home, no family life and no chance to participate in contemporary art events', asked the artists. 
This one artwork brings many things into this Biennale. We know how Ukrainian people survived this wartime, and another is how war shaped an artwork. How can an artwork be shaped by people, language and the nightmare of war? In the video project, people talk about the war and how they dreamed of war. That makes it into a fearful dream.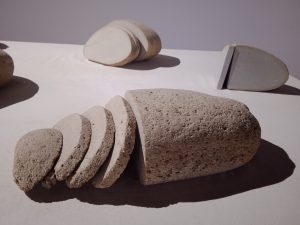 Zhanna Kadyrova's practice, tackling disciplines as different as sculpture, photo, video, and performance since its beginning, profoundly focuses on the exhibition site and space. In her work, the issue of context unravels to reveal the rhythm of history on the move – that of a world whose multiple layers disappear behind their immediacy. Often diverting the aesthetic canons of the socialist ideal still present in the heritage of contemporary Ukraine, Kadyrova's perspective is partially informed by the plastic and symbolic values of urban building materials. Thus, ceramics, glass, stone and concrete enter the spotlight of her work. 
What's going on in Ukraine now is unpredictable and unimaginable. Russian military destroyed everything that the Ukrainian people built and constructed in these years. People want to go back to their homes and their everyday life. But no one knows when that will happens.