Tsuktiben Jamir
Varunika Saraf's installation views titled 'We, The People' is currently showing at the Sharjah Art Museum. Curated by Hoor Al Qasimi, the Director of Sharjah Art Foundation, it is a part of the fifteenth edition of Sharjah Biennial, which started on the 7th of February 2023 and will be on display till the 11th of June 2023.
'We, The People' is comprised of seventy-six pieces of artwork that aim to chart an alternative timeline for the country using the rifts and flaws that characterise the present. Varunika Saraf is one among more than 150 artists who will be displaying their works at the fifteenth edition of Sharjah Biennial. Her series of work in this exhibition maps our collective past and memory, highlighting lesser-known events that might provide insight into our present. It is inspired by Eduardo Galeano, who exhorts us to look for the keys in the previous history to explain our time.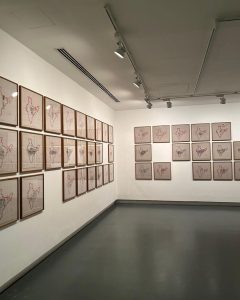 Moments from the archives of modern India, including the Bhopal gas tragedy, the Narmada valley, and the Chipko movement, are hand-embroidered into unique khadi fabrics engraved with a map of the nation, beginning with Margaret Bourke White's heart-breaking photos of the partition of India. A map representing the blood that is still shed in the formation of the country is made up of a collection of tiny blotches and bleeds made by tie-dying with carmine obtained from cochineal (a scale insect, Dactylopius coccus). In this series, one map is purposefully left blank to represent the thinking about forgotten and erased history that challenges the narrative of progress as an unfinished task. This series is truly a work of passion and love.
Varunika Saraf is an artist as well as an art historian based in Hyderabad. In 2004 she received her BFA in painting from JNTU Institute of Fine Arts in Hyderabad, and in 2006 she earned an MFA in painting from the University of Hyderabad. She also has an MPhil in Art History to her name from the Department of Arts and Aesthetics at JNU. She is known for using several layers of historical and mythological visual allusions to examine the roots of a variety of modern political and social issues while also establishing a philosophical conversation with the past. Her works are infused with the spirit of historical investigation into current events, and she questions the contemporary world from the viewpoint of the marginalised. Saraf employs a variety of methods to achieve her rich, unique and complex style such as the wasli board (the Mughal technique of making a surface by binding together layers of paper), watercolours made with natural and mineral pigments, embroidery, dyeing, block printing, etc.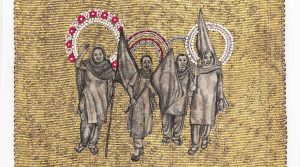 Varunika's 'We, the People' is a remembrance as well as a celebration of the nation's history as well as a call for thinking about the future through the past, since doing so must be a collective effort, particularly in order for us to heal as a society.
Venue:
Sharjah Art Museum
Dates:
7th February 2023- 11th June 2023