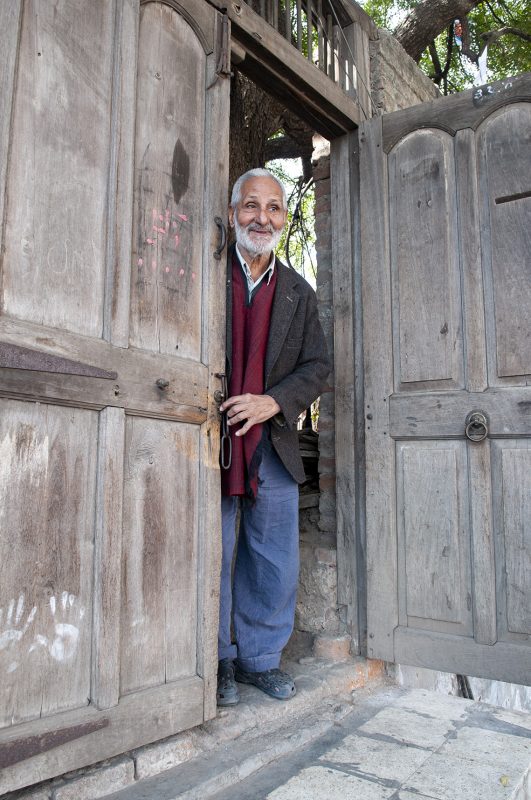 Even in his eighties, in the last few years before the pandemic struck, Rajen Chaudhari — known by the simple moniker of Rajen through most of his artistic life — was enthusiastically weaving in his workshop, tucked away near Raipur Darwaja in the heart of Ahmedabad.
His hands thrummed with energy and belied his age as they flew through the air, carefully invigilating the coming together of warp and weft to translate into, quite often, paintings of his very own artistry, wrought into fabric. For decades, Rajen had been a powerhouse for preserving the dwindled art of hand spinning and hand weaving, keeping it alive and vibrant with his sheer will and effortlessly natural skill. Living in Gujarat, he had become an epicenter of sorts for carrying on a well-beloved piece of Gandhian heritage that had transformed the Indian Freedom Struggle — and not just preserving it, but also mastering and reinventing the form, pushing its boundaries even as he acknowledged its heritage.
Befittingly, yet another constant as he worked was a sweet, gentle and infectious smile always — an indicator like no other that this artist truly loved what he did, as he had professed innumerable times over the years.
He had a long and prolific stint pursuing this artistic love, for over 70 years. But, leaving behind such a rich tapestry of legacy and learning, Rajen passed away earlier this year, on March 16, 2021, at the age of 90.
Born on February 24, 1931, Rajen had narrated in various interviews that his creative leanings manifested themselves quite early on. He was born to a well-to-do farming family in his village and always enjoyed drawing and painting. As a child, Rajen happened to attend the Gurukul Kangri at the crest of the struggle for Indian Independence, circa 1942-43. In the land of Mahatma Gandhi, at the core of the national movement, students here would spin yarn for over 40 minutes every day, embracing a craft Rajen said they came to enjoy very much. This, one could speculate, was where his ardour for the activity began. Clearly, he exhibited enough talent for a relative to recommend that he apply to the prestigious Sir JJ School of Art in Mumbai — and get in he did.
Studying fine arts here for five years, Rajen also managed to pack in a year of painting wall murals. When he graduated, his brother handed him a letter citing an exciting opportunity for the young man to become a gazetted officer for the Uttar Pradesh state government, as a textile designer in the Hill Wool Scheme. Soon, Rajen was off to Almora (now in Uttarakhand), where he spent six years, redirecting his journey into the world of textile art, before he left to find bigger adventures.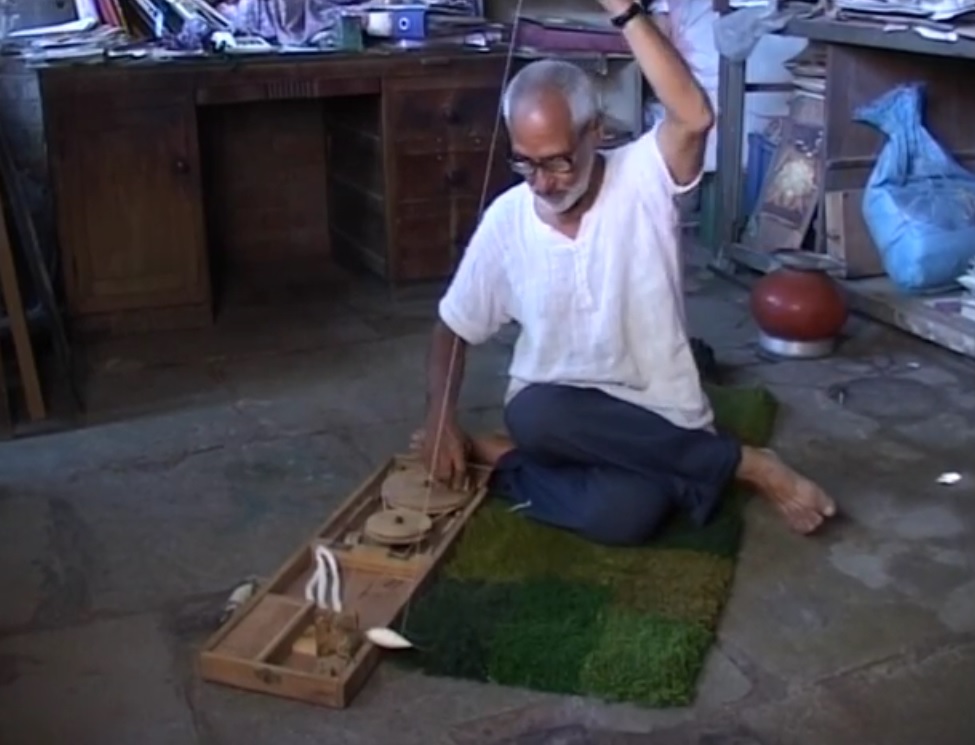 In his entire burgeoning phase of coming into his artistic own, Rajen also spent time at the Indian Institute of Handloom Technology in Banaras, studying under the expert aegis of AK Das; he also spent time as a sanyasi with Osho Rajneesh, who fondly dubbed him 'Anadee Anand'. Earlier, Rajen had spent time under the roof of Bhagini Nivedita, a phase during which he drew multitude of stunning nudes, which he chuckled in a past interview rather took several visitors aback when they visited the premises.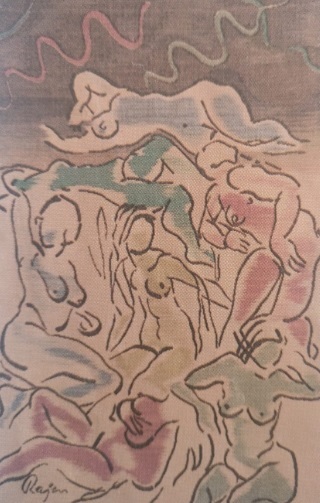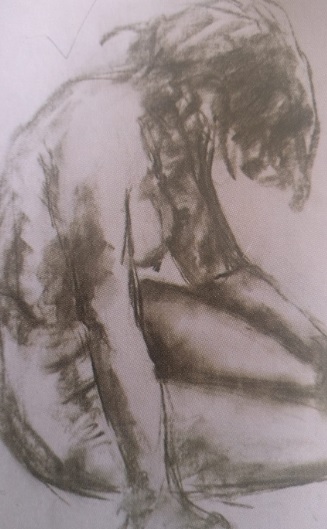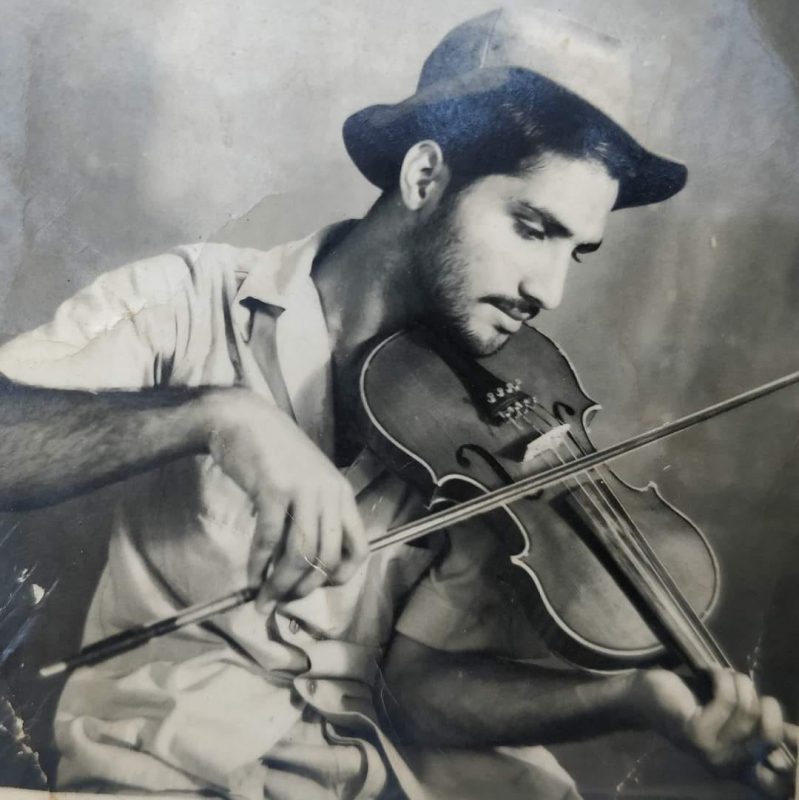 Later, during the course of his teaching stint at the National Institute of Design (NID), Rajen travelled abroad to London, Finland and Sweden, after which he came back and got married. He held many exhibitions across country and saw his artworks picked up by illustrious collectors. Some of his tapestries drape walls in European establishments even today — essentially, he once admitted, he spent some 25 years of preparation exploring art and handloom craft before plunging wholeheartedly into his weaving practice in 1970, at a studio that his father-in-law helped him set up in Ahmedabad, dubbed Weave Lab. Here, he decided to merge his passion for painting with the skill of weaving, and with a team of 25 weavers, would weave his paintings into carpets, dhurries and tapestries. Moreover, he also continued to spread his masterful knowledge wholeheartedly, teaching generations of students at the CEPT University for close to three decades.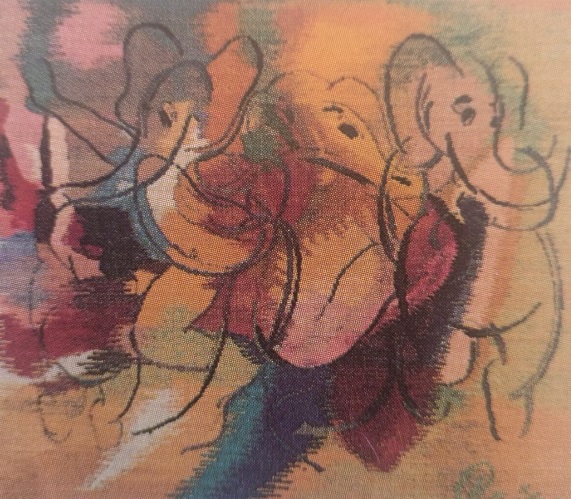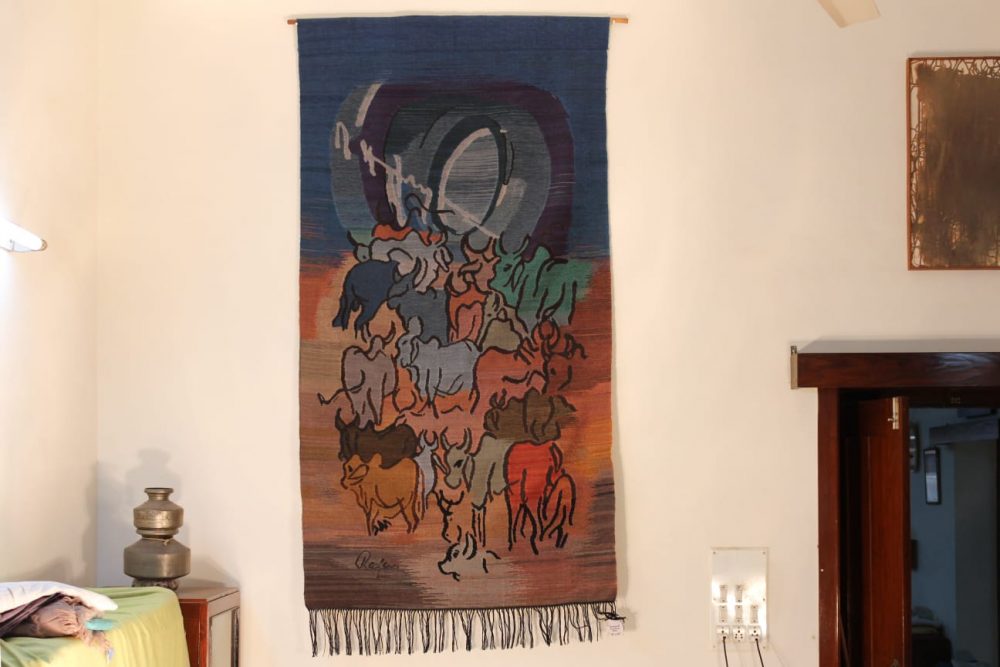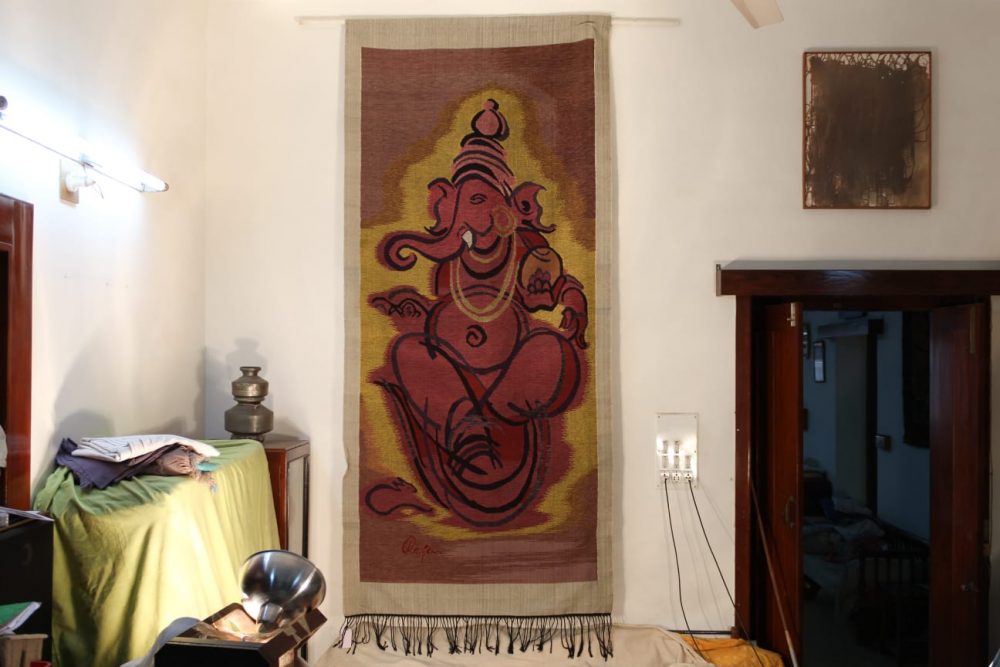 Rajen had once mused to an interviewer that no single weaver's human hand could take on the might of the mills, which spin thousands of yarns a day. And yet, he stood uniquely as a force to be reckoned with as mechanization swept the world — not just dedicating his life to the weaver's loom, but also elevating this custom to a movement in art.
Upholding the principles of self-sufficiency, Rajen would spin his own yarn and create his own dyes. He practiced traditional methods and effortlessly preserved a disappearing textile heritage, and believed that if a culture has to survive, its traditional art must be encouraged.
And yet, with tradition, Rajen's enthusiasm to find novelty never diminished. He wove leather carpets and ribbon carpets; he wove feathers into his handlooms and even chips of brick tile ("My loom broke twice, but I finished it," he had once shared in an interview). He even created a massive 60×30 feet tapestry for the Tagore Hall in Ahmedabad.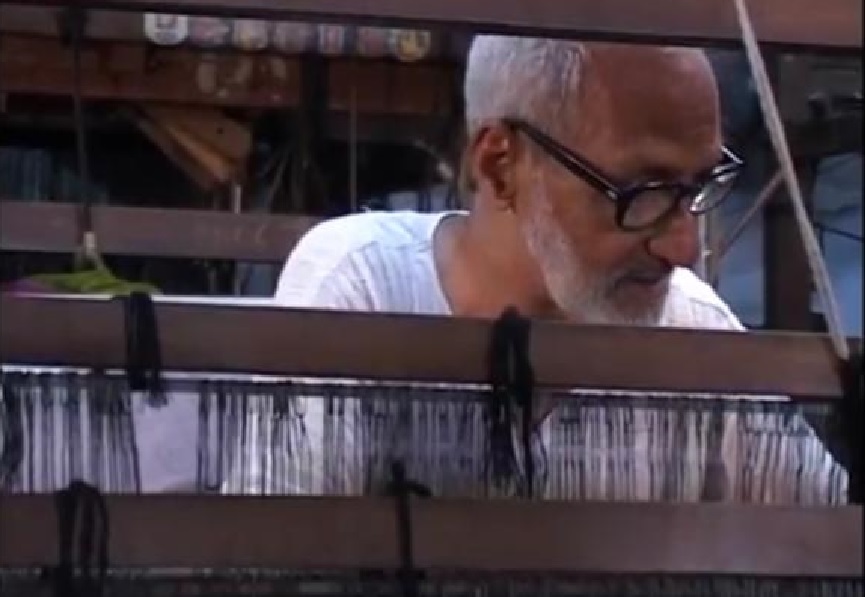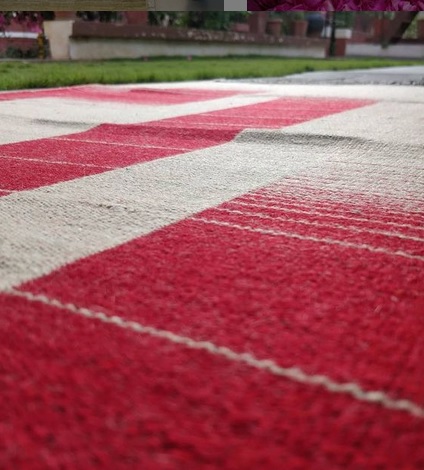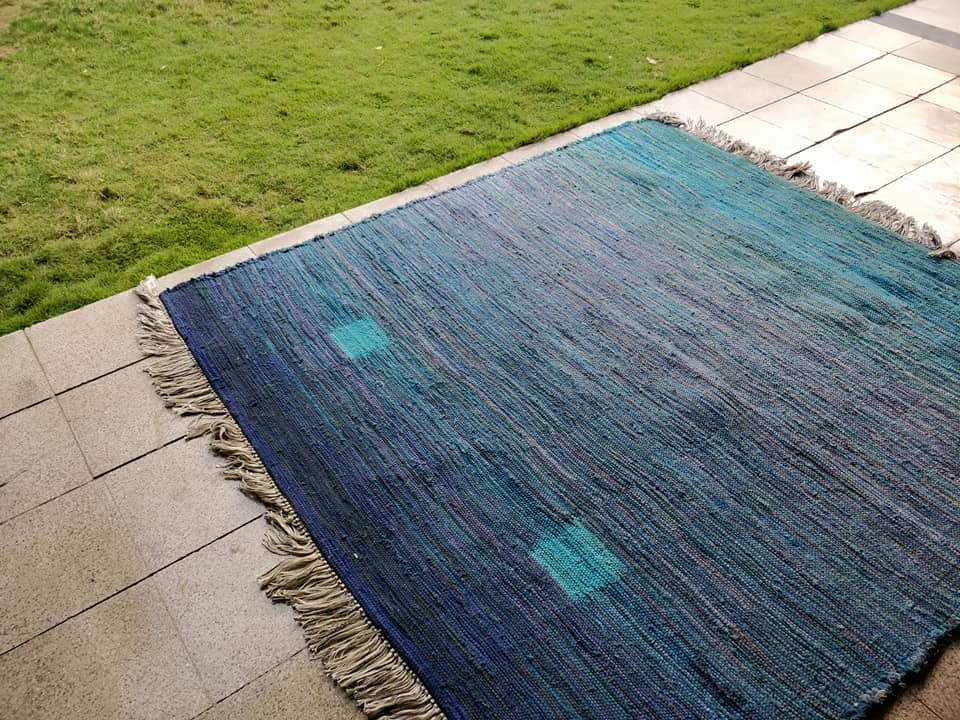 Rajen's textile art is vivid and redolent of earthiness. Much of it is rooted in the hues and patterns of Indian folk art, with simple lines and motifs or nature as well as religious iconography. The artist within him was always bubbling over with a smile, as he also dabbled in others arts, like playing the harmonium and singing classical songs with sure and steady, lilting musicality.
"I could make 20 paintings in a day," the artist had insisted, even as he would create at least six or seven rapidly, and then translate them into his fabrics.
Well-known Indian architect Nari Gandhi, respected for his highly innovative works in organic architecture, is believed to have once said of Rajen: "In his weaving one sees sound structure, correct grammar, innovative technique and humility, everywhere…"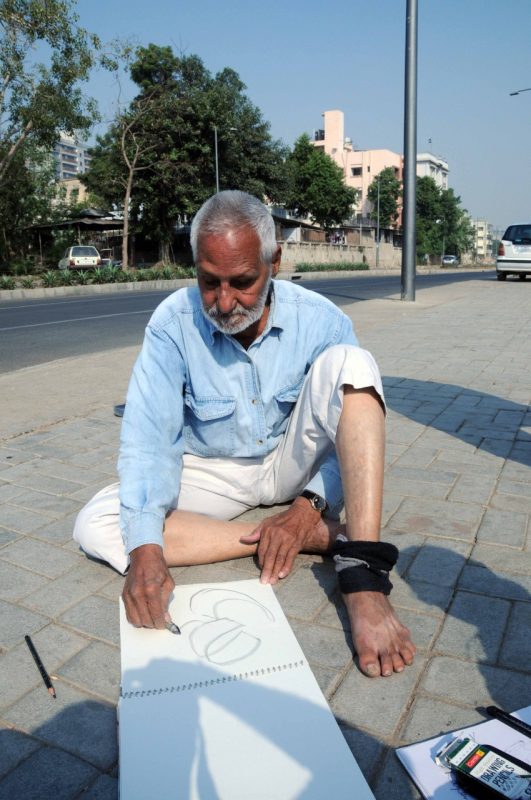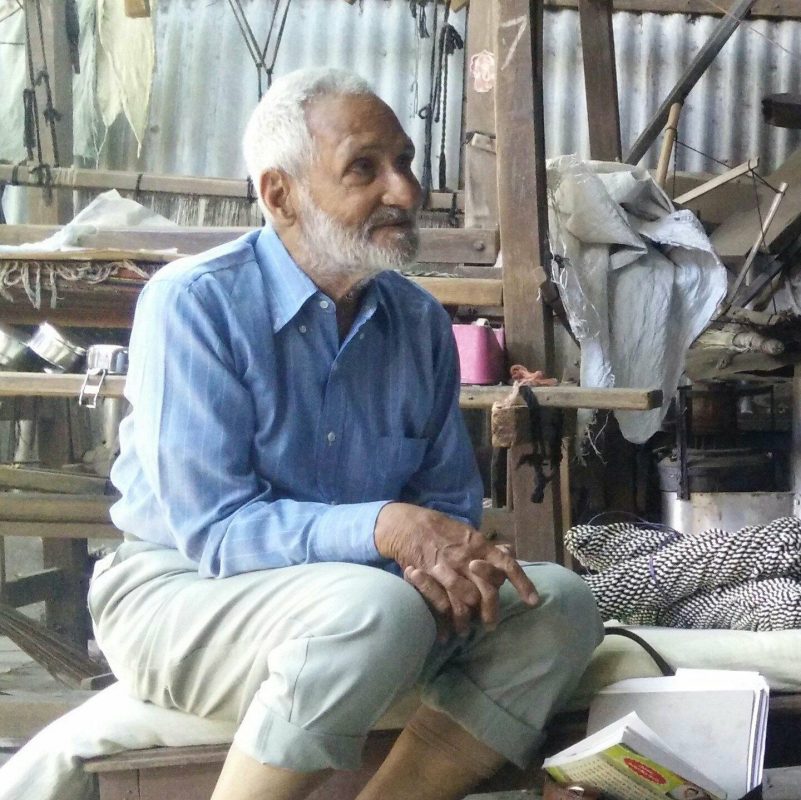 Another stalwart in the world of art, Lotika Varadarajan — historian, teacher and international textile authority — had told The India Magazine, "Deep down he knows that all is maya, an illusion, and he wonders when he will one day enter the central core of his own creation and completely lose himself within it."
Poignantly, Rajen had professed: "Art is a journey of which you don't know the end. But my process is for me, not others. I do my work because I love doing it."
After his passing in March this year, Rajen is survived by his wife Darshini, daughter Malavi (fondly called Fakira by her father) and son Poorav.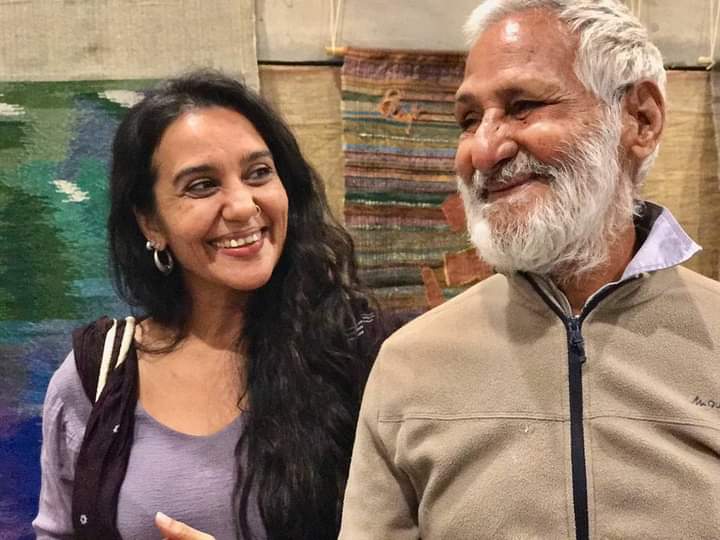 Today, Malavi still continues his weaving at the workshop near Raipur Gate, managing the projects he has left behind. Speaking to Abir Pothi about her father's legacy and contribution, Malavi shared, "What he did was take the skill of weaving, whether you call it an art or craft, and explore the medium in ways not done so much. As a painter and having evolved as a creative person in general, he played around with his art, and followed his heart. He did not look at commercial logistics and created art for the sake of creating, not to sell it. It was always an artistic approach, rather than a commercial one, which gave him the freedom to experiment.
The dhurries he weaved were like nothing anyone else does. For instance, there are pieces with three layers — a design on the top and backside, and a third layer of yarn floating in the middle as well.
He has also created much work in fabrics, many years ago, including furnishings for large hotels, where he would make for them the entire set of table cloths, carpets, napkins, curtains… all if it. There are thousands of his fabric samples here, and they are all very technically complex — something a textile student would find fascinating. From the colour that goes into it to the weaving technique, it is all very masterful.
Even the way he made his tapestries was unique — nowadays, translating paintings into tapestries has become a fad, but people are just use the knotting technique that is used for carpets to do this, which does not do justice to the original artwor. His weaves were unique.
In terms of his contribution, his weaving techniques, which he has mastered, evolved beyond the known, pushed boundaries, evolved and reinvented them. His detailing goes the closest to a graphic source than any other, with a much better resolution. All in all, his weaving grammar was very thorough.
Innumerable people trained under him, for varying durations — and they all took away little pieces of his legacy."
(You can reach the Weave Lab studio at rajentextiles@gmail.com.)