The story of Kusama is fascinating for many reasons. She studied traditional Japanese painting style and moved to New York in 1958, inspired by American Abstract Impressionism, became a part of the Avant-Garde movement, especially pop art, hugging hippie culture in the 1960s, got public attention when she exhibited herself as brightly coloured polka dots with naked participants, an event organised by her as a series of 'happenings', and finally, she becomes a world's top-selling and most successful living artist.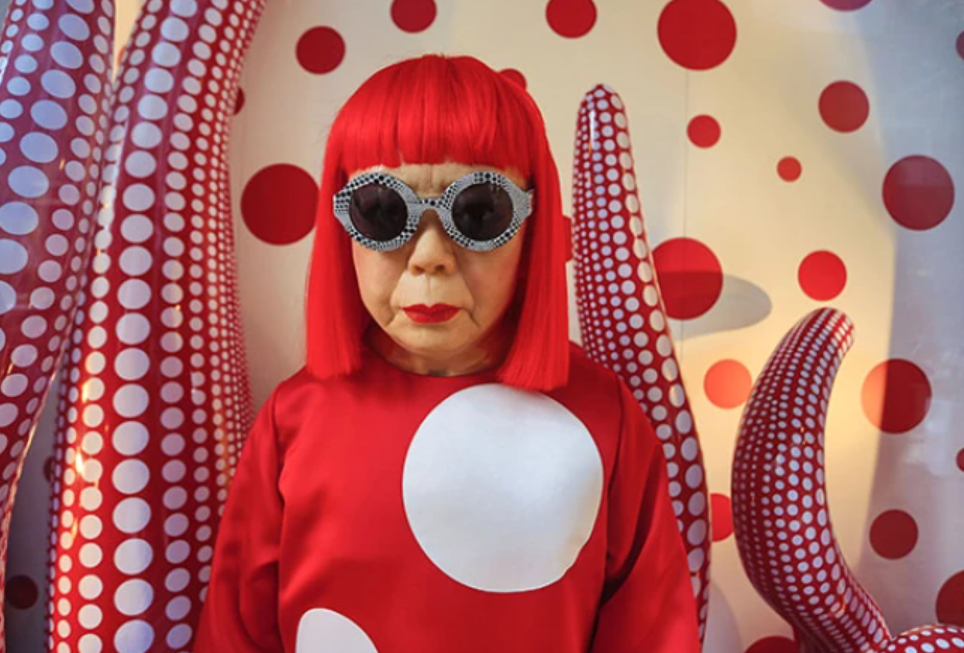 A single-line introduction for Yayoi Kusama is not possible. Kusama works primarily in different mediums and formats, especially as a sculptor, installation artist, painter, performer, video artist, fashion designer, poet, conceptual artist, minimalist, surrealist, pop artist and abstract expressionist, finally, influenced by many art movements and blend all together. In Pop-art philosophy, Kusama is not a pop-artist because she often believes and argues the experience of art is about more than just looking. She has created Infinity Mirror Rooms for people engaging in her art; through art, she responded to her family and childhood and whether she was not allowed to do art when she started to do it.
Kusama was born during the financial crisis in Japan, and then growing ideas of nationalism restricted the freedom of art. She needed more space to do art, so she moved to America in the 1950s; in the 1970s, she returned to Japan and was hospitalised due to acute hallucinations. At that time, Kusama reached the Room of her most celebrated 'Infinity Mirror Room' idea. She always created a space for her art and regularly had herself photoed with her creations. Carefully orchestrated pictures place her in the middle of her creative cosmos.
Infinity Mirror Room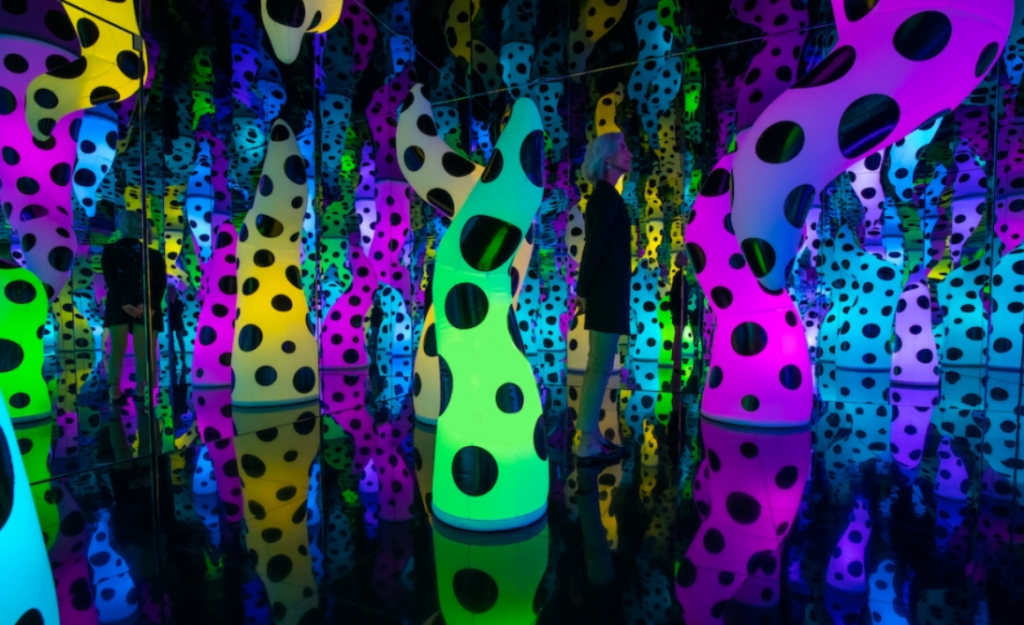 Infinity Mirror Room is the first internationally celebrated Kusama's works; a Room inside the Room for the audience. A mirrored panel gives back the audience images to them endlessly; the Room is filled with hand stitching several hundred soft fabrics with her amused polka dot-printed cotton fabric. The entire polka-dot room is reflected and amazingly surprised with many other reflections of the mirror and audience, furnishing an alluring and surprisingly elastic three-dimensional texture, as commented by Kusama, "My art originates from hallucinations only I can see. I translate the hallucinations and obsessional images that plague me into sculptures and paintings."
When the audience enters the Infinity Mirror Room through a narrow corridor, s/he gets endless reflections on the mirror with objects and polka dots. Through these interactions, Kusama creates the audience in the central point of her works as she did it first after finishing every work.
Human Condition and Psychotic Art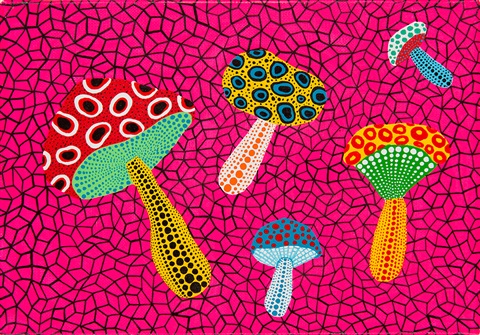 Kusama always claims that using Polka dots explains the human condition through a repeated phenomenon of symbolised togetherness and unity and multiplying to infinity. In a broad sense, Kusama brings the cosmos where our earth is only a polka dot with many other elements.
'The polka dot is a formal means of flattening out the difference and uniting diverse bodies, objects and surfaces. Kusama's most pronounced articulation of that ambiguity is figured in Infinity Mirror Room — Phalli's Field. This one work by Kusama offers a strikingly original model for thinking about the work of art as an expanded and participatory environment, writes Jo Applin in 'Infinity Mirror Room — Phalli's Field'.
The psychotic element is reflected in Kusama's art as she frequently argues that it invites people's attention, and 'visitors find themselves embroiled in a scenario in which the humdrum environment of the domestic sphere is revealed as psychosexual drama', as argued by Jo Applin.
Sexual fetish objects are a significant element of Kusama's harmonised stage of colourful polka-dots, such as her 'floor show, Travelling Life (1964) and Baby Carriage (1964/66), and 'travelling Life' features three pairs of phallus-covered high-heeled shoes that adorn the steps of a splayed-open ladder. As we know about her life inside the psychiatric hospital, she invented her celebrated style of the art room and has famously claimed that her art's reoccurring motifs and themes like dots, nets, flowers, obsession, and repeat from her continued hallucinations formed during her childhood.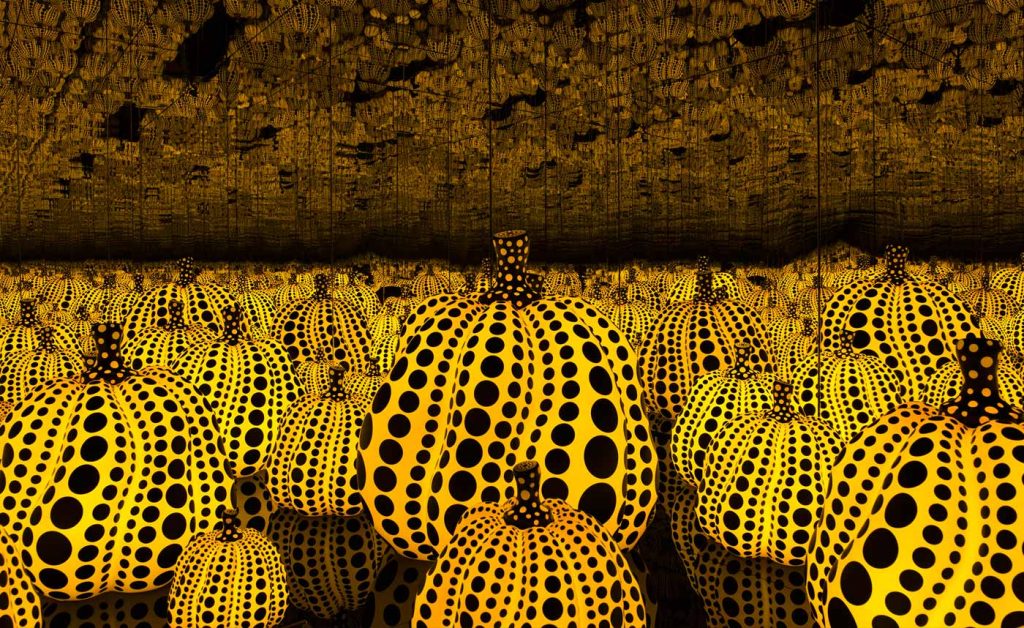 In her biography, Kusama writes about her life and journey well and explains her struggles. She starts with a polka-dot, and a single polka-dot brings her life back on track; she wants to examine the single dot that was her life. She conquers the world with her polka-dots, which helps her reach the world's most celebrated and expensive artists.
'I was under the spell of the polka dot nets. Bring on Picasso, bring on Matisse, bring on anybody! I would stand up to them all with a single polka dot. That was how I saw it, and I had no ears to listen. I was betting everything on this and raising my revolutionary banner against all of history'; she writes in her biography that successful artists from Paris met her in New York and talked about the 'outside' world, a world of Beethoven or Mozart and Kant and Hegel.
From those statements on 'Polka-dots, a universe of herself, through that world, she would bring the cosmos into her little life in a significant volume.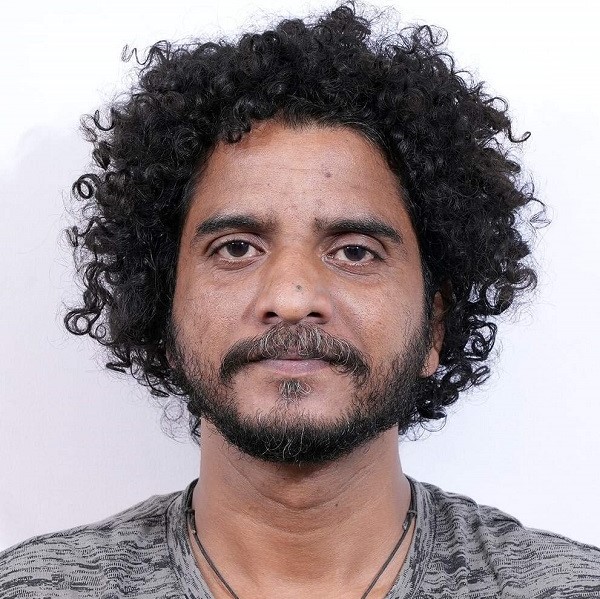 Krispin Joseph PX, a poet and journalist, completed an MFA in art history and visual studies at the University of Hyderabad.