One of the most prestigious universities of India, Viswa Bharati University better known as Santiniketan, was founded by Rabindranath Tagore in 1921. It has produced talented artists who have gone on to redefine as well as pioneer varied art practices. The village itself has become synonymous with arts practice and several artists and intellectuals have stayed here to work on creative projects. For our Young India series, Abir Pothi talks to Santiniketan-based young artists  and discovers that they are engaged in steep learning curves in the pristine and rustic environs of the idyll place.  
Ritwika Ganguly: Experimenting with animation shorts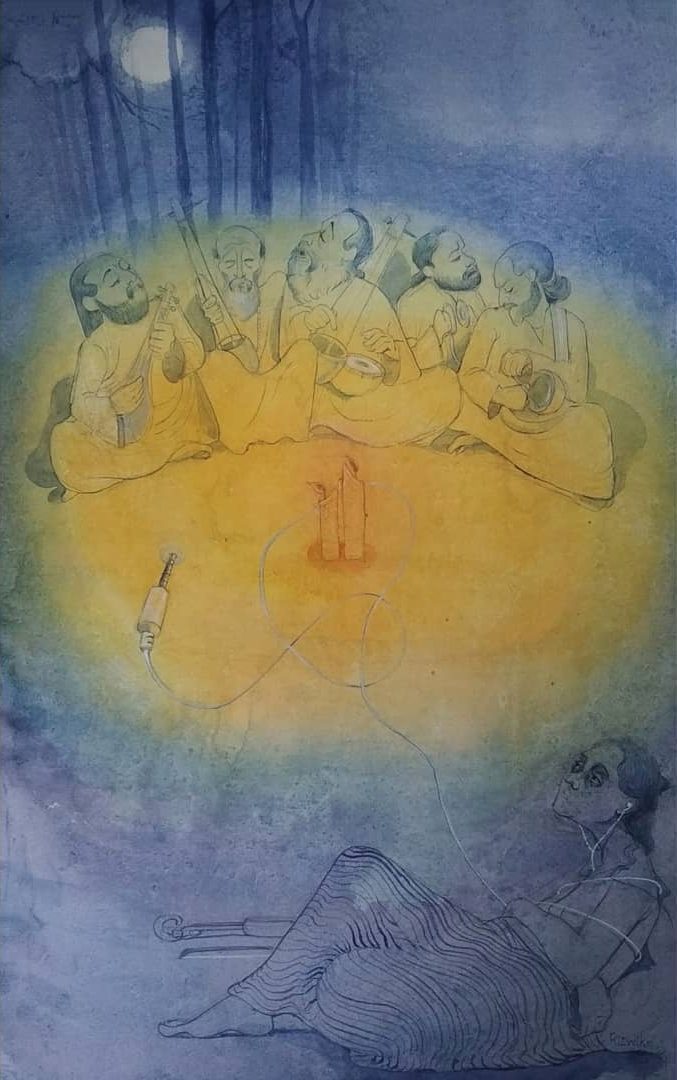 Ritwika is interested in the movement of time and the memory it leaves behind. She has been experimenting with drawings and has been trying to put them in motion by making the play of natural and artificial lights a part of her artistic process. To enhance her creative process, she puts importance on mindful self-exploration by analyzing her responses to current situations. Her interest in Baul music, mysticism and love for travelling also influences her free-spirited subject selection. The practice during the pandemic situation required her to reduce the expenditure of buying materials and become more limited and precise at work. This opened a door of opportunity as she discovered animation during the period. Initially, she used no tracing medium for her hand-drawn animated bits and it took three months to compile 15 seconds of movement. Her animator friends helped her by lending a wooden light box. She also spent hours reading the books they suggested. Recently, she got an opportunity to work for a three-minute hand-drawn monochrome animation. The entire process helped her learn the basics of drawing movements and creating storyboards.
Srotoswini Sinha: Exploring a dreamlike existence
Srotoswini, from Kolkata, is currently pursuing BFA in History of Art at Kala Bhavan, Santiniketan. Some of the mediums that she works with are ink, charcoal, acrylic and digital prints. She also tries her hands at photography and photo manipulations. Through her work, she tries to engage with the commonly unnoticed or ignored tangible elements that impact daily life. She chooses various elements from preexisting situations or compositions and arranges them to create a new sense of being. Her goal is to make art relatable and understandable for everyone. Her recent project is digital and deals with the impermanence of moods. She has tried to bring up a dreamlike sense of existence aimed at a society that is more receptive to optimistic dreams, moods and hopes.
Souvik Das: Adding colours to his skillset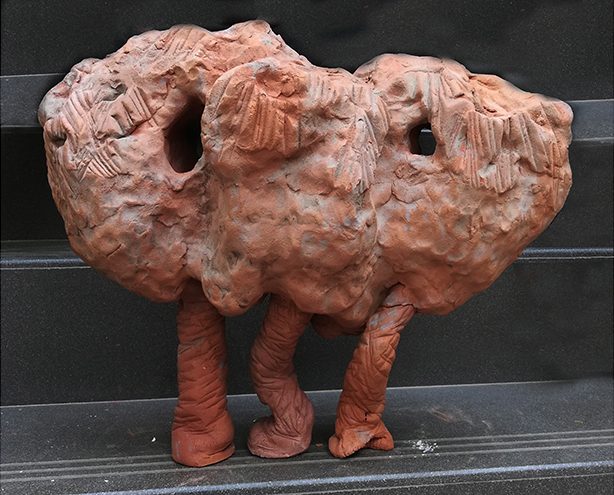 Abir India FIRST TAKE 2018 winner Souvik Das spent a few months in Santiniketan and the calm environment along with the artistic influence enhanced his art practice. "I learnt to incorporate colours in my work," he says explaining how earlier he was both reluctant and unaware of the skill-set required to incorporate colours in his chosen media, ceramics. He was mentored by senior ceramic artist Partha Dasgupata and turned around his craft within a short period. "If you notice my earlier works, those are mostly black and white. I also used terracotta, but I could not glaze and had not experimented with colours. Being in Santiniketan for all the three seasons and getting mentored by someone so distinguished was an excellent experience and it enhanced my thought process," Souvik says. He stayed in a remote area with a tribal family in a hut the roof of which was thatched with palm leaves. During monsoon, water dripped into the house. Back in his hometown, Kolkata, he had not experienced any such difficulties. These challenges also shaped his persona positively and ultimately inspired his arts practice.
Bihan Das: Documenting through images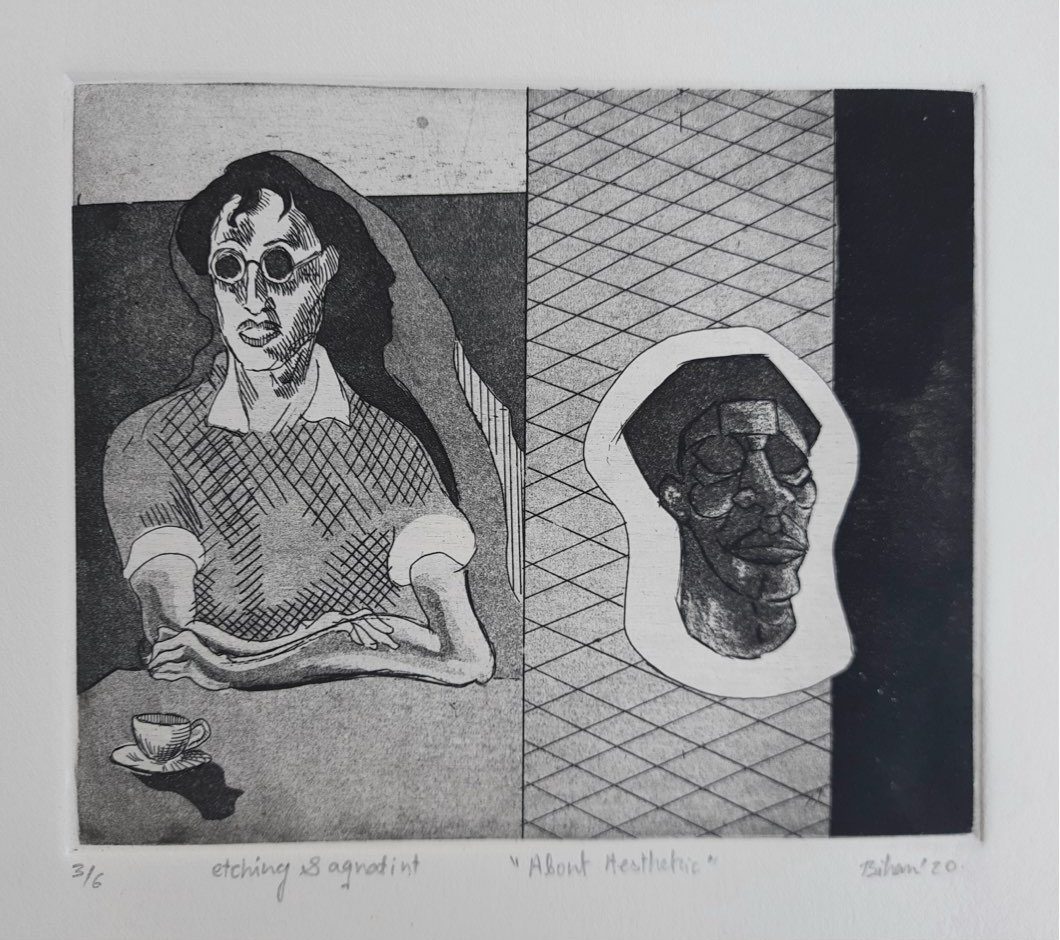 Bihan Das is a second-year MFA (Printmaking) student at Santiniketan. His works are reflective of the reality he witnesses and how these realities are interlinked. The grand narrative also encompasses the micro narratives and vice versa, he believes. Past references play a key role in his work. Being brought up in Santiniketan and having undergone alternative schooling, he was inspired by the discussions of learned individuals that he was privy to as a young adult, pristine natural surroundings, as well as the waves of labourers coming and going from nearby villages and towns. In terms of the composition, he often takes everyday elements such as the portraits of the people he interacts with on roadside tea stalls. The portraits often carry his own reflections and interpretation, and exaggerations. Things such as keys, cups or needles matter to him as they produce the everyday experience, materialism and performativity. He is inspired by personalities such as Somnath Hore who contributed to the legacy of Santiniketan.  He considers his works as writings through images, often addressing a broader social history, and therefore serving as documents of society. The line between the public and the private, the personal and the social, the stories and the contemporary realities blend in his work.
Maya Mima: Patching together memories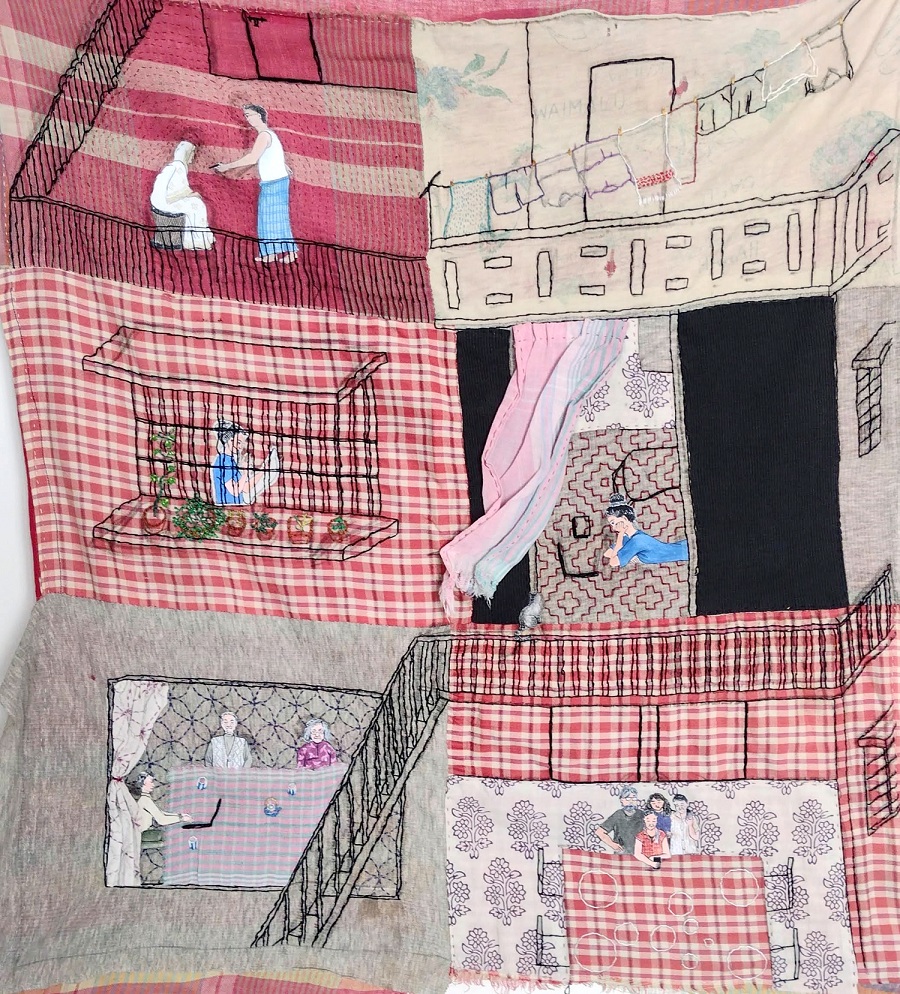 Maya's artistic practice has been shaped by her mixed cultural background; Indian from her father's side and Japanese from her mother's. Although having grown up in India most of her life, she says she has felt a sense of being torn between two cultures. It is because of this dichotomy that many of her artworks are about family and coming to terms with the idea of identity. She delves into memories and snippets of anecdotes through patches of cloth and stitching. Instead of brightly coloured new cloth, she uses materials worn with use because she feels that the various wear and tear in used clothes are a proof of someone having lived in them and having created memories of all kinds. Using such material through patchwork gives her an avenue to tap into memories in a unique manner; it gives her a sense of piecing together her emotions and thoughts that have often fragmented and disparate at times.