A SUMMARY OF THE MOST EXCITING ART NEWS FROM AROUND THE GLOBE
While we focus on Indian art, we can't obviously function in a vacuum. It's a small world and everything is connected, especially on the web. So, let's train our spotlight across the world map to see what's going on — from art trends to socio-political issues to everything that affects the great aesthetic global consciousness. Or, let's just travel the world and have some fun!
Abdulrahman Al Zayani's art collection heads to auction at Sothebys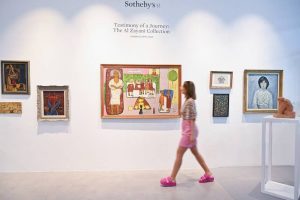 Leading regional art collector Abdulrahman Al Zayani is selling more than 80 works from his private collection of Middle Eastern artists, spanning styles and generations. The collection of 92 works come from across the region — from Egypt, Iran, Iraq, Lebanon, North Africa, Syria, Saudi Arabia, Turkey and the UAE — and range in mediums from paintings, drawings and sculptures to multimedia. Set to go on sale at Sotheby's London on April 25, some of the highlights from the expansive collection are on show at Sotheby's Dubai in the Dubai International Financial Centre until March 3. "Single owner collections of modern and contemporary Middle Eastern arts are very rare," Alexandra Roy, Sotheby's head of sale for modern and contemporary Middle Eastern art, tells The National. "Al Zayani is buying across the board. You are getting Egyptian, Turkish, Moroccan, Iranian artists. You're getting modern masters and contemporary work too. Read more on The National News.
Yuga Labs launches new collection on Bitcoin Blockchain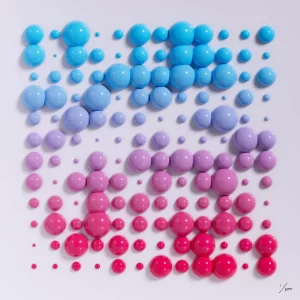 Yuga Labs, the company behind NFT collections such as Bored Ape Yacht Club and CryptoPunks, has announced the launch of a new NFT collection called TwelveFold on the Bitcoin blockchain. Until recently, Ethereum was the preferred blockchain for creating, trading and buying NFTs, but Yuga Labs is venturing into Bitcoin to make this new collection. TwelveFold is a generative collection of 300 pieces that explores the relationship between time, mathematics and variability. Each piece is built around a 12 by 12 grid with 144 points that display a shiny ball of color in different sizes, resembling a glob of paint. The metadata inscribed on the satoshi, the smallest unit of Bitcoin, allows data to be connected to the artwork and describe it in detail. The Bitcoin blockchain's lack of infrastructure to support smart contracts had prevented its use for NFTs, but outside developers have been working to bridge that gap since 2014. Although their success has been moderate, Yuga Labs' entry into the market signals a change in the industry. As one of the largest players in the NFT space, the launch of TwelveFold on Bitcoin indicates that times are changing. Details on Magzoid.
Avant-garde pioneer artist Mary Bauermeister dies at 88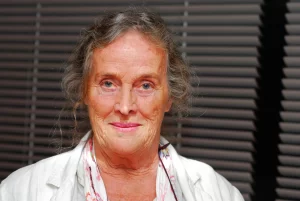 Mary Bauermeister, an artist whose indefinable works involving glass orbs and shells made her an important member of the Fluxus movement, has died at 88. New York's Michael Rosenfeld Gallery, which represents her, confirmed her passing in a press release on Thursday. halley k harrisburg, a director at the gallery, said in a statement, "After a long and heroic battle with cancer, we have lost a legend and perhaps the funniest artist to grace the art world; Mary had the uncommon ability to make us laugh and ponder our existence at the same time. She never missed the opportunity to expound on the mystical, the spiritual, or the existential." Read more on Art News.