What are the Kottan Baskets of Chettinad?
The Chettinad region, situated in the Sivagangai district of Tamil Nadu, Southern India, is renowned for its opulent mansions, ancient temples, and aromatic cuisine. This area encompasses not only the capital town of Karaikudi but also 74 surrounding villages, and it is the ancestral homeland of the Nattukottai Chettiyars (Nagaraththar), a prosperous and influential business and trading community. Among its diverse cultural heritage, Chettinadu is celebrated for its traditional craft of making "kottan," exquisite hand-woven baskets meticulously crafted from tender palm leaves and stems. Traditionally crafted by the affectionately called "aachis" (a Tamil term for grandmothers), these kottans have served as practical containers for packaging and gifting purposes. The kottan's intricate designs never fail to enchant the beholder.
Kottan baskets, typically filled with betel leaves and areca nuts, are exchanged during special occasions in Chettinadu. Crafting these baskets involves the use of various raw materials and an array of tools. The primary materials include kuruthhu, which are palm leaves harvested locally, along with natural and chemical dyes, and thread. To shape these materials, artisans employ tools such as the satyagaam (cutting tool), a palm-leaf slicing machine, a wrench, cutter, needle and thread, measuring scale, tape, a vessel for dyeing, and a water-filled mug.
Sourcing and Tools used in Kottan making in Chettinad
Palm leaves are usually locally available but sometimes need to be sourced externally due to seasonal fluctuations. Harvesting occurs year-round, except during the rainy seasons (July-Aug and Nov-Dec), but only tender leaves are suitable, and workers must climb trees. To ensure a stable supply, a designated group harvests leaves once a year, storing them in Kanadukathan where they remain well-preserved. Chemical dyes are typically procured from Madurai.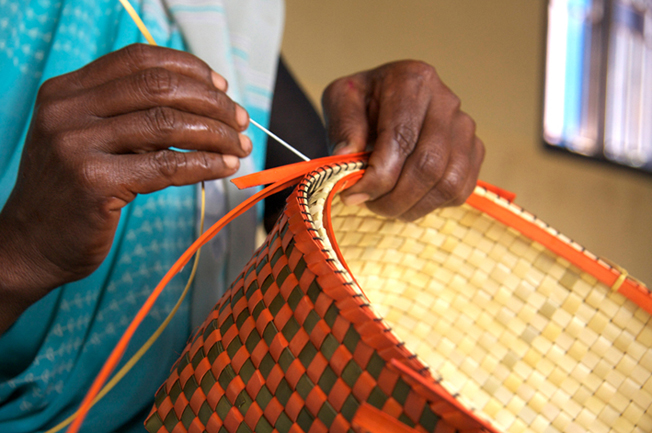 The craft of kottan making relies on several essential tools. The primary cutting and sizing tool is the "Satyagaam," crafted from iron and priced at approximately Rs 20-30. It features a blade with a thickness of around 1mm and a length ranging from 12 to 20 cms. The top edge serves for cutting, while the lower end aids in inserting new palm leaf strips. Another crucial tool is the "Palm Leaf Slicing Machine," a custom-made device comprising plywood, wood, iron, a broken blade, screws, nuts, and bolts. It measures roughly 16 x 9 x 7 cms and costs about Rs 200. Additional tools in the kottan-making process include a wrench for adjusting blade distance, a cutter for refining work, and a needle and thread for adding a finishing border made of "ikkee," a palm leaf rib, after the kottan has been woven.
Process of Making Kottan Baskets
The process begins with the tender palm leaves being locally sourced and sun-dried for two to three hours, ensuring their long-lasting quality. These dried leaves are then skillfully cut into uniform-width strips using the slicing machine. The dyeing process follows, involving the immersion of these strips in water mixed with either natural or chemical dyes. Subsequently, the moistened strips are left to dry under the sun for a day.
What distinguishes Chettinadu kottan from palm-leaf crafts in other Tamil Nadu regions is its unique weaving pattern. Various weaving techniques, including the Gundamani pattern, Malayalum pattern, and cut kottan, offer a wide array of choices. To enhance the basket's durability, a border known as "ikkee" is woven into the strips after the primary weaving is complete. Additional decorative elements like beads and crochet work are incorporated to enhance the aesthetics and charm of these baskets.While Kottans were originally designed for packaging and storage, market demands have led to the evolution of new products, including mats, trays, coasters, bags, and more, all bearing the distinctive craftsmanship of Chettinadu.
The art of crafting kottan, once a major income source for Chettinadu's villages, has nearly vanished. Few organizations work to preserve it as people migrated to cities in search of better prospects. Promoting kottan products can help spread sustainability awareness.
Usage of Kottan Baskets
Kottans traditionally served as containers for gifts and packaging, but the M. Rm. Rm. Cultural Foundation has innovated by introducing a range of new products. These include mats, trays, sari boxes, sweet boxes, penholders, coasters, tablemats, purses, bags, and handbags. While the older products retain their natural white color, the newer additions are dyed in a variety of colors based on client preferences and intended use.
Reviving Story
Since the baskets have undergone massive changes over the years and many people have lent their support to revive the art, albeit not enough. We also have Visalakshi of Manjal at MRC, Chennai who is continuously doing her bit to safeguard and further propagate the craft. In her latest book, "Kottan: The Palmyra Basket of Chettinad," Visalakshi provides a comprehensive documentation of the intricate basket-weaving techniques of the Chettinad region. Her book also reflects her tireless efforts to revive this traditional craft. She notes, "Even if they make more income this way, they feel more responsible in a white- or blue-collared job," highlighting the deep sense of duty and commitment weavers hold towards their craft, even in the face of potentially more lucrative alternatives.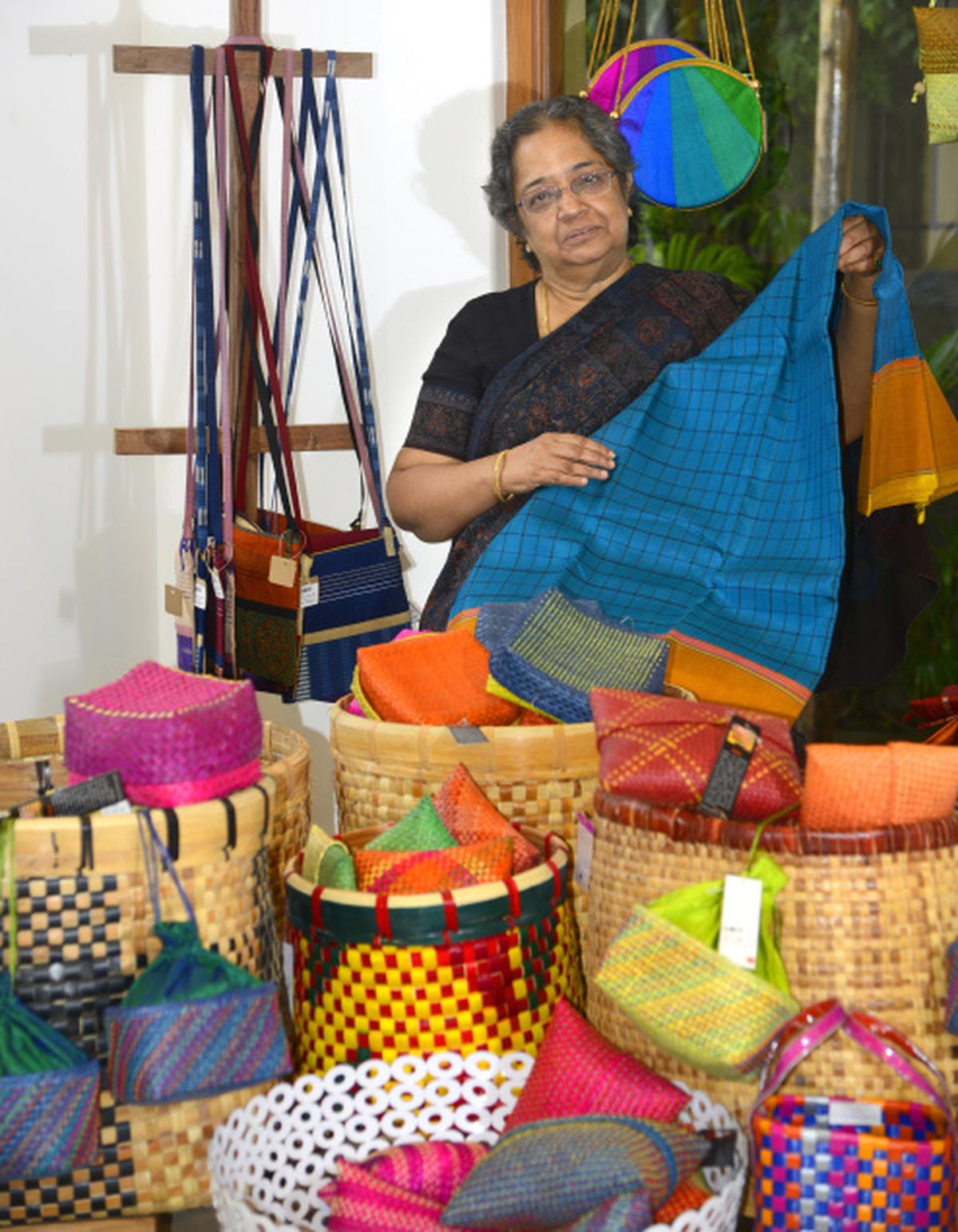 Visalakshi recounts an instance where a weaver shared that his daughter faced difficulty in finding a suitor due to his profession. This revelation spurred her into action, realising that without education and appreciation, these traditional crafts faced the risk of fading away. Hence, in 2000, she established the M.Rm.Rm Cultural Foundation, an NGO dedicated to researching, documenting, and rekindling appreciation for these invaluable cultural traditions.