Saptarshi Ghosh
Madhvi Parekh and Manu Parekh
The scintillating Madhvi Parekh is a self-taught artist who took up painting in 1964, inspired by her husband, Manu Parekh, the distinguished Indian painter.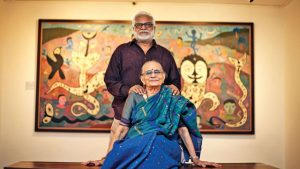 Greatly influenced by artists like Paul Klee and Joan Miró as well as Indian folk traditions, Madhvi's works conjure up a fabled land of the Indian village, with roots in indigenous art traditions. Manu Parekh works in the modernist tradition. Known for his works on the holy city of Banaras, Parekh's landscapes stand out for their vibrant colours, bold brushstrokes and prominent lines. He attempts to capture the dynamic relationship between man and nature through his experimentations with figurations and the representation of nature.
Let's take a brief look at their individual art careers!
Madhvi Parekh
Born in 1942 in Sanjaya, Gujarat, the only reason why Madhvi took up painting was her belief that engaging in some creative activity during pregnancy would benefit the child. "I had no particular intention of becoming an artist," explains Madhvi. She was in her early 20s when her husband handed her Paul Klee's Notebooks, which marked the beginning of her interest in art. Beginning with drawing squares and triangles using pen and ink, she soon shifted to animal and human forms.
Madhvi's works deal with her childhood memories, Indian myths and the vibrancy of folk art. She reminisced, "As a child in rural Gujarat, I have seen the most brilliant lights of nature. The setting sun (for instance) seemed to set the whole world around on fire, and swamp it in a shimmering golden light. Such colours became an integral part of me, and they come out quite naturally in my work as well." Madhvi's paintings combine memory with fantasy and surrealist symbols. In her use of oil and acrylic on canvas and watercolour on paper, Madhvi's practice marks a shift from the traditional materials and surfaces used by folk artists. She deploys the folk idiom with its flat pictorial surface and decorative elements, but does not remain restricted by it.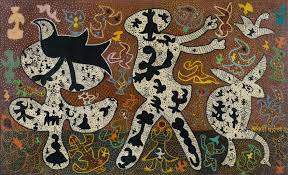 Harmonious coexistence with nature and the emancipation of man from mechanical time are some themes that Madhvi Parekh engages with in her works. For example, her elaborate work The Bird on the Tree (1975), presents "an ecstatic reverie of the natural world". The painting depicts three black and white amorphous figures over a background patterned with fine lines and dots. Speaking on her process, Madhvi reveals, "I never pre-plan my work. I paint what comes naturally to me. The dotted lines in my paintings are like the running embroidery stitches which I used to do as a child. The vibrancy of the many things that surround me is the source of all my works. They represent different aspects of life as I see and experience. So, every work of mine tries to tell a story."
Manu Parekh
Born in 1939 in Gujarat, Manu Parekh completed his Diploma in Drawing and Painting from Sir J. J. School of Art, Mumbai in 1962. He then worked as a designer at the Weaver's Service Centre, Mumbai till 1965, under the mentorship of Pupul Jayakar, the renowned Indian cultural activist and writer. This gave him the opportunity to travel to rural Odisha, Haryana and Rajasthan, where he would study and document folk art forms like Madhubani and Ikat. Meeting indigenous artisans shaped his artistic voice; his experiences in these villages eventually contributed to the themes of fertility and nature in his works.
Parekh shifted base to Kolkata (then Calcutta) in 1965; already familiar with the rich literary, artistic and theatrical tradition of Bengal, the city would become his muse for the next decade. In an interview, he reminisced, "I had a huge attraction to Kolkata because of painting, theatre and Rabindranath Tagore, who I already felt was a great painter. I feel I learned the most about humanness when I went to Kolkata. [It] gave me an opportunity to mature." In 1975, when Parekh moved to New Delhi, he joined the Handicrafts and Handlooms Export Corporation (HHEC), where he worked as a design consultant for twenty years.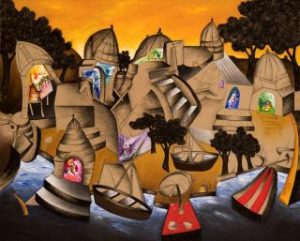 Parekh first visited Banaras in 1980, following his father's death, and was enamoured by it. He spent the next three decades painting the locales of the pilgrim city, which resulted in the Banaras series. The ghats teeming with people, the riverscape, the ordinary lives of people in the city – all these manifest on Parekh's canvas in his typical stylised idiom and bold colours. It is the endless flow of life that drew him to Banaras. "Till date, I'm not bored of painting a Banaras landscape," he admits. "It's a city full of energy where you can witness life and death together." Parekh has also created works in black and white based on Banaras.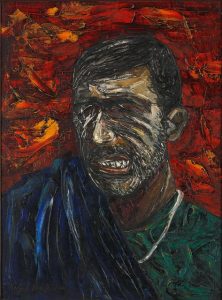 Polemics have always intrigued Parekh – his works prompt the viewer to experience the pain and anguish of their subjects. For instance, in Cry (1990), which was in response to the barbaric blinding of 31 individuals, under trial, by the police (the event known as the Bhagalpur blindings), Kher's expressionistic use of colour allows the viewer to empathise with the subject's tragedy.
As an art student, Parekh was immensely impacted by the Swiss-German artist Paul Klee, especially his pedagogical work The Thinking Eye. Among his other influences are Tagore and Ramkinkar Baij, whose works he diligently studied during his stay in Kolkata. Even though Parekh's canvases are imbued with a distinct sense of Indianness, one can detect influences of Western masters, like Picasso, in them.
Their story …
Though distinct, Manu and Madhvi's artistic journeys have seen many overlaps. For example, the city of Kolkata invigorated both of them. "The city of Kolkata nourished my art immensely," observed Madhvi. While Madhu immersed himself in the works of Tagore and Ramkinkar, Madhvi was struck by the Durga imagery, which continues to feature in her works. Needless to say, they consider each other to be their biggest inspiration. Also, if it were not for her husband, Madhvi's artistic potential would remain unrealised. Abir Pothi wishes the couple a happy Valentine's Day! We hope they continue to amaze us with more of their artworks!